Coulometric determinations on copper samples exposed to low content propionic acid vapor environments
Alejandro Echavarría

Universidad de Antioquia

Rodolfo Ruiz

Universidad de Antioquia

Félix Echeverría

Universidad de Antioquia

Carlos Arroyave

Universidad de Antioquia

Emilio Cano

Centro Nacional de Investigaciones metalúrgicas
Keywords:
Atmospheric corrosion, copper, propionic acid, coulometric reduction technique, electrochemical techniques, gravimetric techniques, coulometric methods
Abstract
In the present study the effect of three propionic acid vapor concentrations (260, 380 and 680 parts by billion in volume, ppbv) on the deterioration of copper was evaluated in an air stream at 30 °C and 90% of relative humidity, using the coulometric reduction technique for the determination of the total charge required to reduce the formed copper compounds, according to ASTM B-825-97. The electrochemical tests were performed on samples exposed during 7, 14 and 21 days. In addition, gravimetric determinations for the samples with 21 days of exposure were made, according to ASTM G1-90, in order to compare these results with the electrochemical results. The corrosive environments were performed in a climatic chamber with both temperature and relative humidity electronic controls. A constant air flow 4 of L/min was maintained during the tests. The polluting agent was added to the air stream by means of emission tubes of propionic acid vapor with different emission openings. All emission tubes were gravimetrically certificated at 2650, 3750 and 6900 ng/min. The results showed statistical differences (with 95% confidence) for the charge needed for the total reduction of oxides formed on the samples with 7 and 21 days of exposure and it was found that this charge also increases with the polluting agent level, indicating that the corrosion products grow continuously with exposure time and with the increase in the propionic acid vapor concentration. In the other hand, it was found that the coulometric reduction technique is more reliable than the gravimetric test in order to evaluate the corrosion rate in these atmospheres, typical of environments of very low aggressiveness. On the gravimetric technique, the inherent removal of base metal as a result of the acid pickling procedure was in the same order of magnitude with respect to the effect of the corrosion process, leading to a high dispersion of the results.
|Abstract = 12 veces | PDF (ESPAÑOL (ESPAÑA)) = 9 veces|
Downloads
Download data is not yet available.
References
Echavarría, A. et al. "Carboxilic acids in the atmosphere and their effect on the degradation of metals". Corr. Rev. Special Issue: Corrosion Control in the Electronics Industry. N.° 21. 2004. p. 395.
Cano, E. and Bastidas J. M. Can. Metall. Quart. N.° 41. 2002. p. 327.
López Delgado, J. E. et al. "A laboratory study of the effect of acetic acid vapor on atmospheric copper corrosion". En: J. Electrochem. Soc. N.° 145. 1998. p. 4140.
Bastidas, J. M. et al. J. Electrochem. Soc. N.° 147, 2000. p. 999.
Cano, E. et al. J. Electrochem. Soc. N.° 148, 2001. p. E26.
Echavarría, A. et al. "Copper corrosion originated by propionic acid vapors". En: J. Electrochem. Soc. N.° 150. 2003. p. B140.7.
Cano, E. et al. "Study of the effect of acetic acid vapors on copper corrosion at 40 and 80% relative humidity". En: J. Electrochem. Soc. N.° 148. 2001. p. B431.
Cano, E. et al. Corrosion of copper originated by butyric acid vapors. Proc. of the Latincorr 2003. Santiago de Chile, October 20/24, 2003. p. 688.
Cano, E. et al. Proc. of the IX Conference on Materials Science & Technology, 209/CTM 2003.
American Standards for Testing and Materials. ASTM B- 825-97, Standard Test Meted for Coulometric Reduction of Surface Films on Metallic Test Samples.
Krumbein, S. J. et al. J. of Testing and Eval. 1989. p. 357.
Echavarría, A. et al. "Reducción coulométrica de productos de corrosión del cobre en ambientes de ácido acético y ácido sulfhídrico". En: Proc. of the Latincorr 2003. Santiago de Chile, October 20/24, 2003. p. 638.
American Standards for Testing and Materials. ASTM G1-90, Standard Practice for Preparing, cleaning and evaluating corrosion test specimens.
José Rocha Andrade da Silva, Editor. CYTED. Productos electro-electrónicos en ambientes tropicales. Campinas, SP, Sitta Grafica. 2003. p. 248.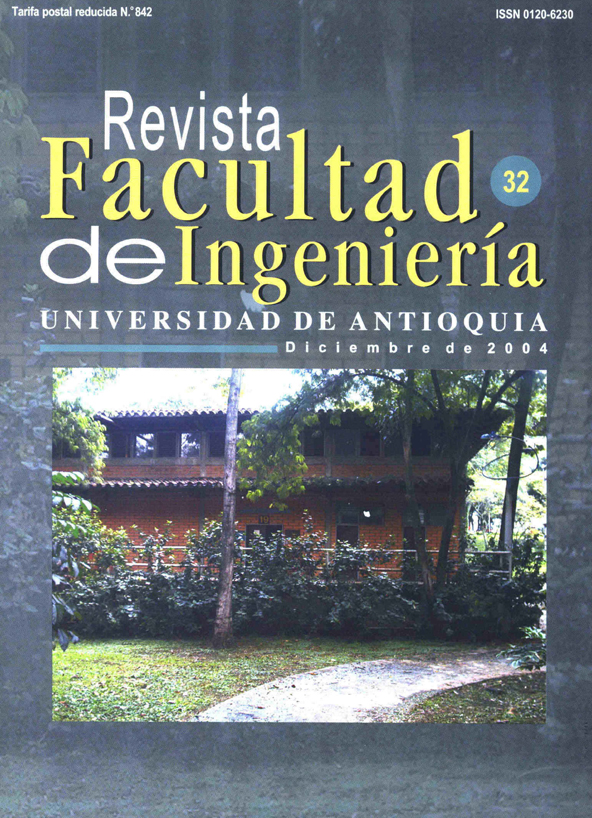 How to Cite
Echavarría A., Ruiz R., Echeverría F., Arroyave C., & Cano E. (2004). Coulometric determinations on copper samples exposed to low content propionic acid vapor environments. Revista Facultad De Ingeniería Universidad De Antioquia, (32), 62-71. Retrieved from https://revistas.udea.edu.co/index.php/ingenieria/article/view/344367
Copyright (c) 2004 Revista Facultad de Ingeniería Universidad de Antioquia
This work is licensed under a Creative Commons Attribution-NonCommercial-ShareAlike 4.0 International License.
Authors can archive the pre-print version (i.e., the version prior to peer review) and post-print version (that is, the final version after peer review and layout process) on their personal website, institutional repository and / or thematic repository

Upon acceptance of an article, it will be published online through the page https://revistas.udea.edu.co/index.php/ingenieria/issue/archive in PDF version with its correspondent DOI identifier
The Revista Facultad de Ingeniería -redin- encourages the Political Constitution of Colombia, chapter IV
Chapter IV Sanctions 51
The following shall be liable to imprisonment for two to five years and a fine of five to 20 times the legal minimum monthly wage: (1) any person who publishes an unpublished literary or artistic work, or part thereof, by any means, without the express prior authorization of the owner of rights; (2) any person who enters in the National Register of Copyright a literary, scientific or artistic work in the name of a person other than the true author, or with its title altered or deleted, or with its text altered, deformed, amended or distorted, or with a false mention of the name of the publisher or phonogram, film, videogram or software producer; (3) any person who in any way or by any means reproduces, disposes of, condenses, mutilates or otherwise transforms a literary, scientific or artistic work without the express prior authorization of the owners thereof; (4) any person who reproduces phonograms, videograms, software or cinematographic works without the express prior authorization of the owner, or transports, stores, stocks, distributes, imports, sells, offers for sale, acquires for sale or distribution or in any way deals in such reproductions. Paragraph. If either the material embodiment or title page of or the introduction to the literary work, phonogram, videogram, software or cinematographic work uses the name, business style, logotype or distinctive mark of the lawful owner of rights, the foregoing sanctions shall be increased by up to half.