Classification of atmospheric aggressiveness in Colombia using multivariate statistical methods
Juan Delgado

Universidad de Antioquia

Juan Guillermo Castaño

Universidad de Antioquia

Esteban Correa

Universidad de Antioquia

Alex Restrepo

Universidad de Antioquia

Félix Echeverría

Universidad de Antioquia
Keywords:
atmospheric aggressiveness, corrosion, multivariate, statistical methods, colombian electrical sector, steel
Abstract
Studies of atmospheric corrosion often require a classification of environments based on their aggressiveness, which involves the processing of a large amount of data related to weather and pollution variables. In this work, a classification of different Colombian environments, under which the main power transmission lines are placed, was made based on weather data and using the cluster analysis method. Based on this classification, 21 representative sites were chosen to perform field measurements of corrosion
of steel and galvanized steel, deposition of SO2 and chloride, temperature and time of wetness. With this information, atmospheres were classified again and correlations were established between atmospheric variables, exposure time and corrosion, using regression models and multivariate statistical methods.
|Abstract = 54 veces | PDF (ESPAÑOL (ESPAÑA)) = 62 veces|
Downloads
Download data is not yet available.
References
C. Leygraf, T. Graedel. Atmospheric Corrosion., Ed. Wiley. New York. 2000. pp. 9-65.
V. Kucera, E. Mattsson. "Atmospheric corrosion". F. Mansfeld. Corrosion Mechanisms. Ed. Marcel Dekker. New York. 1987. pp. 211-284.
International Organization for Standardization. Corrosion of Metals and Alloys – Corrosivity of Atmospheres: Classification. Geneva. ISO. (Norma: ISO 9223). 1992. pp. 1-13.
J. Tidblad, A. Mikhailov, V. Kucera. "A Model for Calculation of Time of Wetness Using Relative Humidity and Temperature Data". Proceedings 14th International Corrosion Congress. Cape Town. South Africa. 1999. pp. 1-10.
P. W. Brown, L.W. Masters. "Factors Affecting the Corrosion of Metals in the Atmosphere". W. H. Ailor. Atmospheric Corrosion. Ed. John Wiley and Sons. New York. 1982. pp. 31-50.
J. A. Rocha. "Atmospheric Corrosion at High Altitudes Over Sea Level". Proceedings 15th International Corrosion Congress. Granada. 2002. pp. 1-8.
M. Morcillo, E. Almeida, B. Rosales, J. Urruchurtu, M. Marrocos. Corrosión y Protección de Metales en las Atmósferas de Iberoamérica, Parte I. CYTED. Madrid. 1998. pp. 1-54.
M. Morcillo, B. Chico, L. Mariaca, E. Otero. "Salinity in Marine Atmospheric Corrosion: Its Dependence on the Wind Regime Existing in the Site". Corros. Sci. Vol. 42. 2000. pp. 94-101.
D. E. Jonson. Métodos Multivariados Aplicados al Análisis de Datos. Ed.Thomson. México. 2000. pp. 93-485.
ASTM. Standard Test Methods for Evaluation of Total Sulfation Activity in the Atmosphere by the Lead Dioxide Technique. West Conshohocken, PA. ASTM (Norma: ASTM D-2010). 2004. pp. 1-6.
ASTM. Standard Test Method for Determining Atmospheric Chloride Deposition Rate by Wet Candle Method. West Conshohocken, PA. ASTM (Norma: ASTM G-140). 2002. pp. 1-4.
ASTM. Standard Practice for Preparing, Cleaning, and Evaluating Corrosion Test Specimens. West Conshohocken. PA. ASTM (Norma: ASTM G-1). 1999. pp. 1-7.
A. Valencia, C. Arroyave, J. Minotas, R. Pérez. "Avances en los Estudios de Corrosividad Atmosférica en Colombia". Rev. Fac. Ing. Univ. Antioquia. Vol. 13. 1996. pp. 32-42.
F. Corvo, J. Minotas, J. Delgado, C. Arroyave. "Changes in Atmospheric Corrosion Rate Caused by Chloride Ions Depending on Rain Regime". Corros. Sci. Vol. 47. 2005. pp. 883–892.
D. de la Fuente, J. G. Castaño, M. Morcillo. "Longterm Atmospheric Corrosion of Zinc". Corros. Sci. Vol. 49. 2007. pp. 1420-1436.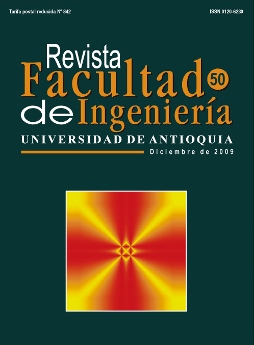 How to Cite
Delgado J., Castaño J. G., Correa E., Restrepo A., & Echeverría F. (2013). Classification of atmospheric aggressiveness in Colombia using multivariate statistical methods. Revista Facultad De Ingeniería Universidad De Antioquia, (50), 41-50. Retrieved from https://revistas.udea.edu.co/index.php/ingenieria/article/view/14930
Copyright (c) 2018 Revista Facultad de Ingeniería
This work is licensed under a Creative Commons Attribution-NonCommercial-ShareAlike 4.0 International License.
Authors can archive the pre-print version (i.e., the version prior to peer review) and post-print version (that is, the final version after peer review and layout process) on their personal website, institutional repository and / or thematic repository

Upon acceptance of an article, it will be published online through the page https://revistas.udea.edu.co/index.php/ingenieria/issue/archive in PDF version with its correspondent DOI identifier
The Revista Facultad de Ingeniería -redin- encourages the Political Constitution of Colombia, chapter IV
Chapter IV Sanctions 51
The following shall be liable to imprisonment for two to five years and a fine of five to 20 times the legal minimum monthly wage: (1) any person who publishes an unpublished literary or artistic work, or part thereof, by any means, without the express prior authorization of the owner of rights; (2) any person who enters in the National Register of Copyright a literary, scientific or artistic work in the name of a person other than the true author, or with its title altered or deleted, or with its text altered, deformed, amended or distorted, or with a false mention of the name of the publisher or phonogram, film, videogram or software producer; (3) any person who in any way or by any means reproduces, disposes of, condenses, mutilates or otherwise transforms a literary, scientific or artistic work without the express prior authorization of the owners thereof; (4) any person who reproduces phonograms, videograms, software or cinematographic works without the express prior authorization of the owner, or transports, stores, stocks, distributes, imports, sells, offers for sale, acquires for sale or distribution or in any way deals in such reproductions. Paragraph. If either the material embodiment or title page of or the introduction to the literary work, phonogram, videogram, software or cinematographic work uses the name, business style, logotype or distinctive mark of the lawful owner of rights, the foregoing sanctions shall be increased by up to half.