Cross sectional study of 13 leptospira serovars in a Colombian dairy region
Marta Olivera

Universidad de Antioquia - Medellín, Colombia

Jenny J Chaparro

Universidad de Antioquia - Medellín, Colombia

Yanira Chaparro

Diego Piedrahita

Universidad de Antioquia - Medellín, Colombia

Jorge Fernandez

Universidad de Antioquia - Medellín, Colombia

Julian Londoño

Universidad de Antioquia - Medellín, Colombia

Luis G Palacio

Nicolas Ramirez

D Villar
Abstract
Background: Leptospirosis in cattle is recognized as a major cause of reproductive loses due to abortions, early embryonic death, and infertility. The type of Leptospira serovars that are currently circulating in Colombian herds is largely unknown due to the lack of national reports. Objective: The prevalence of antibodies specific to 13 Leptospira spp serovars was investigated in unvaccinated cows from 26 herds in San Pedro de los Milagros (Province of Antioquia) dairy region. Methods: Microscopic agglutination test was used on serum samples, following WHO recommendations. Results: A total of 112/900 (12.4%) of the animals had antibody titers of 1:100 or greater to at least one Leptospira serovar. Of those positive, 34/900 (3,8%) animals seroconverted to two or more serovars. In order of decreasing prevalence, the serovars detected were: hardjo prajitno, pomona, grippotyphosa, tarassovi, copenhageni, canicola, cellodeni and bratislava. There were 28 animals seropositive to serovar hardjo. Conclusion: Our results indicate that leptospirosis should be included as a differential diagnosis for various reproductive problems in this region.
Keywords: dairy cattle, leptospirosis, MAT, prevalence.
Resumen
Antecedentes: La leptospirosis es la mayor causal de pérdidas reproductivas debidas a abortos, muerte embrionaria temprana e infertilidad. Se desconocen los serovares de Leptospira que actualmente se encuentran circulando en el rebaño colombiano debido a la falta de reportes nacionales. Objetivo: Se investigó la prevalencia de anticuerpos específicos para 13 serovares de Leptospira spp en vacas no vacunadas de 26 rebaños en la región lechera de San Pedro de los Milagros (Provincia de Antioquia). Métodos: La prueba de aglutinación microscópica fue empleada en muestras de suero de acuerdo a las recomendaciones de la OMS. Resultados: Un total de 112/900 (12,4%) de los animales presentaron títulos de anticuerpos de 1:100 o superiores para al menos un serovar de Leptospira. Entre los positivos, el 34/900 (3,8%) de los animals presentaron seroconversión para dos o más serovares. En orden decreciente de prevalencia, los serovares detectados fueron: hardjo prajitno, pomona, grippotyphosa, tarassovi, copenhageni, canicola, cellodeni y Bratislava. En total, 28 animales fueron seropositivos al serovar hardjo. Conclusión: La leptospirosis debería ser incluida como diagnóstico diferencial en problemas reproductivos en esta región.
Keywords: ganado lechero, leptospirosis, MAT, prevalencia.
Resumo
Antecedentes: A leptospirose em bovinos é reconhecida como uma das principais causas de perdas reprodutivas devido a abortos, morte embrionária precoce e infertidade. Os sorotipos de Leptospira que estão atualmente em circulação no rebanho colombiano não se conhecem devido à falta de reportes nacionais. Objetivo: Neste estúdio foi investigada a prevalência de anticorpos específicos para 13 sorovares de Leptospira spp em vacas não vacinadas de 26 rebanhos leiteiros da região de San Pedro, Antioquia. Métodos: Foi empregado o teste de aglutinação microscópica (MAT) em amostras de soro de acordo com as recomendações da OMS. Resultados: Um total de 112/900 (12,4%) animais apresentaram títulos de anticorpos de 1:100 ou superiores para pelo menos um sorotipo de Leptospira. Dos animais positivos, 34/900 (3,8%) soroconverteram para dois ou mais sorotipos. A fim de diminuir a prevalência, foram detectados os sorotipos: hardjo, prajitno, pomona, grippotyphosa, tarassovi, copenhageni, canicola, cellodeni e Bratislava. Um total de28 animais foram soropositivos para o sorotipo hardjo. Conclusão: Os resultados indicam que a leptospirose deveria ser incluída nos diagnósticos diferenciais para o diagnóstico diferencial de problemas em doenças reprodutivas nos bovinos de Antioquia.
Palavras chave: gado leiteiro, leptospirose, MAT, prevalência.
|Abstract = 915 veces | PDF = 1246 veces|
Downloads
Download data is not yet available.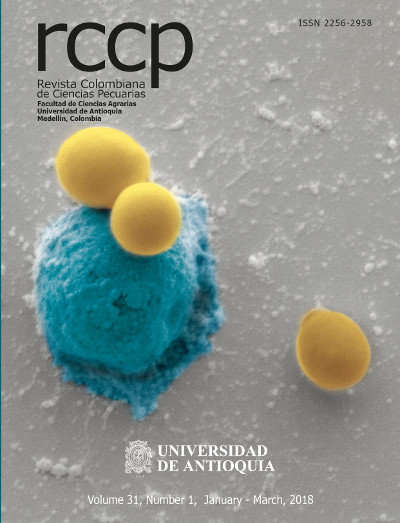 Section
Original research articles
The authors enable RCCP to reprint the material published in it.
The journal allows the author(s) to hold the copyright without restrictions, and will allow the author(s) to retain publishing rights without restrictions.