SCREENING OF MARINE BACTERIAL STRAINS AS SOURCE OF QUORUM SENSING INHIBITORS (QSI): FIRST CHEMICAL STUDY OF Oceanobacillus profundus (RKHC-62B)
Keywords:
Marine natural products, Marine microorganisms, Jeotgalicoccus halophilus, Oceanobacillus profundus, Quorum sensing inhibitor compounds.
Abstract
Background: Natural products isolated from marine microorganisms have demonstrated a wide range of biological activities included quorum sensing inhibitors. Objectives: We study fifteen marine Firmicutes bacterial strains isolated from the Caribbean soft coral Antillogorgia elisabethae that were evaluated as a novel and sustainable source of quorum sensing inhibitor compounds. Methods: Cultures were made in four different culture media and further extracted using a non-ionic resin. All these extracts were tested in order to establish its quorum sensing inhibition (QSI) activity using Chromobacterium violaceum ATCC 31532. The active extracts were fractionated by RP-18 cartridge. Each fraction was tested and evaluated for its composition by HPLC-PDA. Results: Methanol fractions of Jeotgalicoccus halophilus and Oceanobacillus profundus were the most active ones, suggesting that non-polar compounds could be the responsible for the QSI activity of the bacterial extracts here tested. Conclusions: The chemical study of the organic extract of Oceanobacillus profundus cultured in LBS, yielded the compounds tyrosol (1) and tyrosol acetate (2) as responsible of QSI activity showed by the organic extract.
|Abstract = 282 veces | PDF (ESPAÑOL (ESPAÑA)) = 131 veces| | UNTITLED (ESPAÑOL (ESPAÑA)) = 0 veces|
Downloads
Download data is not yet available.
References
Schultz MP, Bendick J a, Holm ER, Hertel WM. Economic impact of biofouling on a naval surface ship. Biofouling [Internet]. 2011 Jan;27(1):87–98.
Skandamis PN, Nychas G-JE. Quorum sensing in the context of food microbiology. Appl Environ Microbiol [Internet]. 2012 Aug;78(16):5473–82.
Fuqua C, Parsek MR, Greenberg EP. R EGULATION OF G ENE E XPRESSION BY C ELL - TO -C ELL C OMMUNICATION : Acyl-Homoserine Lactone Quorum Sensing. Annu Rev Genet. 2001;35:439–68.
Bhardwaj AK, Vinothkumar K, Rajpara N. Bacterial quorum sensing inhibitors: attractive alternatives for control of infectious pathogens showing multiple drug resistance. Recent Pat Antiinfect Drug Discov [Internet]. 2013 Apr;8(1):68–83.
Bjarnsholt T, Jensen PØ, Rasmussen TB, Christophersen L, Calum H, Hentzer M, et al. Garlic blocks quorum sensing and promotes rapid clearing of pulmonary Pseudomonas aeruginosa infections. Microbiology [Internet]. 2005 Dec;151(Pt 12):3873–80.
Fusetani N. Antifouling marine natural products. Nat Prod Rep[Internet]. The Royal Society of Chemistry; 2011;28(2):400–10.
Dobretsov S, Teplitski M, Paul V. Mini-review: quorum sensing in the marine environment and its relationship to biofouling. Biofouling [Internet]. 2009 Jan;25(5):413–27.
Kalia VC. Quorum sensing inhibitors: an overview. Biotechnol Adv [Internet]. Elsevier Inc.; 2012;31(2):224–45.
Teasdale ME, Donovan K a, Forschner-Dancause SR, Rowley DC. Gram-positive marine bacteria as a potential resource for the discovery of quorum sensing inhibitors. Mar Biotechnol (NY)[Internet]. 2011 Aug;13(4):722–32.
Tello E, Castellanos L, Duque C. Synthesis of cembranoid analogues and evaluation of their potential as qurum sensing inhibitors. Bioorg Med Chem [Internet]. Elsevier Ltd; 2013 Jan 1;21(1):242–56.
Williams GC, Chen J. Resurrection of the octocorallian genus Antillogorgia for Caribbean species previously assigned to Pseudopterogorgia, and a taxonomic assessment of the relationship of these genera with Leptogorgia (Cnidaria, Anthozoa, Gorgoniidae). 2012;52:5326.
Correa H, Haltli B, Duque C, Kerr R. Bacterial Communities of the Gorgonian Octocoral Pseudopterogorgia elisabethae. Microb Ecol [Internet]. Springer US; 2013;66(4):972–85.
Li J, Chase H a. Development of adsorptive (non-ionic) macroporous resins and their uses in the purification of pharmacologically-active natural products from plant sources. Nat Prod Rep [Internet]. 2010 Oct;27(10):1493–510.
Brango-Vanegas J, Costa GM, Ortmann CF, Schenkel EP, Reginatto FH, Ramos FA, et al. Glycosylflavonoids from Cecropia pachystachya Trécul are quorum sensing inhibitors [Internet]. Phytomedicine : international journal of phytotherapy and phytopharmacology. Urban & Fischer Verlag; 2014. p. 670–5.
Hasan F, Khan S, Shah AALI, Hameed A. Production of antibacterial compounds by free and immobilized bacillus pumilus SAF1. Pak J Bot. 2009;41(3):1499–510.
Al-zereini W, Schuhmann I, Laatsch H, Helmke E. New Aromatic Nitro Compounds from Salegentibacter sp . T436 , an Arctic Sea Ice Bacterium : Taxonomy , Fermentation , Isolation and Biological Activities. J Antibiot (Tokyo). 2007;60(5):301–8.
Sugiura K. Note Isolation of Tunicamycin Produced by Bacillus cereus K-279 Takashi Kamogashira , Setsuko Takegata. 1988;52(3):859–61.
Elbandy M, Shinde PB, Dang HT, Hong J, Bae KS, Jung JH. Furan metabolites from the sponge-derived yeast Pichia membranifaciens. J Nat Prod. 2008;71(5):869–72.
Trisuwan K, Khamthong N, Rukachaisirikul V, Phongpaichit S, Preedanon S, Sakayaroj J. Anthraquinone, cyclopentanone, and naphthoquinone derivatives from the sea fan-derived fungi Fusarium spp. PSU-F14 and PSU-F135. J Nat Prod. 2010;73(9):1507–11.
Serdyuk OP, Smolygina LD, Muzafarov EN, Adanin VM, Arinbasarov MU. 4-Hydroxyphenethyl alcohol a new cytokynin-like subtance from the phototropic purple bacterium Rhodospirillum rubrum 1R. FEBS Lett. 2000;365(1995):10–2.
Hung CY, Tsai YC, Li KY. Phenolic antioxidants isolated from the flowers of Osmanthus fragrans. Molecules. 2012;17(9):10724–37.
Zhang Q-H, Tian L, Zhou L-D, Zhang Y, Li Z-F, Hua H-M, et al. Two new compounds from the marine Nigrospora sphaerica. J Asian Nat Prod Res. 2009;11(11):962–6.
Kalia VC. Quorum Sensing vs Quorum Quenching : A Battle with No End in Sight. New Delhi . Springer; 2015. 383 p.
Alem M a S, Oteef MDY, Flowers TH, Douglas LJ. Production of tyrosol by Candida albicans biofilms and its role in quorum sensing and biofilm development. Eukaryot Cell. 2006;5(10):1770–9.
ALBUQUERQUE P, CASADEVALL A. Quorum sensing in fungi – a review. Med Mycol. 2012;29(6):997–1003.
Ivanova EP, Kuznetsova T a, Mikhailov V V. Antifungal compounds produced by bacterial populations of the sea sponge Verongia sp. Biol Morya (Vladivostok, Russ Fed). 2000;26(2):116–8.
Auñon CD, Allende PA, Fábragas CJ, Gómez-Acebo GE. Use of hydroxytirosol and derivatives thereof as quorum quenchers [Internet]. World Intellectual Property Organization International Bureau; PCT/EP2013/071845, 2014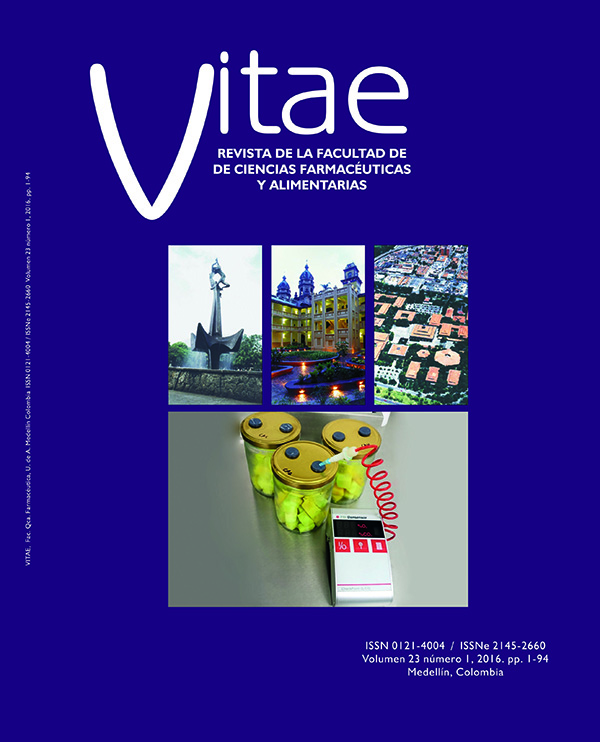 Downloads
Additional Files
How to Cite
Diana, Melisa, Carmenza, Freddy A., & Leonardo. (2016). SCREENING OF MARINE BACTERIAL STRAINS AS SOURCE OF QUORUM SENSING INHIBITORS (QSI): FIRST CHEMICAL STUDY OF Oceanobacillus profundus (RKHC-62B). Vitae, 23(1), 30–47. https://doi.org/10.17533/udea.vitae.v23n1a04
License
Copyright (c) 2016 Vitae
This work is licensed under a Creative Commons Attribution-NonCommercial-ShareAlike 4.0 International License.
Copyright Notice and Open Access Statement
The Journal Vitae works under the Open Access license, and the published manuscripts remain available for the public, both on the Journal's website and in databases, under the Creative Commons license, "Noncommercial Attribution" and "Share alike" systems, adopted in Colombia. Hence, when the authors agree to publish in the Journal Vitae, they will not have the right to economic retributions on publications and reproductions through different diffusion media. The documents are freely available to the internet public, permitting users to read, download, copy, distribute, print, search, or link to the full texts and pass them as data to software. The only constraint on reproduction and distribution, should be to give authors control over the integrity of their work and the right to be appropriately acknowledged and cited.
Authors declare that:
They are the intellectual property owners and are responsible for all the information stated in the article.

This manuscript has not been submitted or published in other printed or digital media. They accept the responsibility for the judgments, opinions, and points of view expressed in the published article and, therefore, they exonerate Universidad de Antioquia and Journal Vitae from any process.

They exempt Universidad de Antioquia and Journal Vitae from settling conflicts or disputes related to the authorship of the referred article.

They accept the revision of the original manuscript by suitable personnel, and they bind themselves to perform the corrections appointed or suggested by the assessors.

Therefore, they know the editorial process and will not bind the Editorial Board of the Journal to assume any obligations regarding the volume and issue in which the article is published.

They transfer the rights of publication, reprinting, and distribution of the article from the moment of its approval, in print and digital format, without the right to economic rewards, and under the licensing conditions considered relevant by Journal Vitae.

They fully authorize Universidad de Antioquia and Journal Vitae to submit the published material to the diverse databases and indexing systems where the Journal can be found to comply with the requirements of the regulatory authorities to maintain the national classification of journals.

They will assume the article publication costs established for the current issue, and they will make the payment as soon as they are informed about the volume and the issue in which the final version of the article is published.

After the article is published, you can share digital or printed copies in a noncommercial manner. You will be able to use the paper in your institution or company for educational or research purposes, including the use in course programs.
Conflict of interest: Authors are responsible for recognizing and disclosing any financial or other benefits that could be perceived to bias their work, acknowledging all financial support and any personal connections with potential sponsors. Examples of such conflicts include receiving research funds or honoraria, serving on advisory boards, stock ownership, or employment and consulting arrangements. Authors without such connections should clearly state that they have no financial support or personal relationships that could be perceived to bias their work. All conflicts of interest should be disclosed on the author's identification page of the manuscript.