EVALUATION OF THE COMPOSITION EFFECT OF HARVESTED COFFEE IN THE ORGANOLEPTIC PROPERTIES OF COFFEE DRINK
Keywords:
Coffea arabica, wet processing, coffee ripeness stages, specialty coffees, fuzzy logic.
Abstract
Background: The current flourishing of the specialty coffee market has motivated the development of this research on the basis that the harvested coffee fruits are a determining factor in drink quality. Objectives: The aim of this study was to evaluate the effect of the composition of harvested coffee (Coffea arabica L.) regarding the organoleptic quality of the coffee drink for the varieties Caturra and Colombia. Methods: Treatments for the assessed varieties were defined with different percentage compositions of coffee fruits M1 (100R), M2 (80R, 13OV, 7SR), M3 (60R, 26OV, 12SR, 2UR) and the control M4, which included fruits in different ripening stages, ripe (R), overripe (OV), semi-ripe (SR) and unripe (UR), in different proportions in experimental units of 10 kg of harvested coffee. The experimental design envisaged 3 rounds (repetitions) of harvest. The harvested coffee was classified manually according to its ripening stage using a previously developed scale based on colorimetry and recording the degrees Brix of 50 fruits in each ripening stage. The standardized wet processing method was carried out; a Q Grader cupping panel of five members was used for the sensory analysis of the coffee drink. Results: The results showed that for the variety Caturra statistical differences in cup quality between treatments were not found, whereas for the variety Colombia, treatments M1 and M3 showed similar behavior, with statistically significant differences regarding M2 and M4. Finally, the mathematical modeling obtained to predict the cup score depending on the coffee ripening stages composition, counted with coefficients of determination R2 of 0.833 and 0.852 with an error of 1.85 and 1.03% for the varieties Caturra and Colombia, respectively. Conclusions: The model developed with fuzzy logic and validated with information from other farms, presented an error of less than 2% in the estimation of the cup as a function of the ripening stages composition of the coffee varieties Caturra and Colombia.
|Abstract = 597 veces | PDF (ESPAÑOL (ESPAÑA)) = 274 veces|
Downloads
Download data is not yet available.
References
Estrategia de intervención para el mejoramiento de la producción de cafés especiales en el departamento de Antioquia para el acceso a mercados de cafés diferenciados. Componente Ciencia Tecnología e Innovación. Universidad Nacional de Colombiasede Medellín. 2013.
Ruiz M P, Ureña M A, Torres M A. Los Mercados del Café y de los Cafés Especiales. Situación Actual y Perspectivas. Programa Más Inversión para el Desarrollo Alternativo Sostenible – MIDAS. [Internet]. Bogotá D.C. Colombia. 2009. 32-38 p. Recuperado de: http://www.ard.org.co/midas/spanish/departamentos/agricultores-y-cadenas-de-valor/pdf/Mercado_Situacion_Actual_y_Perspectivas_CAF%C3%83%E2%80%B0S_ESPECIALES.pdf.
(consultado 2 septiembre de 2013).
Specialty Coffee Association of America (SCAA). SCAA Protocols Cupping Specialty Coffee. [Internet] 2014. 10 p. Recuperado de: http://www.scaa.org/PDF/resources/cupping-protocols.pdf. (consultado 10 octubre de 2014).
Roa M G, Oliveros T C E, Álvarez G J, Ramírez G C A, Sanz U J R, Dávila A M T, Álvarez H J R, Zambrano F D A, Puerta Q G I, Rodríguez V N. Beneficio Ecológico del Café. Chichiná, Colombia: Cenicafé; 1999. 300 p.
Álvarez T E, Álvarez M F, Oliveros T C E, Montoya R E C. Propiedades físico - mecánicas del fruto de café y del sistema fruto - pedúnculo del café variedad Colombia. Facultad Nacional de Agronomía. Medellín. 1999; 52(2): 701-732.
Marín L S M, Arcila P J, Montoya R E C, Oliveros T C E. Relación entre el estado de madurez del fruto de café y las características de beneficio, rendimiento y calidad de la bebida. Cenicafe. 2003; 54(4): 297-315.
Carvajal J J, Aristizábal I D, Oliveros C E. Evaluación de Propiedades Físicas y Mecánicas del Fruto de Café (Coffea arabica L. var. Colombia) durante su desarrollo y maduración. Dyna. 2012; 79(173): 116-124.
IICA Guía técnica para el beneficiado de café protegido bajo una indicación geográfica o denominación de origen. [Internet] Guatemala: IICA, 2010. Recuperado de: http://www.iica.int. (consultado 15 mayo de 2014).
Puerta Q G I. Fermentación controlada del café: Tecnología para agregar valor a la calidad. Avances técnicos No. 454. Cenicafé. 12p. 2015. Recuperado de: http://biblioteca.cenicafe.org/bitstream/10778/558/1/avt0454.pdf. (consultado 2 Julio de 2015).
Peñuela M A E, Pabón U J, Sanz U J R. Método Fermaestro: Para determinar la finalización de la Fermentación del mucílago de café. Avances técnicos Cenicafé No. 431. 2013.
Puerta Q G I. La humedad controlada del grano preserva la calidad del café. Avances Técnicos Cenicafé No. 352. 2006.
Oliveros T C E, Peñuela M A E, Jurado C M E. Controle la humedad del secado solar, utilizando el método Gravimet. Avances Técnicos Cenicafé 387. 2009.
Protocolo Análisis sensorial de café. Proyecto: Antioquia Origen de cafés especiales. Universidad Nacional de Colombia sede Medellín. 2014.
Universidad Nacional de Colombia, Gobernación de Antioquia. Programa de investigación y desarrollo tecnológico en el sector de cafés especiales Informe final técnico y financiero. Convenio de Asociación 4600000539. Antioquia: Origen de cafés especiales. Medellín, 2015.
Jaramillo D. A. Efectos de las abejas silvestres en la polinización del café (Coffea arabica: Rubiaceae) en tres sistemas de producción en el departamento de Antioquia. [Tesis Pregrado] [Medellín]. Universidad Nacional de Colombia sede Medellín. Facultad de Ciencias. 2012.
Tominaga O, Ito F, Hanai T, Honda H, Kobayashi T. Sensory Modeling of Coffee with a Fuzzy Neural Network. Journal of Food Science. 2002; 67(1):363-368. Recuperation of: http://onlinelibrary.wiley.com/doi/10.1111/j.1365-2621.2002.tb11411.x/epdf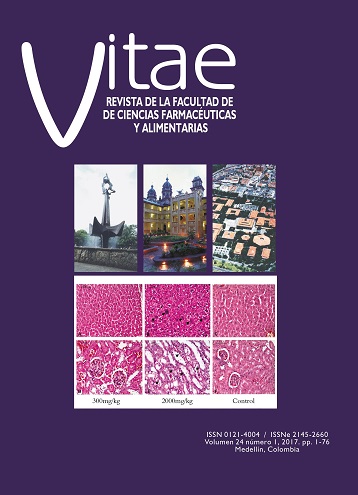 Downloads
How to Cite
Victor Manuel, Iván Dario, & Edilson León. (2017). EVALUATION OF THE COMPOSITION EFFECT OF HARVESTED COFFEE IN THE ORGANOLEPTIC PROPERTIES OF COFFEE DRINK. Vitae, 24(1), 47–58. https://doi.org/10.17533/udea.vitae.v24n1a06
Section
Foods: Science, Engineering and Technology
License
Copyright (c) 2017 Vitae
This work is licensed under a Creative Commons Attribution-NonCommercial-ShareAlike 4.0 International License.
Copyright Notice and Open Access Statement
The Journal Vitae works under the Open Access license, and the published manuscripts remain available for the public, both on the Journal's website and in databases, under the Creative Commons license, "Noncommercial Attribution" and "Share alike" systems, adopted in Colombia. Hence, when the authors agree to publish in the Journal Vitae, they will not have the right to economic retributions on publications and reproductions through different diffusion media. The documents are freely available to the internet public, permitting users to read, download, copy, distribute, print, search, or link to the full texts and pass them as data to software. The only constraint on reproduction and distribution, should be to give authors control over the integrity of their work and the right to be appropriately acknowledged and cited.
Authors declare that:
They are the intellectual property owners and are responsible for all the information stated in the article.

This manuscript has not been submitted or published in other printed or digital media. They accept the responsibility for the judgments, opinions, and points of view expressed in the published article and, therefore, they exonerate Universidad de Antioquia and Journal Vitae from any process.

They exempt Universidad de Antioquia and Journal Vitae from settling conflicts or disputes related to the authorship of the referred article.

They accept the revision of the original manuscript by suitable personnel, and they bind themselves to perform the corrections appointed or suggested by the assessors.

Therefore, they know the editorial process and will not bind the Editorial Board of the Journal to assume any obligations regarding the volume and issue in which the article is published.

They transfer the rights of publication, reprinting, and distribution of the article from the moment of its approval, in print and digital format, without the right to economic rewards, and under the licensing conditions considered relevant by Journal Vitae.

They fully authorize Universidad de Antioquia and Journal Vitae to submit the published material to the diverse databases and indexing systems where the Journal can be found to comply with the requirements of the regulatory authorities to maintain the national classification of journals.

They will assume the article publication costs established for the current issue, and they will make the payment as soon as they are informed about the volume and the issue in which the final version of the article is published.

After the article is published, you can share digital or printed copies in a noncommercial manner. You will be able to use the paper in your institution or company for educational or research purposes, including the use in course programs.
Conflict of interest: Authors are responsible for recognizing and disclosing any financial or other benefits that could be perceived to bias their work, acknowledging all financial support and any personal connections with potential sponsors. Examples of such conflicts include receiving research funds or honoraria, serving on advisory boards, stock ownership, or employment and consulting arrangements. Authors without such connections should clearly state that they have no financial support or personal relationships that could be perceived to bias their work. All conflicts of interest should be disclosed on the author's identification page of the manuscript.