Characterization of odour-active volatiles and sensory analyses of roasted oak (Quercus humboldtii Bonpl.) acorns, a coffee substitute
Keywords:
SDE, QDA, odour-active volatiles, gas chromatography, food chemistry
Abstract
Background: Oak acorns are roasted and grounded to produce a powder that is used to prepare a coffee substitute beverage. Objective: To identify the odour-active volatiles of the powder derived from roasted acorns of Quercus humboldtii and to perform a quantitative descriptive analysis (QDA) of its appearance, odour, and taste. Methods: The odour-active volatiles of roasted oak acorn powder were extracted by SDE and analyzed by GC/MS and olfactory analyses (GC/O). Sensorial analyses of this beverage were done by QDA (Quantitative Descriptive Analysis). Results: Nineteen compounds were identified, showing acid, buttery/caramel, smoke/roasted, and fruity odour notes, which are common to those of roasted coffee. Ketones, aldehydes, aliphatic acids, furanic alcohols and pyrazines were identified as relevant for this coffee substitute beverage. The major volatile compounds were furfural, 5-methyl furfural, furfuryl alcohol, and 3-hydroxy-2-butanone, some of them related to the sugar breakdown by heating. Odour attributes characterized by QDA, were in agreement with those detected by GC-O (Gas Chromatography coupled to Olfactometry), but some off-taste notes were detected. Conclusions: The results of molecular sensory approach confirmed that this product resembles coffee; however, QDA analyses showed the presence of undesirable taste. More studies are needed in order to improve the taste quality of this coffee substitute.
|Abstract = 441 veces | PDF = 314 veces|
Downloads
Download data is not yet available.
References
Nixon KC. Global and neotropical distribution and diversity of Oak (genus Quercus) and Oak Forests. In: Kappelle M, editor. Ecological Studies, Vol. 185. Ecology and Conservation of Neotropical Montane Oak Forests. Berlin, Heidelberg: Springer-Verlag; 2006. 3-13 p.
Löf M, Brunet J, Filyushkina A, Lindbladh M, Skovsgaard JP, Felton A. Management of oak forests: striking a balance between timber production, biodiversity and cultural services. Int. J. Biodivers. Sci. Ecosyst. Serv. Manage. 2016; 12(1-2): 59-73.
Xu X, Wang Z, Rahbek C, Sanders NJ, Fang J. Geographical variation in the importance of water and energy for oak diversity. J Biogeogr. 2016 Feb; 43(2): 279-288.
Ayerdi M, Echazarreta-Gallego A, de Francisco-Rodríguez S, Hernández HH, Sarasketa-Gartzia I. Acorn cake during the Holocene: experimental reconstruction of its preparation in the western Pyrenees, Iberia. Veget Hist Archaeobot. 2016 Sep; 25(5): 443-457.
Bainbridge DA. Acorns as Food. History, use, recipes, and bibliography. [Internet]. Berkeley, USA: Bekeley Electronic Press. 1999 [Updated 13 february of 2014; quoted 2 november 2018]. Available in: https://works.bepress.com/david_a_bainbridge/17/download/.
Korus J, Witczak M, Ziobro R, Juszczak L. The influence of acorn flour on rheological properties of gluten-free dough and physical characteristics of the bread. Eur Food Res Technol. 2015 Jun; 240(6): 1135-1143.
Leporatti ML, Corradi L. Ethnopharmacobotanical remarks on the Province of Chieti town (Abruzzo, Central Italy). J Ethnopharmacol. 2001 Jan; 74(1): 17-40.
Pinna C. Acorn bread: A traditional food of the past in Sardinia (Italy). J Cult Herit. 2013 Jun; 14(3): S71-S74.
Silva S, Costa EM, Borges A, Carvalho AP, Monteiro MJ, Pintado MME. Nutritional characterization of acorn flour (a
traditional component of the Mediterranean gastronomical folklore). J Food Meas Charact. 2016 Sept; 10(3): 584-588.
Łuczaj L, Pieroni A. Nutritional ethnobotany in Europe: From emergency foods to healthy folk cuisines and contemporary foraging trends. In: Sánchez-Mata MdeC, Tardío J, Editors. Mediterranean Wild Edible Plants. New York, USA: Springer Science+Business Media; 2016. 33-56 p.
Rakić S, Povrenović D, Tešević V, Simić M, Maletić R. Oak acorn, polyphenols and antioxidant activity in functional food. J Food Eng. 2006 June; 74(3): 416-423.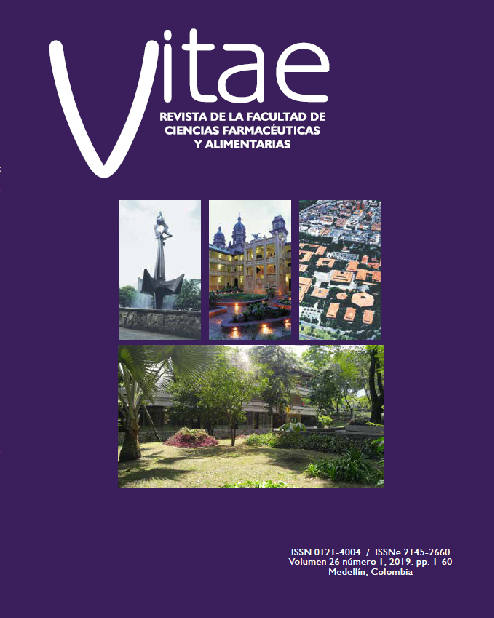 Downloads
How to Cite
DÍAZ-ROJAS, L., GALÁN-BERNAL, N., FORERO, D. P., LINARES, E. L., MARÍN-LOAIZA, J. C., & OSORIO, C. (2019). Characterization of odour-active volatiles and sensory analyses of roasted oak (Quercus humboldtii Bonpl.) acorns, a coffee substitute. Vitae, 26(1), 44–50. https://doi.org/10.17533/udea.vitae.v26n1a05
Section
Foods: Science, Engineering and Technology
License
Copyright (c) 2019 Vitae
This work is licensed under a Creative Commons Attribution-NonCommercial-ShareAlike 4.0 International License.
Copyright Notice and Open Access Statement
The Journal Vitae works under the Open Access license, and the published manuscripts remain available for the public, both on the Journal's website and in databases, under the Creative Commons license, "Noncommercial Attribution" and "Share alike" systems, adopted in Colombia. Hence, when the authors agree to publish in the Journal Vitae, they will not have the right to economic retributions on publications and reproductions through different diffusion media. The documents are freely available to the internet public, permitting users to read, download, copy, distribute, print, search, or link to the full texts and pass them as data to software. The only constraint on reproduction and distribution, should be to give authors control over the integrity of their work and the right to be appropriately acknowledged and cited.
Authors declare that:
They are the intellectual property owners and are responsible for all the information stated in the article.

This manuscript has not been submitted or published in other printed or digital media. They accept the responsibility for the judgments, opinions, and points of view expressed in the published article and, therefore, they exonerate Universidad de Antioquia and Journal Vitae from any process.

They exempt Universidad de Antioquia and Journal Vitae from settling conflicts or disputes related to the authorship of the referred article.

They accept the revision of the original manuscript by suitable personnel, and they bind themselves to perform the corrections appointed or suggested by the assessors.

Therefore, they know the editorial process and will not bind the Editorial Board of the Journal to assume any obligations regarding the volume and issue in which the article is published.

They transfer the rights of publication, reprinting, and distribution of the article from the moment of its approval, in print and digital format, without the right to economic rewards, and under the licensing conditions considered relevant by Journal Vitae.

They fully authorize Universidad de Antioquia and Journal Vitae to submit the published material to the diverse databases and indexing systems where the Journal can be found to comply with the requirements of the regulatory authorities to maintain the national classification of journals.

They will assume the article publication costs established for the current issue, and they will make the payment as soon as they are informed about the volume and the issue in which the final version of the article is published.

After the article is published, you can share digital or printed copies in a noncommercial manner. You will be able to use the paper in your institution or company for educational or research purposes, including the use in course programs.
Conflict of interest: Authors are responsible for recognizing and disclosing any financial or other benefits that could be perceived to bias their work, acknowledging all financial support and any personal connections with potential sponsors. Examples of such conflicts include receiving research funds or honoraria, serving on advisory boards, stock ownership, or employment and consulting arrangements. Authors without such connections should clearly state that they have no financial support or personal relationships that could be perceived to bias their work. All conflicts of interest should be disclosed on the author's identification page of the manuscript.