ANTIMICROBIAL ACTIVITY OF A SYNTHETIC BACTERIOCIN FOUND IN THE GENOME OF LACTOBACILLUS CASEI ON THE MICROBIOTA OF ANTIOQUIAN SOFT CHEESE (QUESITO ANTIOQUEÑO)
Keywords:
Bacteriocins, Computational Biology, Peptides, Food Preservation, in silico
Abstract
Background: Lactic Acid Bacteria (LAB) are of special interest in the food industry due to their ability to produce metabolites. Among them, bacteriocins, which can inhibit the growth of altering microorganisms, and pathogens in a wide variety of foods, are considered safe for human consumption and are used as preservatives. Objectives: Evaluate the effect of a bacteriocin found by in silico methods on the microbiota present in Antioquian soft cheese. Methods: In this research, we design a synthetic bacteriocin, called Bac 22, found in the genome of Lactobacillus casei using the genomic mining methodology and bioinformatics tools. We also conducted a preliminary biological and hemolytic activities studies of the Bac 22 toward the microbiota present in the Antioquian soft cheese (Quesito Antioqueño). Results: The bacteriocin Bac 22 at a concentration of 100 μM presented a hemolytic capacity lower than 1% and reduced the CFU / g of total coliforms significantly when added to Antioquian soft cheese for eight days. Conclusions: The Bac 22 demonstrated a positive potential effect over the shelf life of a dairy product, such as the Antioquian soft cheese.
|Abstract = 486 veces | PDF = 368 veces| | HTML = 29 veces|
Downloads
Download data is not yet available.
References
World Health Organization. WHO estimates of the global burden of f1. World Health Organization. WHO estimates of the global burden of foodborne diseases: foodborne disease burden epidemiology reference group 2007-2015. World Health Organization. 2015. Available in: https://apps.who. int/iris/bitstream/handle/10665/199350/9789241565165_eng. pdf?sequence=1&isAllowed=y
Guerrero JA. Enfermedades Transmitidas por alimentos. Protocolo de vigilancia en salud pública [Internet]. Instituto Nacional de Salud. 2016. Available in: http://www.hosusana.gov.co/sites/default/files/u1/capacitacion/PRO Enfermedades Trans.
por alimentos.pdf
Gobernación de Antioquia. SALUD Y AMBIENTE – Seccional de Salud de Antioquia [Internet]. 2014 [cited 2017 Nov 6]. Available in: http://diagnosticosalud.dssa.gov.co/0-capitulo-1- salud-y-ambiente/pagina-13-capitulo-1-salud-y-ambiente/
Asoleche. leche en cifras - Asoleche - Ecosistema Lácteo Colombiano [Internet]. 2018 [cited 2018 Apr 18]. Available in http://asoleche.org/leche-en-cifras/
NTC 5894. Productos Lácteos.Queso Fresco ICONTEC [Internet]. 2011 [cited 2018 Apr 19]. Available in https://
tienda.icontec.org/gp-productos-lacteos-queso-frescontc5894-2011.html
Sistema Nacional de Salud y Ministerio de Proteccion Social. Evaluación de riesgos de Listeria monocytogenes
en queso fresco en Colombia. INS, Ministerio de Salud y Protección Social, Unidad de Evaluación de Riesgos para
la Inocuidad de los Alimentos UERIA, Instituto Nacional de Salud. 2011. 67 p. Available in ins.gov.co/Direcciones/
Vigilancia/Publicaciones%20ERIA%20y%20Plaguicidas/ER%20LISTERIA%20EN%20LPC.pdf
Bejarano T EE, Sepúlveda V JU, Correa L G. Elaboración de Quesito Antioqueño reducido en sal, adicionado con
Bifidobacterium bifidum y aprovechamiento de este para la elaboración de Queso Fundido. Universidad Nacional de Colombia- Sede Medellín; 2014. Available in http://www.bdigital.unal.edu.co/39672/1/1017175328.2014.pdf
de la Fuente M, Barboza JE. Inocuidad y bioconservación de alimentos. Acta Univ [Internet]. 2010 [cited 2016 Nov
;20(1):43–52. DOI: https://doi.org/10.15174/au.2010.76
Agudelo N. Estado del Arte de la obtención de bacteriocinas a partir de bacterias ácido lácticas y su apliación en la industria de alimentos. Pontificia Bolivariana; 2013. Available in https://repository.upb.edu.co/bitstream/handle/20.500.11912/1409/Trabajo%20final.pdf?sequence=1
Mondragón G, Escalante P, Osuna JA, Ibarra VI, Morlett JA, Aguilar CN, Rodríguez R. Bacteriocinas : características y aplicación en alimentos. Investig Cienc. 2013;21(59):64–70. Available in https://investigacion.uaa.mx/RevistaIyC/archivo/revista59/Articulo%208.pdf
Balciunas EM, Castillo Martinez FA, Todorov SD, Franco BDG de M, Converti A, Oliveira RP de S. Novel biotechnological applications of bacteriocins: A review. Food Control [Internet]. 2013;32(1):134–42. DOI: https://doi.org/10.1016/j. foodcont.2012.11.02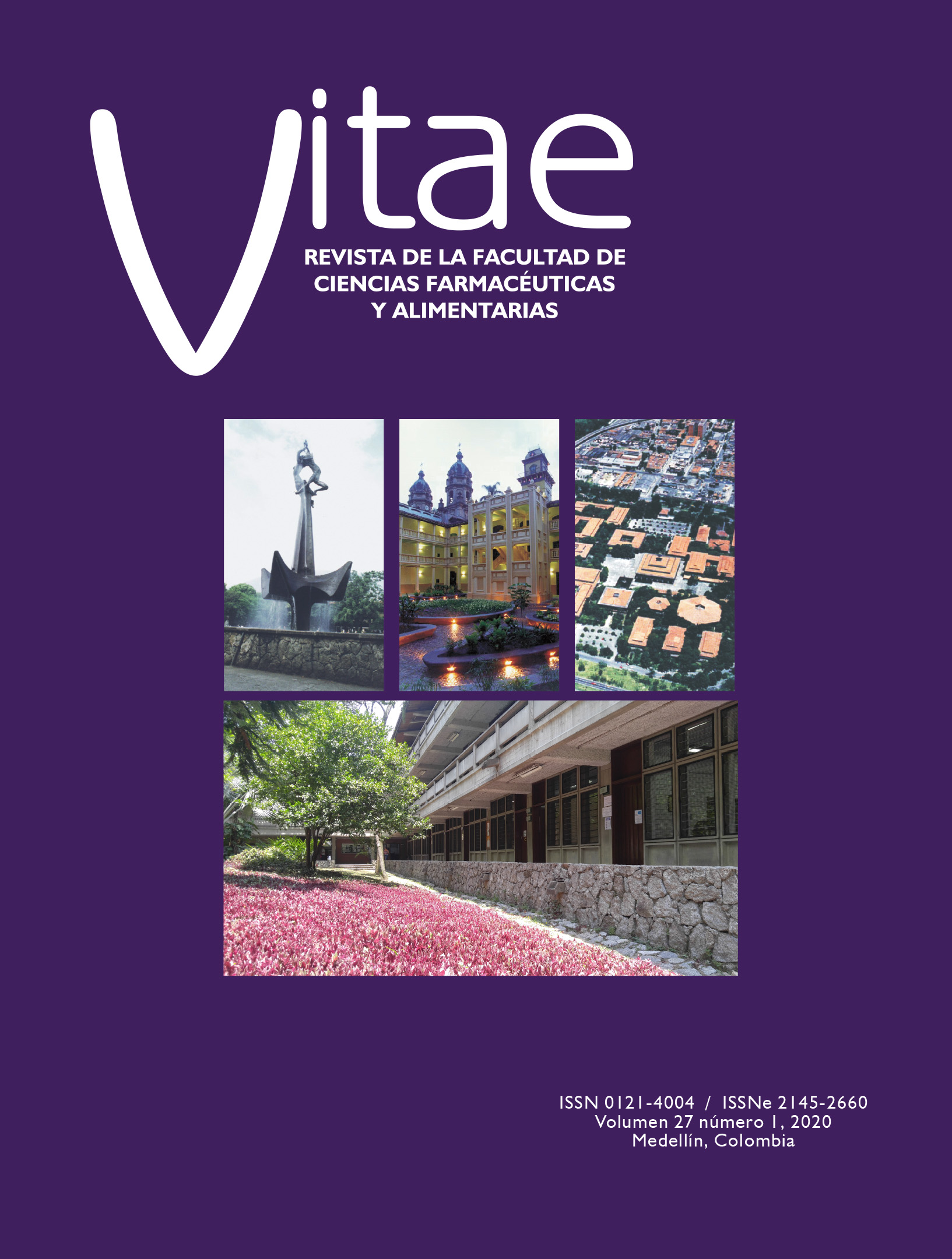 How to Cite
Bolivar Parra, L., Giraldo Hincapié, P. A., & Montoya Campuzano, O. I. (2020). ANTIMICROBIAL ACTIVITY OF A SYNTHETIC BACTERIOCIN FOUND IN THE GENOME OF LACTOBACILLUS CASEI ON THE MICROBIOTA OF ANTIOQUIAN SOFT CHEESE (QUESITO ANTIOQUEÑO). Vitae, 27(1). https://doi.org/10.17533/udea.vitae.v27n1a02
Section
Complete Articles
License
Copyright (c) 2020 Vitae
This work is licensed under a Creative Commons Attribution-NonCommercial-ShareAlike 4.0 International License.
Copyright Notice and Open Access Statement
The Journal Vitae works under the Open Access license, and the published manuscripts remain available for the public, both on the Journal's website and in databases, under the Creative Commons license, "Noncommercial Attribution" and "Share alike" systems, adopted in Colombia. Hence, when the authors agree to publish in the Journal Vitae, they will not have the right to economic retributions on publications and reproductions through different diffusion media. The documents are freely available to the internet public, permitting users to read, download, copy, distribute, print, search, or link to the full texts and pass them as data to software. The only constraint on reproduction and distribution, should be to give authors control over the integrity of their work and the right to be appropriately acknowledged and cited.
Authors declare that:
They are the intellectual property owners and are responsible for all the information stated in the article.

This manuscript has not been submitted or published in other printed or digital media. They accept the responsibility for the judgments, opinions, and points of view expressed in the published article and, therefore, they exonerate Universidad de Antioquia and Journal Vitae from any process.

They exempt Universidad de Antioquia and Journal Vitae from settling conflicts or disputes related to the authorship of the referred article.

They accept the revision of the original manuscript by suitable personnel, and they bind themselves to perform the corrections appointed or suggested by the assessors.

Therefore, they know the editorial process and will not bind the Editorial Board of the Journal to assume any obligations regarding the volume and issue in which the article is published.

They transfer the rights of publication, reprinting, and distribution of the article from the moment of its approval, in print and digital format, without the right to economic rewards, and under the licensing conditions considered relevant by Journal Vitae.

They fully authorize Universidad de Antioquia and Journal Vitae to submit the published material to the diverse databases and indexing systems where the Journal can be found to comply with the requirements of the regulatory authorities to maintain the national classification of journals.

They will assume the article publication costs established for the current issue, and they will make the payment as soon as they are informed about the volume and the issue in which the final version of the article is published.

After the article is published, you can share digital or printed copies in a noncommercial manner. You will be able to use the paper in your institution or company for educational or research purposes, including the use in course programs.
Conflict of interest: Authors are responsible for recognizing and disclosing any financial or other benefits that could be perceived to bias their work, acknowledging all financial support and any personal connections with potential sponsors. Examples of such conflicts include receiving research funds or honoraria, serving on advisory boards, stock ownership, or employment and consulting arrangements. Authors without such connections should clearly state that they have no financial support or personal relationships that could be perceived to bias their work. All conflicts of interest should be disclosed on the author's identification page of the manuscript.