Effect of the drying method and texture improvers on reconstitution behavior of yogurt powder: physical and microbiological properties
Keywords:
Yogurt powder, Acid Lactic bacteria, rheological properties, freeze-drying, spray-drying, texture improvers
Abstract
BACKGROUND: One of the most used and effective preservation strategies in foods is drying. However, there are problems with the rheological properties, color, and viability of lactic acid bacteria in the yogurt once reconstituted when applying such conservation strategies.   OBJECTIVES: Determine the concentration of the type of texture improver and drying that minimizes the negative effect on the rheological, color, and microbiological properties of a reconstituted yogurt powder. METHODS: Intended to determine the texture improver which increases rheological properties of reconstituted yogurt powder, a mixture type experimental design was applied where three texture improvers were assessed; carboxymethylcellulose (CMC) (mass fraction 0 - 1), pectin (mass fraction 0 - 1), and xanthan gum (mass fraction 0 - 1). The rheological parameters; consistency index (K), flow behavior (n), viscosity at 100s-1 (η), the storage (G') and loss (G'') modules, and the phase shift angle (δ) of each of the reconstitutions were considered as design-dependent variables. Secondly, a central composite design (face-centered) was used for assessing the effectiveness of the drying (convection, spray-drying, and freeze-drying), the concentration of the texture improver (0.0 - 1.0%), and the yogurt powder concentration (8.0 - 15.0%). The above-mentioned rheological parameters, color, and viability of the lactic acid bacteria from each reconstituted yogurt powder were considered as the dependent variables. Optimization sought to match the parameters of reconstituted yogurt powder that approximated the conditions of fresh yogurt. RESULTS: The independent variables in their lineal expression and some interactions between them had statistically significant differences (p < 0.05). At a concentration of 10.59% with 0.03% xanthan gum, the reconstitution of freeze-dried yogurt powder was the optimized condition (p < 0.05) and obtained the rheological, color, and microbiological parameters closest to fresh yogurt. CONCLUSIONS: The drying of the yogurt by freeze-drying mixed with xanthan gum as a texture improver allowed to obtain a reconstituted yogurt with properties close to the fresh product for direct consumption.
|Abstract = 648 veces | PDF = 428 veces|
Downloads
Download data is not yet available.
References
Remeuf F, Mohammed S, Sodini I, Tissier JP. Preliminary observations on the effects of milk fortification and heating on microstructure and physical properties of stirred yogurt. Int Dairy J. 2003;13(9):773–82. doi:https://doi.org/10.1016/S0958-6946(03)00092-X
Lee WJ, Lucey JA. Formation and physical properties of yogurt. Asian-Australasian J Anim Sci. 2010;23(9):1127–36. doi:https://doi.org/10.5713/ajas.2010.r.05
Kennas A, Amellal-Chibane H, Kessal F, Halladj F. Effect of pomegranate peel and honey fortification on physicochemical, physical, microbiological and antioxidant properties of yoghurt powder. J Saudi Soc Agric Sci. 2020;19(1):99–108. doi:https://doi.org/10.1016/j.jssas.2018.07.001
de Medeiros ACL, Thomazini M, Urbano A, Correia RTP, Favaro-Trindade CS. Structural characterisation and cell viability of a spray dried probiotic yoghurt produced with goats' milk and Bifidobacterium animalis subsp. lactis (BI-07). Int Dairy J. 2014;39(1):71–7. doi:https://doi.org/10.1016/j.idairyj.2014.05.008
Koc B, Yilmazer MS, Balkır P, Ertekin FK. Spray drying of yogurt: Optimization of process conditions for improving viability and other quality attributes. Dry Technol. 2010;28(4):495–507. doi:https://doi.org/10.1080/07373931003613809
Anal AK, Singh H. Recent advances in microencapsulation of probiotics for industrial applications and targeted delivery. Trends Food Sci Technol. 2007, 18(5):240–51. doi:https://doi.org/10.1016/j.tifs.2007.01.004
Hayaloglu AA, Karabulut I, Alpaslan M, Kelbaliyev G. Mathematical modeling of drying characteristics of strained yoghurt in a convective type tray-dryer. J Food Eng. 2007;78(1):109–17. doi:https://doi.org/10.1016/j.jfoodeng.2005.09.006
Santos GD, Nogueira RI, Rosenthal A. Powdered yoghurt produced by spray drying and freeze drying: A review. Brazilian J Food Technol. 2018;21:e2016127. doi:http://dx.doi.org/10.1590/1981-6723.12716
Seth D, Mishra HN, Deka SC. Functional and reconstitution properties of spray-dried sweetened yogurt powder as influenced by processing conditions. Int J Food Prop. 2017;20(7):1603–11. doi:https://doi.org/10.1080/10942912.2016.1214965
(AOAC) ASFTAM 15°. AMERICAN SOCIETY FOR TESTING AND MATERIALS (AOAC). 1998. doi: https://doi.org/10.1038/203565a0
Venir E, Del Torre M, Stecchini ML, Maltini E, Di Nardo P. Preparation of freeze-dried yoghurt as a space food. J food Eng. 2007;80(2):402–407. doi:https://doi.org/10.1016/j.jfoodeng.2006.02.030
Mu B, Xu H, Li W, Xu L, Yang Y. Spinnability and rheological properties of globular soy protein solution. Food Hydrocoll. 2019;90:443–51. doi: https://doi.org/10.1016/j.foodhyd.2018.12.049
Caillard R, Remondetto GE, Mateescu MA, Subirade M. Characterization of amino cross-linked soy protein hydrogels. J Food Sci. 2008;73(5):283–91. doi: https://doi.org/10.1111/j.1750-3841.2008.00780.x
Steffe JF. Rheological methods in food process engineering. Freeman press. 1996. 317-339 p.
Ramirez-Navas JS, Rodriguez de Stouvenel A. Characterization of Colombian quesillo cheese by spectrocolorimetry. Vitae. 2012;19(2):178–85.
NTC5034. Microbiología de Alimentos y Alimentos para animales. Método Horizontal para el recuento de Bacterias mesofílicas de ácido láctico. Técnica de recuento de colonias a 30°C. Bogotá: Instituto Colombiano de Normas Técnicas y de Certificación (ICONTEC); 2002.
Arltoft D, Madsen F, Ipsen R. Screening of probes for specific localisation of polysaccharides. Food Hydrocoll. 2007;21(7):1062–71. doi:https://doi.org/10.1016/j.foodhyd.2006.07.020
Carvalho MJ, Perez-Palacios T, Ruiz-Carrascal J. Physico-chemical and sensory characteristics of freeze-dried and air-dehydrated yogurt foam. LWT. 2017;80:328–34. doi:https://doi.org/10.1016/j.lwt.2017.02.039
Song L, Aryana K. Reconstituted yogurt from yogurt cultured milk powder mix has better overall characteristics than reconstituted yogurt from commercial yogurt powder. J Dairy Sci. 2014;97(10):6007–15. doi:https://doi.org/10.3168/jds.2014-8181
Ramirez-Figueroa E, Salgado-Cervantes MA, Rodriguez GC, Garcia HS. Addition of hydrocolloids to improve the functionality of spray dried yoghurt. Milchwissenschaft. 2002;57(2):87–9.
Sakin-Yilmazer M, Koç B, Balkir P, Kaymak-Ertekin F. Rheological behavior of reconstituted yoghurt powder—An optimization study. Powder Technol. 2014;266:433–9. doi:https://doi.org/10.1016/j.powtec.2014.06.060
Kumar P, Mishra HN. Yoghurt Powder—A Review of Process Technology, Storage and Utilization. Food Bioprod Process. 2004;82(2):133–42. doi:https://doi.org/10.1205/0960308041614918
Rascón-Díaz MP, Tejero JM, Mendoza-Garcia PG, García HS, Salgado-Cervantes MA. Spray Drying Yogurt Incorporating Hydrocolloids: Structural Analysis, Acetaldehyde Content, Viable Bacteria, and Rheological Properties. Food Bioprocess Technol. 2012;5(2):560–7. doi: https://doi.org/10.1007/s11947-009-0312-x
Sandoval-Castilla O, Lobato-Calleros C, Aguirre-Mandujano E, Vernon-Carter EJ. Microstructure and texture of yogurt as influenced by fat replacers. Int Dairy J. 2004;14(2):151–9. doi:https://doi.org/10.1016/S0958-6946(03)00166-3
Yuliarti O, Mei KH, Kam Xue Ting Z, Yi KY. Influence of combination carboxymethylcellulose and pectin on the stability of acidified milk drinks. Food Hydrocoll. 2019;89:216–23. doi:https://doi.org/10.1016/j.foodhyd.2018.10.040
Tuinier R, Rolin C, de Kruif CG. Electrosorption of Pectin onto Casein Micelles. Biomacromolecules. 2002;3(3):632–8. doi: https://doi.org/10.1021/bm025530x
Schmidt KA, Smith DE. Milk Reactivity of Gum and Milk Protein Solutions1. J Dairy Sci. 1992;75(12):3290–5. doi:https://doi.org/10.3168/jds.S0022-0302(92)78104-1
Nguyen PTM, Kravchuk O, Bhandari B, Prakash S. Effect of different hydrocolloids on texture, rheology, tribology and sensory perception of texture and mouthfeel of low-fat pot-set yoghurt. Food Hydrocoll. 2017;72:90–104. doi:https://doi.org/10.1016/j.foodhyd.2017.05.035
Sanz T, Salvador A, Jiménez A, Fiszman SM. Yogurt enrichment with functional asparagus fibre. Effect of fibre extraction method on rheological properties, colour, and sensory acceptance. Eur Food Res Technol. 2008;227(5):1515–21. doi: https://doi.org/10.1007/s00217-008-0874-2
Nan C, Dong X. Towards a maximal cell survival in convective thermal drying processes. Food Res Int. 2011;44:1127–49. https://doi.org/10.1016/j.foodres.2011.03.053
Morales FJ, van Boekel MAJS. A Study on Advanced Maillard Reaction in Heated Casein/Sugar Solutions: Colour Formation. Int Dairy J. 1998;8(10):907–15. doi:https://doi.org/10.1016/S0958-6946(99)00014-X
Izadi M, Eskandari MH, Niakousari M, Shekarforoush S, Hanifpour MA, Izadi Z. Optimisation of a pilot-scale spray drying process for probiotic yoghurt, using response surface methodology. Int J Dairy Technol. 2014;67(2):211–9. doi: https://doi.org/10.1111/1471-0307.12108
Erbay Z, Koca N, Kaymak-Ertekin F, Ucuncu M. Optimization of spray drying process in cheese powder production. Food Bioprod Process. 2015;93:156–65. doi:https://doi.org/10.1016/j.fbp.2013.12.008
Tontul İ, Ergin F, Eroğlu E, Küçükçetin A, Topuz A. Physical and microbiological properties of yoghurt powder produced by refractance window drying. Int Dairy J. 2018;85:169–76. doi:https://doi.org/10.1016/j.idairyj.2018.06.002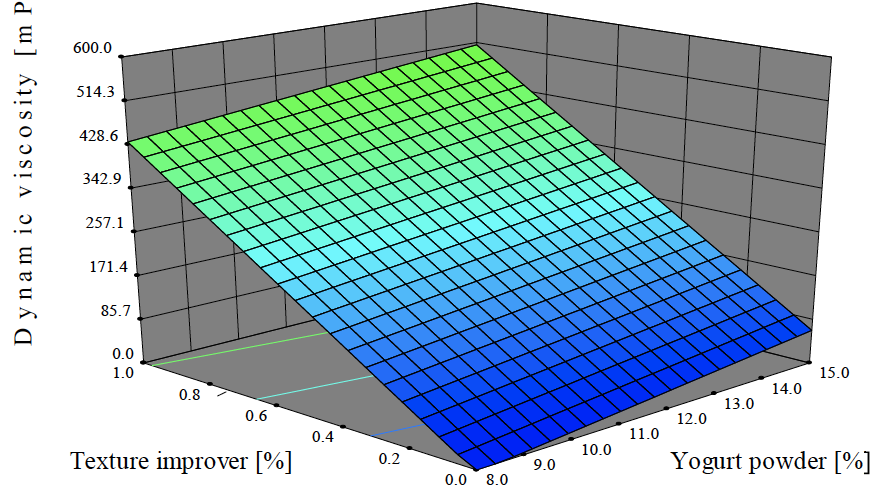 Downloads
How to Cite
Monsalve-Atencio, R., Sanchez, K., Chica, J., Camaño, J., Saldarriaga, J., & Quintero-Quiroz, J. (2021). Effect of the drying method and texture improvers on reconstitution behavior of yogurt powder: physical and microbiological properties. Vitae, 28(2). https://doi.org/10.17533/udea.vitae.v28n2a344985
Section
Foods: Science, Engineering and Technology
License
Copyright (c) 2021 Robinson Monsalve-Atencio, Karolay Sanchez, Juan Chica, Jairo Camaño, Johana Saldarriaga, Julian Quintero-Quiroz
This work is licensed under a Creative Commons Attribution-NonCommercial-ShareAlike 4.0 International License.
Copyright Notice and Open Access Statement
The Journal Vitae works under the Open Access license, and the published manuscripts remain available for the public, both on the Journal's website and in databases, under the Creative Commons license, "Noncommercial Attribution" and "Share alike" systems, adopted in Colombia. Hence, when the authors agree to publish in the Journal Vitae, they will not have the right to economic retributions on publications and reproductions through different diffusion media. The documents are freely available to the internet public, permitting users to read, download, copy, distribute, print, search, or link to the full texts and pass them as data to software. The only constraint on reproduction and distribution, should be to give authors control over the integrity of their work and the right to be appropriately acknowledged and cited.
Authors declare that:
They are the intellectual property owners and are responsible for all the information stated in the article.

This manuscript has not been submitted or published in other printed or digital media. They accept the responsibility for the judgments, opinions, and points of view expressed in the published article and, therefore, they exonerate Universidad de Antioquia and Journal Vitae from any process.

They exempt Universidad de Antioquia and Journal Vitae from settling conflicts or disputes related to the authorship of the referred article.

They accept the revision of the original manuscript by suitable personnel, and they bind themselves to perform the corrections appointed or suggested by the assessors.

Therefore, they know the editorial process and will not bind the Editorial Board of the Journal to assume any obligations regarding the volume and issue in which the article is published.

They transfer the rights of publication, reprinting, and distribution of the article from the moment of its approval, in print and digital format, without the right to economic rewards, and under the licensing conditions considered relevant by Journal Vitae.

They fully authorize Universidad de Antioquia and Journal Vitae to submit the published material to the diverse databases and indexing systems where the Journal can be found to comply with the requirements of the regulatory authorities to maintain the national classification of journals.

They will assume the article publication costs established for the current issue, and they will make the payment as soon as they are informed about the volume and the issue in which the final version of the article is published.

After the article is published, you can share digital or printed copies in a noncommercial manner. You will be able to use the paper in your institution or company for educational or research purposes, including the use in course programs.
Conflict of interest: Authors are responsible for recognizing and disclosing any financial or other benefits that could be perceived to bias their work, acknowledging all financial support and any personal connections with potential sponsors. Examples of such conflicts include receiving research funds or honoraria, serving on advisory boards, stock ownership, or employment and consulting arrangements. Authors without such connections should clearly state that they have no financial support or personal relationships that could be perceived to bias their work. All conflicts of interest should be disclosed on the author's identification page of the manuscript.