Anxiolytic-like activity of Aloysia virgata var. platyphylla leaves extract in mice
Keywords:
methanol extract, sleeping time, hole board, elevated plus maze, pre-clinical, Aloysia virgata var. platyphylla, anxiolytic
Abstract
Background: Medicinal plants are part of traditional medicine and should be considered a therapeutic alternative for mental diseases. Several plants belonging to the Verbenaceae family have proved useful in treating general anxiety disorders, the most prevalent psychiatric disorders. Objective: This research aimed to verify the extract's safety, the effect on general behavior, and the effect on sleeping time, as well as to evaluate the anxiolytic-like effect of the methanol extract of Aloysia virgata var. platyphylla (Avp), in mice. Methodology: The toxicity test was done according to the OECD guide (mice groups n=5), and general behavior was observed during the assay. Sleeping time was assessed using the pentobarbital-induced hypnosis method (n=8). Male Swiss albino mice (n=6) were treated with 50 to 400 mg/kg of Avp extract and diazepam as a control. The anxiolytic-like effect was tested through the hole board and elevated plus-maze test. Results: The Avp extract has no side effects in tested doses, and no central nervous system depressant activity was noted. A. virgata var. platyphylla increased exploration (number and time) in the hole board. In the elevated plus-maze, increased number and time into open arms were evidenced compared to the control group. Conclusion: With all these results, we concluded that the Avp extract is safe and has a potential anxiolytic-like activity in the animal model used.
|Abstract = 330 veces | PDF = 284 veces|
Downloads
Download data is not yet available.
References
Dattani S, Ritchie H, Roser M. Mental Health. Our World In Data 2021; Available at: https://ourworldindata.org/mental-health
Wittchen HU, Jacobi F, Rehm J, Gustavsson A, Svensson M, Jönsson B, Olesen J, Allgulander C, Alonso J, Faravelli C, Fratiglioni L, Jennum P, Lieb R, Maercker A, van Os J, Preisig M, Salvador-Carulla L, Simon R, Steinhausen H-C. The size and burden of mental disorders and other disorders of the brain in Europe 2010. Eur Neuropsychopharmacol. 2011;21(9):655–679. DOI: https://doi.org/10.1016/j.euroneuro.2011.07.018
Bandelow B, Michaelis S, Wedekind D. Treatment of anxiety disorders. Dialogues Clin Neurosci. 2017;19(2):93-106. DOI: https://doi.org/10.31887/DCNS.2017.19.2/bbandelow
Angst J, Gamma A, Baldwin DS, Ajdacic-Gross V, Rössler W. The generalized anxiety spectrum: Prevalence, onset, course and outcome. Eur Arch Psychiatry Clin Neurosci. 2009;259(1):37–45. DOI: https://doi.org/10.1007/s00406-008-0832-9
Kidman A. Neurochemical and cognitive aspects of anxiety disorders. Prog Neurobiol. 1989;32(5):391–402. DOI: https://doi.org/10.1016/0301-0082(89)90029-4
Coughlin SS. Anxiety and depression: linkages with viral diseases. Public Health Rev. 2012;34(2):1–17. DOI: https://doi.org/10.1007/BF03391675
Gustad LT, Laugsand LE, Janszky I, Dalen H, Bjerkeset O. Symptoms of anxiety and depression and risk of heart failure: The HUNT Study. Eur J Heart Fail. 2014;16(8):861–870. DOI: https://doi.org/10.1002/ejhf.133
Scott KM. Depression, anxiety and incident cardiometabolic diseases. Curr Opin Psychiatry. 2014;27(4):289–293. DOI: https://doi.org/10.1097/YCO.0000000000000067
Torta R, Pennazio F, Ieraci V. Anxiety and depression in rheumatologic diseases: The relevance of diagnosis and management. Reumatismo. 2014;66(1):92–97. DOI: https://doi.org/10.4081/reumatismo.2014.769
Giuntella O, Hyde K, Saccardo S, Sadoff S. Lifestyle and mental health disruptions during COVID-19. Proceedings of the National Academy of Sciences Mar 2021, 118 (9) e2016632118. DOI: https://doi.org/10.1073/pnas.2016632118
Yeboah SO, Amponsah IK, Kaba JS, Abunyewa AA. Abundance, richness and use of medicinal plants under different land uses in the Guinea Savanna zone of Northern Ghana, All Earth, 2022; 34:1, 202-214. DOI: 10.1080/27669645.2022.2105485
López-Rubalcava C, Estrada-Camarena E. Mexican medicinal plants with anxiolytic or antidepressant activity: Focus on preclinical research. J Ethnopharmacol. 2016;186:377–391. DOI: https://doi.org/10.1016/j.jep.2016.03.053
Saki K, Bahmani M, Rafieian-Kopaei M. The effect of most important medicinal plants on two important psychiatric disorders (anxiety and depression)-a review. Asian Pac J Trop Med. 2014;7(S1):S34–42. DOI: https://doi.org/10.1016/S1995-7645(14)60201-7
Kennedy ML, Taboada T, Snead E, Diarte EMG, Coronel CM, Arrua W, Heinechen O, Montalbetti Y, Hellion-Ibarrola MC, Ibarrola DA, Campuzano-Bublitz MA. Evaluation of methanol extract of Aloysia gratissima var. gratissima leaves on behavior and anxiety in mice. Int J Pharm Sci & Res. 2021; 12(7): 3858-3865. DOI: https://doi.org/10.13040/IJPSR.0975-8232.12(7).3858-65
Mora S, Díaz-Véliz G, Millán R, Lungenstrass H, Quirós S, Coto-Morales T, Hellión-Ibarrola MC. Anxiolytic and antidepressant-like effects of the hydroalcoholic extract from Aloysia polystachya in rats. Pharmacol Biochem Behav. 2005;82(2):373–378. DOI: https://doi.org/10.1016/j.pbb.2005.09.007
Carmona F, Coneglian FS, Batista PA, Aragon DC, Angelucci MA, Martinez EZ, Pereira AMS. Aloysia polystachya (Griseb.) Moldenke (Verbenaceae) powdered leaves are effective in treating anxiety symptoms: A phase-2, randomized, placebo-controlled clinical trial. J Ethnopharmacol. 2019;242(5):112060. DOI: https://doi.org/10.1016/j.jep.2019.112060
Hellión-Ibarrola MC, Ibarrola DA, Montalbetti Y, Kennedy ML, Heinichen O, Campuzano M, Ferro EA, Alvarenga N, Tortoriello J, De Lima TC, Mora S. The antidepressant-like effects of Aloysia polystachya (Griseb.) Moldenke (Verbenaceae) in mice. Phytomedicine. 2008;15(6–7):478–483. DOI: https://doi.org/10.1016/j.phymed.2007.11.018
Jiménez-Ferrer E, Santillán-Urquiza MA, Alegría-Herrera E, Zamilpa A, Noguerón-Merino C, Tortoriello J, Navarro-García V, Avilés-Flores M, Fuentes-Mata M, Herrera-Ruiz M. Anxiolytic effect of fatty acids and terpenes fraction from Aloysia triphylla: Serotoninergic, GABAergic and glutamatergic implications. Biomed Pharmacother. 2017; 96:320–327. DOI: https://doi.org/10.1016/j.biopha.2017.10.024
Zhang N, Yao L. Anxiolytic Effect of Essential Oils and Their Constituents: A Review. J Agric Food Chem. 2019;67(50):13790–13808. DOI: https://doi.org/10.1021/acs.jafc.9b00433
Hatano VY, Torricelli AS, Giassi ACC, Coslope LA, Viana MB. Anxiolytic effects of repeated treatment with an essential oil from Lippia alba and (R)-(-)-carvone in the elevated T-maze. Brazilian J Med Biol Res. 2012;45(3):238–243. DOI: https://doi.org/10.1590/S0100-879X2012007500021
González-Trujano ME, Hernández-Sánchez LY, Ocotero VM, Dorazco-González A, Fefer PG, Aguirre-Hernández E. Pharmacological evaluation of the anxiolytic-like effects of Lippia graveolens and bioactive compounds. Pharm Biol. 2017;55(1):1569–1576. DOI: https://doi.org/10.1080/13880209.2017.1310908
Wasowski C, Marder M. Central nervous system activities of two diterpenes isolated from Aloysia virgata. Phytomedicine. 2011;18(5):393–401. DOI: https://doi.org/10.1016/j.phymed.2010.08.017
OECD. Test No. 420: Acute Oral Toxicity - Fixed Dose Procedure, OECD Guidelines for the Testing of Chemicals, Section 4. OECD Publishing 2002; 1-14.
Irwin S: Comprehensive observational assessment. A systematic quantitative procedure for assessing the behavioral and physiologic state of the mouse. Psychopharmacology 1968; 13: 222-257. DOI: https://doi.org/10.1007/BF00401402
De Lima TCM: Evaluación de la actividad y el comportamiento motor. In: Lapa AJ, Souccar C, Lima-Landman MTR, Monteiro de Lima TC, eds. Métodos de Evaluación de la Actividad Farmacológica de Plantas Medicinales. Editograf, CYTED/ CNPq2002.
Lister RG: The use of the plus-maze to measure anxiety in the mouse. Psychopharmacology 1987; 92: 180-185. DOI: https://doi.org/10.1007/BF00177912
Lister RG: Ethologically-based animal models of anxiety disorders. Pharmacol Therapeut 1990; 46: 321-40. DOI: https://doi.org/10.1016/0163-7258(90)90021-s
Carlini EA: Farmacología prática sem aparelhagem. Sao Paulo: Ed. Sarvier 1973.29. Takeda H, Tsuji M, Matsumiya T. Changes in head-dipping behavior in the hole-board test reflect the anxiogenic and/or anxiolytic state in mice. Eur J Pharmacol. 1998;350(1):21–29. DOI: https://doi.org/10.1016/s0014-2999(98)00223-4.
Kraeuter AK, Guest PC, Sarnyai Z. The Elevated Plus Maze Test for Measuring Anxiety-Like Behavior in Rodents. In: Guest, P. (eds) Pre-Clinical Models. Methods in Molecular Biology, vol 1916. Humana Press, New York, NY. https://doi.org/10.1007/978-1-4939-8994-2_4.
Razavi BM, Zargarani N, Hosseinzadeh H. Anti-anxiety and hypnotic effects of ethanolic and aqueous extracts of Lippia citriodora leaves and verbascoside in mice. Avicenna J Phytomed, 2017; 7 (4): 353-365. DOI: https://doi.org/PMC5580873. Nuss P. Anxiety disorders and GABA neurotransmission: a disturbance of modulation. Neuropsychiatr Dis Treat. 2015 Jan 17;11:165-175. DOI: https://doi.org/10.2147/NDT.S58841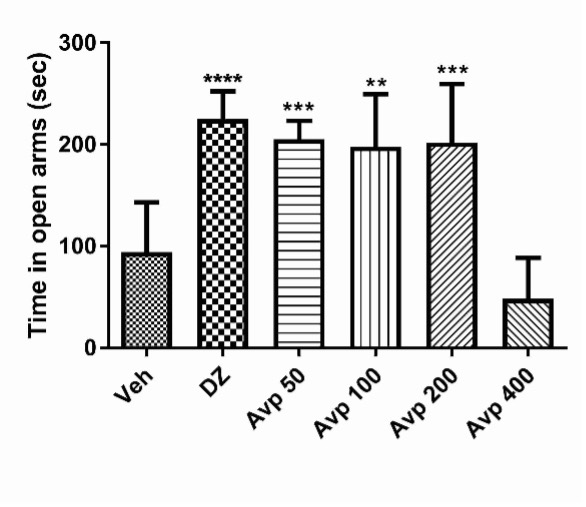 Downloads
How to Cite
Kennedy, M. L. ., Campuzano-Bublitz, M. A., Diarte, E. M. ., Snead, E. ., & Taboada, T. (2022). Anxiolytic-like activity of Aloysia virgata var. platyphylla leaves extract in mice. Vitae, 29(3). https://doi.org/10.17533/udea.vitae.v29n3a349318
License
Copyright (c) 2022 María Luisa Kennedy, Miguel A. Campuzano-Bublitz, Elena MG Diarte, Enrique Snead, Teresa Taboada
This work is licensed under a Creative Commons Attribution-NonCommercial-ShareAlike 4.0 International License.
Copyright Notice and Open Access Statement
The Journal Vitae works under the Open Access license, and the published manuscripts remain available for the public, both on the Journal's website and in databases, under the Creative Commons license, "Noncommercial Attribution" and "Share alike" systems, adopted in Colombia. Hence, when the authors agree to publish in the Journal Vitae, they will not have the right to economic retributions on publications and reproductions through different diffusion media. The documents are freely available to the internet public, permitting users to read, download, copy, distribute, print, search, or link to the full texts and pass them as data to software. The only constraint on reproduction and distribution, should be to give authors control over the integrity of their work and the right to be appropriately acknowledged and cited.
Authors declare that:
They are the intellectual property owners and are responsible for all the information stated in the article.

This manuscript has not been submitted or published in other printed or digital media. They accept the responsibility for the judgments, opinions, and points of view expressed in the published article and, therefore, they exonerate Universidad de Antioquia and Journal Vitae from any process.

They exempt Universidad de Antioquia and Journal Vitae from settling conflicts or disputes related to the authorship of the referred article.

They accept the revision of the original manuscript by suitable personnel, and they bind themselves to perform the corrections appointed or suggested by the assessors.

Therefore, they know the editorial process and will not bind the Editorial Board of the Journal to assume any obligations regarding the volume and issue in which the article is published.

They transfer the rights of publication, reprinting, and distribution of the article from the moment of its approval, in print and digital format, without the right to economic rewards, and under the licensing conditions considered relevant by Journal Vitae.

They fully authorize Universidad de Antioquia and Journal Vitae to submit the published material to the diverse databases and indexing systems where the Journal can be found to comply with the requirements of the regulatory authorities to maintain the national classification of journals.

They will assume the article publication costs established for the current issue, and they will make the payment as soon as they are informed about the volume and the issue in which the final version of the article is published.

After the article is published, you can share digital or printed copies in a noncommercial manner. You will be able to use the paper in your institution or company for educational or research purposes, including the use in course programs.
Conflict of interest: Authors are responsible for recognizing and disclosing any financial or other benefits that could be perceived to bias their work, acknowledging all financial support and any personal connections with potential sponsors. Examples of such conflicts include receiving research funds or honoraria, serving on advisory boards, stock ownership, or employment and consulting arrangements. Authors without such connections should clearly state that they have no financial support or personal relationships that could be perceived to bias their work. All conflicts of interest should be disclosed on the author's identification page of the manuscript.