Inmunosupresores y principales complicaciones en el trasplante renal pediátrico
Palabras clave:
inmunosupresores, pediátrico, rechazo, trasplante renal
Resumen
El trasplante renal pediátrico es el tratamiento de elección en los niños con enfermedad renal crónica terminal. Muchos agentes se utilizan en dos regímenes de terapia inmunosupresora, primero en una fase de inducción y posteriormente para el mantenimiento. Existen dos estrategias para disminuir el riesgo de rechazo del injerto renal: la primera consiste en suministrar altas dosis de los inmunosupresores convencionales, y la segunda, en la utilización en la fase de inducción de anticuerpos monoclonales o policlonales contra antígenos de los linfocitos T. Los dos anticuerpos policlonales más usados son las globulinas antitimocito de caballo (ATGAM) y de conejo (rATG). Los anticuerpos monoclonales más usados son aquellos contra el receptor de IL-2 (basiliximab y daclizumab) y el dirigido contra el antígeno CD52 (alemtuzumab). La terapia de mantenimiento consiste en un esquema que combina el uso de tres drogas inmunosupresoras convencionales: glucocorticoides, inhibidores de la calcineurina, inhibidores de mTOR y antiproliferativos. Entre las principales complicaciones del trasplante renal pediátrico están: rechazo agudo del injerto, infecciones virales (por poliomavirus-BK y citomegalovirus) y aparición del trastorno linfoproliferativo postrasplante (PTLD, por la sigla en inglés de Post-transplant lymphoproliferative disorder). 
|Resumen = 390 veces | PDF = 264 veces| | XHTML = 102 veces|
Descargas
Los datos de descargas todavía no están disponibles.
Citas
(1.) Horslen S, Barr ML, Christensen LL, Ettenger R, Magee JC. Pediatric transplantation in the United States, 1996-2005. Am J Transplant. 2007;7(5 Pt 2):1339-58.
(2.) Wong CJ, Moxey-Mims M, Jerry-Fluker J, Warady BA, Furth SL. CKiD (CKD in children) prospective cohort study: a review of current findings. Am J Kidney Dis. 2012 Dec;60(6):1002-11. DOI 10.1053/j.ajkd.2012.07.018.
(3.) Nguyen HT, Benson CB, Bromley B, Campbell JB, Chow J, Coleman B, et al. Multidisciplinary consensus on the classification of prenatal and postnatal urinary tract dilation (UTD classification system). J Pediatr Urol. 2014 Dec;10(6):982-98. DOI 10.1016/j.jpurol.2014.10.002.
(4.) Dharnidharka VR, Fiorina P, Harmon WE. Kidney transplantation in children. N Engl J Med. 2014 Aug;371(6):549-58. DOI 10.1056/NEJMra1314376.
(5.) Kirk AD. Induction immunosuppression. Transplantation. 2006 Sep;82(5):593-602.
(6.) Lin S, Cosgrove CJ. Perioperative management of immunosuppression. Surg Clin North Am. 2006 Oct;86(5):1167-83.
(7.) Kim JM, Jang HR, Kwon CH, Huh WS, Kim GS, Kim SJ, et al. Rabbit antithymocyte globulin compared with basiliximab in kidney transplantation: a single-center study. Transplant Proc. 2012 Jan;44(1):167-70. DOI 10.1016/j.transproceed.2011.12.063.
(8.) Hardinger KL, Brennan DC, Klein CL. Selection of induction therapy in kidney transplantation. Transpl Int. 2013 Jul;26(7):662-72. DOI 10.1111/tri.12043.
(9.) Sebeo J, Ezziddin O, Eisenkraft JB. Severe anaphylactoid reaction to thymoglobulin in a pediatric renal transplant recipient. J Clin Anesth. 2012 Dec;24(8):659-63. DOI 10.1016/j.jclinane.2012.04.014.
(10.) Roncati L, Barbolini G, Scacchetti AT, Busani S, Maiorana A. Unexpected death: anaphylactic intraoperative death due to Thymoglobulin carbohydrate excipient. Forensic Sci Int. 2013 May;228(1-3):e28-32. DOI 10.1016/j.forsciint.2013.02.036.
(11.) Taylor AL, Watson CJ, Bradley JA. Immunosuppressive agents in solid organ transplantation: Mechanisms of action and therapeutic efficacy. Crit Rev Oncol Hematol. 2005 Oct;56(1):23-46.
(12.) Mohty M, Bacigalupo A, Saliba F, Zuckermann A, Morelon E, Lebranchu Y. New directions for rabbit antithymocyte globulin (Thymoglobulin(®)) in solid organ transplants, stem cell transplants and autoimmunity. Drugs. 2014 Sep;74(14):1605-34. DOI 10.1007/s40265-014-0277-6. Erratum in: Drugs. 2014 Dec;74(18):2217.
(13.) Knechtle SJ. Present experience with Campath-1H in organ transplantation and its potential use in pediatric recipients. Pediatr Transplant. 2004 Apr;8(2):106-12.
(14.) Halloran PF. Immunosuppressive drugs for kidney transplantation. N Engl J Med. 2004 Dec;351(26):2715-29. Erratum in: N Engl J Med. 2005 Mar;352(10):1056.
(15.) Friend PJ. Alemtuzumab induction therapy in solid organ transplantation. Transplant Res. 2013 Nov;2(Suppl 1):S5. DOI 10.1186/2047-1440-2-S1-S5.
(16.) Calne R, Friend P, Moffatt S, Bradley A, Hale G, Firth J, et al. Prope tolerance, perioperative campath 1H, and low-dose cyclosporine monotherapy in renal allograft recipients. Lancet. 1998 Jun;351(9117):1701-2. Erratum in: Lancet 1998 Aug;352(9125):408.
(17.) Ona ET, Danguilan RA, Africa J, Cabanayan-Casasola CB, Antonio ZL, Gutierrez-Marbella MA, et al. Use of alemtuzumab (Campath-1H) as induction therapy in pediatric kidney transplantation. Transplant Proc. 2008 Sep;40(7):2226-9. DOI 10.1016/j.transproceed.2008.07.050.
(18.) Shapiro R, Ellis D, Tan HP, Moritz ML, Basu A, Vats AN, et al. Alemtuzumab pre-conditioning with tacrolimus monotherapy in pediatric renal transplantation. Am J Transplant. 2007 Dec;7(12):2736-8.
(19.) Supe-Markovina K, Melquist JJ, Connolly D, DiCarlo HN, Waltzer WC, Fine RN, et al. Alemtuzumab with corticosteroid minimization for pediatric deceased donor renal transplantation: a seven-yr experience. Pediatr Transplant. 2014 Jun;18(4):363-8. DOI 10.1111/petr.12253.
(20.) Tan HP, Donaldson J, Ellis D, Moritz ML, Basu A, Morgan C, et al. Pediatric living donor kidney transplantation under alemtuzumab pretreatment and tacrolimus monotherapy: 4-year experience. Transplantation. 2008 Dec;86(12):1725-31. DOI 10.1097/TP.0b013e3181903da7.
(21.) Kaabak MM, Babenko NN, Samsonov DV, Sandrikov VA, Maschan AA, Zokoev AK. Alemtuzumab induction in pediatric kidney transplantation. Pediatr Transplant. 2013 Mar;17(2):168-78. DOI 10.1111/petr.12048.
(22.) Sung J, Barry JM, Jenkins R, Rozansky D, Iragorri S, Conlin M, et al. Alemtuzumab induction with tacrolimus monotherapy in 25 pediatric renal transplant recipients. Pediatr Transplant. 2013 Dec;17(8):718-25. DOI 10.1111/petr.12159.
(23.) Velez C, Zuluaga G, Ocampo C, Aristizabal A, Serna LM, Serrano Gayubo AK, et al. Clinical description and evolution of renal transplant pediatric patients treated with alemtuzumab. Transplant Proc. 2011 Nov;43(9):3350-4. DOI 10.1016/j.transproceed.2011.09.101.
(24.) Hanaway MJ, Woodle ES, Mulgaonkar S, Peddi VR, Kaufman DB, First MR, et al. Alemtuzumab induction in renal transplantation. N Engl J Med. 2011 May;364(20):1909-19. DOI 10.1056/NEJMoa1009546.
(25.) Coelho T, Tredger M, Dhawan A. Current status of immunosuppressive agents for solid organ transplantation in children. Pediatr Transplant. 2012 Mar;16(2):106-22. DOI 10.1111/j.1399-3046.2012.01644.x.
(26.) Frey BM, Frey FJ. Clinical pharmacokinetics of prednisone and prednisolone. Clin Pharmacokinet. 1990 Aug;19(2):126-46.
(27.) Rhen T, Cidlowski JA. Antiinflammatory action of glucocorticoids—new mechanisms for old drugs. N Engl J Med. 2005 Oct;353(16):1711-23.
(28.) Diaz C. Mecanismo de acción de los fármacos inmunosupresores. Rev Chil Reumatol. 2008; 24(2):73-88.
(29.) Adcock IM, Ito K. Molecular mechanisms of corticosteroid actions. Monaldi Arch Chest Dis. 2000 Jun;55(3):256-66.
(30.) Delucchi A, Valenzuela M, Lillo AM, Guerrero JL, Cano F, Azocar M, et al. Early steroid withdrawal in pediatric renal transplant: five years of follow-up. Pediatr Nephrol. 2011 Dec;26(12):2235-44. DOI 10.1007/s00467-011-1934-6.
(31.) Patel AA, Swerlick RA, McCall CO. Azathioprine in dermatology: the past, the present, and the future. J Am Acad Dermatol. 2006 Sep;55(3):369-89.
(32.) Maripuri S, Kasiske BL. The role of mycophenolate mofetil in kidney transplantation revisited. Transplant Rev (Orlando). 2014 Jan;28(1):26-31. DOI 10.1016/j.trre.2013.10.005.
(33.) Gummert JF, Ikonen T, Morris RE. Newer immunosuppressive drugs: a review. J Am Soc Nephrol. 1999 Jun;10(6):1366-80.
(34.) Sánchez-Fructuoso IA. Revisión de un nuevo inmunosupresor:micofenolato sódico con cubierta
entérica(Myfortic®)implicación de la quinasa activada por estrés. Nefrología. 2005;25(3):234-44.
(35.) Matsuda S, Koyasu S. Mechanisms of action of cyclosporine. Immunopharmacology. 2000 May;47(2-3):119-25.
(36.) Issa N, Kukla A, Ibrahim HN. Calcineurin inhibitor nephrotoxicity: a review and perspective of the evidence. Am J Nephrol. 2013;37(6):602-12. DOI 10.1159/000351648.
(37.) George JN, Nester CM. Syndromes of thrombotic microangiopathy. N Engl J Med. 2014 Aug;371(7):654-66. DOI 10.1056/NEJMra1312353.
(38.) Stalder M, Bîrsan T, Hubble RW, Paniagua RT, Morris RE. In vivo evaluation of the novel calcineurin inhibitor ISATX247 in non-human primates. J Heart Lung Transplant. 2003 Dec;22(12):1343-52.
(39.) Dumont FJ. FK506, an immunosuppressant targeting calcineurin function. Curr Med Chem. 2000 Jul;7(7):731-48.
(40.) Pape L, Ahlenstiel T. mTOR inhibitors in pediatric kidney transplantation. Pediatr Nephrol. 2014 Jul;29(7):1119-29. DOI 10.1007/s00467-013-2505-9.
(41.) Hernández D, Martínez D, Gutiérrez E, López V, Gutiérrez C, García P, et al. Clinical evidence on the use of anti-mTOR drugs in renal transplantation. Nefrologia. 2011;31(1):27-34. DOI 10.3265/Nefrologia.pre2010.Jul.10512.
(42.) Montalbano M, Neff GW, Yamashiki N, Meyer D, Bettiol M, Slapak-Green G, et al. A retrospective review of liver transplant patients treated with sirolimus from a single center: an analysis of sirolimus-related complications. Transplantation. 2004 Jul;78(2):264-8.
(43.) Haydar AA, Denton M, West A, Rees J, Goldsmith DJ. Sirolimus-induced pneumonitis: three cases and a review of the literature. Am J Transplant. 2004 Jan;4(1):137-9.
(44.) Ingulli E. Mechanism of cellular rejection in transplantation. Pediatr Nephrol. 2010 Jan;25(1):61-74. DOI 10.1007/s00467-008-1020-x.
(45.) Nankivell BJ, Alexander SI. Rejection of the kidney allograft. N Engl J Med. 2010 Oct;363(15):1451-62. DOI 10.1056/NEJMra0902927.
(46.) Mengel M, Sis B, Haas M, Colvin RB, Halloran PF, Racusen LC, et al. Banff 2011 Meeting report: new concepts in antibody-mediated rejection. Am J Transplant. 2012 Mar;12(3):563-70. DOI 10.1111/j.1600-6143.2011.03926.x.
(47.) Solez K, Colvin RB, Racusen LC, Haas M, Sis B, Mengel M, et al. Banff 07 classification of renal allograft pathology: updates and future directions. Am J Transplant. 2008 Apr;8(4):753-60. DOI 10.1111/j.1600-6143.2008.02159.x.
(48.) Afzali B, Lechler RI, Hernandez-Fuentes MP. Allorecognition and the alloresponse: clinical implications. Tissue Antigens. 2007 Jun;69(6):545-56.
(49.) Halloran PF. T cell-mediated rejection of kidney transplants: a personal viewpoint. Am J Transplant. 2010 May;10(5):1126-34. DOI 10.1111/j.1600-6143.2010.03053.x.
(50.) Kim M, Martin ST, Townsend KR, Gabardi S. Antibody-mediated rejection in kidney transplantation: a review of pathophysiology, diagnosis, and treatment options. Pharmacotherapy. 2014 Jul;34(7):733-44. DOI 10.1002/phar.1426.
(51.) Djamali A, Kaufman DB, Ellis TM, Zhong W, Matas A, Samaniego M. Diagnosis and management of antibody-mediated rejection: current status and novel approaches. Am J Transplant. 2014 Feb;14(2):255-71. DOI 10.1111/ajt.12589.
(52.) Fishman JA. Infection in solid-organ transplant recipients. N Engl J Med. 2007 Dec;357(25):2601-14.
(53.) Matsukuma Y, Masutani K, Tsuchimoto A, Okabe Y, Kitada H, Noguchi H, et al. Early disappearance of urinary decoy cells in successfully treated polyomavirus BK nephropathy. Transplant Proc. 2014;46(2):560-3. DOI 10.1016/j.transproceed.2013.11.112.
(54.) Sawinski D, Goral S. BK virus infection: an update on diagnosis and treatment. Nephrol Dial Transplant. 2015 Feb;30(2):209-17. DOI 10.1093/ndt/gfu023.
(55.) Hirsch HH, Randhawa P; AST Infectious Diseases Community of Practice. BK polyomavirus in solid organ transplantation. Am J Transplant. 2013 Mar;13 Suppl 4:179-88. DOI 10.1111/ajt.12110.
(56.) Burgos D, Jironda C, Martín M, González-Molina M, Hernández D. BK-virus-associated Nephropathy. Nefrologia. 2010;30(6):613-7. DOI 10.3265/Nefrologia.pre2010.Oct.10587.
(57.) Kuypers DR. Management of polyomavirus-associated nephropathy in renal transplant recipients. Nat Rev Nephrol. 2012 Apr;8(7):390-402. DOI 10.1038/nrneph.2012.64.
(58.) Nickeleit V, Mihatsch MJ. Polyomavirus nephropathy in native kidneys and renal allografts: an update on an escalating threat. Transpl Int. 2006 Dec;19(12):960-73.
(59.) Singh HK, Reisner H, Derebail VK, Kozlowski T, Nickeleit V. Polyomavirus nephropathy: quantitative urinary polyomavirus-Haufen testing accurately predicts the degree of intrarenal viral disease. Transplantation. 2015 Mar;99(3):609-15. DOI 10.1097/TP.0000000000000367.
(60.) Ramos E, Drachenberg CB, Portocarrero M, Wali R, Klassen DK, Fink JC, et al. BK virus nephropathy diagnosis and treatment: experience at the University of Maryland Renal Transplant Program. Clin Transpl. 2002:143-53.
(61.) Eid AJ, Razonable RR. New developments in the management of cytomegalovirus infection after solid organ transplantation. Drugs. 2010 May;70(8):965-81. DOI 10.2165/10898540-000000000-00000.
(62.) Fishman JA. Infection in solid-organ transplant recipients. N Engl J Med. 2007 Dec;357(25):2601-14.
(63.) Egli A, Binggeli S, Bodaghi S, Dumoulin A, Funk GA, Khanna N, et al. Cytomegalovirus and polyomavirus BK posttransplant. Nephrol Dial Transplant. 2007 Sep;22 Suppl 8:viii72-viii82. Erratum in: Nephrol Dial Transplant. 2008 Jan;23(1):426.
(
) Nourse JP, Jones K, Gandhi MK. Epstein-Barr Virusrelated post-transplant lymphoproliferative disorders: pathogenetic insights for targeted therapy. Am J Transplant. 2011 May;11(5):888-95. DOI 10.1111/j.1600-6143.2011.03499.x.
(65.) Opelz G, Döhler B. Lymphomas after solid organ transplantation: a collaborative transplant study report. Am J Transplant. 2004 Feb;4(2):222-30.
(66.) Trofe J, Buell JF, Beebe TM, Hanaway MJ, First MR, Alloway RR, et al. Analysis of factors that influence survival with post-transplant lymphoproliferative disorder in renal transplant recipients: the Israel Penn International Transplant Tumor Registry experience. Am J Transplant. 2005 Apr;5(4 Pt 1):775-80.
(67.) Schober T, Framke T, Kreipe H, Schulz TF, Großhennig A, Hussein K, et al. Characteristics of early and late PTLD development in pediatric solid organ transplant recipients. Transplantation. 2013 Jan;95(1):240-6. DOI 10.1097/TP.0b013e318277e344.
(68.) Sampaio MS, Cho YW, Shah T, Bunnapradist S, Hutchinson IV. Impact of Epstein-Barr virus donor and recipient serostatus on the incidence of posttransplant lymphoproliferative disorder in kidney transplant recipients. Nephrol Dial Transplant. 2012 Jul;27(7):2971-9. DOI 10.1093/ndt/gfr769.
(69.) Mynarek M, Hussein K, Kreipe HH, Maecker-Kolhoff B. Malignancies after pediatric kidney transplantation: more than PTLD? Pediatr Nephrol. 2014 Sep;29(9):1517-28. DOI 10.1007/s00467-013-2622-5.
(70.) Swerdlow S, Webber S, Chadburn A, Ferry J. Posttransplant lymphoproliferative disorders. In: WHO classification of tumours of haematopoietic and lymphoid tissues. 4th ed. Lyon: International Agency for Research on Cancer; 2008. p. 343-49.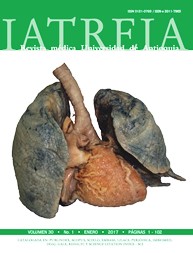 Cómo citar
1.
Guerrero-Tinoco GA, Villafañe-Bermúdez DR, Vélez-Echeverri C. Inmunosupresores y principales complicaciones en el trasplante renal pediátrico. Iatreia [Internet]. 23 de diciembre de 2016 [citado 1 de octubre de 2023];30(1):56-6. Disponible en: https://revistas.udea.edu.co/index.php/iatreia/article/view/26136
Sección
Artículos de revisión
Licencia
Derechos de autor 2016 Iatreia
Esta obra está bajo una licencia internacional Creative Commons Atribución-CompartirIgual 4.0.
Los artículos publicados en la revista están disponibles para ser utilizados bajo la licencia Creative Commons, específicamente son de Reconocimiento-NoComercial-CompartirIgual 4.0 Internacional.
Los trabajos enviados deben ser inéditos y suministrados exclusivamente a la Revista; se exige al autor que envía sus contribuciones presentar los formatos: presentación de artículo y responsabilidad de autoría completamente diligenciados.