Clinical, immunologic and genetic characterization of Colombian patients with cutaneous recalcitrant warts
Resumen
Inborn errors of innate and intrinsic immunity are monogenic diseases that result in predisposition to a whole spectrum of infectious diseases (for example, viruses)(1). Cutaneous warts caused by Human Papillomavirus (HPV) infection has an incidence that range from ~10% in the general population(2). These lesions are relatively common and most warts regress spontaneously. However, in some individuals, these warts persist for > 2 years without response to conventional therapy (cryotherapy, salicylic acid or bleomycin), and they are called recalcitrant warts (RW)(2-4). Host defense against HPV relies on intact and functioning cellular immunity including T cell, natural killer cell cytotoxicity and intrinsic immunity. Therefore, in patients in whom warts are recalcitrant, concern for immune defects is raised (5).
RW have been documented in patients with a few inborn errors of immunity, either in combination with broad infectious phenotypes (combined immunodeficiencies), and HIV+ and transplanted patients(6, 7). On the another hand, is well documented that patients with Epidermodysplasia Verruciformis present a specific genetic predisposition to beta-HPV infection, but only very few is known about genetic susceptibility to recalcitrant warts and to our knowledge there is not studies searching for monogenic defects associated with RW(7-9). Therefore, we hypothesized that susceptibility to RW due to HPV viruses in otherwise healthy individuals, might be due to underlying genetic defects in intrinsic and innate immunity.
|Resumen = 23 veces | PDF = 49 veces|
Descargas
La descarga de datos todavía no está disponible.
Citas
(1) Tangye SG, Al-Herz W, Bousfiha A, Chatila T, Cunningham-Rundles C, Etzioni A, et al. Human Inborn Errors of Immunity: 2019 Update on the Classification from the International Union of Immunological Societies Expert Committee. J Clin Immunol. 2020;40(1):24-64.
(2) Leung L. Recalcitrant nongenital warts. Australian Family Physician. 2011;40(1-2):40-2.
(3) MASSING AM, EPSTEIN WL. Natural history of warts. A two-year study. Arch Dermatol. 1963;87:306-10.
(4) Scheurer ME, Tortolero-Luna G, Adler-Storthz K. Human papillomavirus infection: biology, epidemiology, and prevention. Int J Gynecol Cancer. 2005;15(5):727-46.
(5) Stanley M. Immune responses to human papillomavirus. Vaccine. 2006;24 Suppl 1:S16-22.
(6) Cubie HA. Diseases associated with human papillomavirus infection. Virology. 2013;445(1-2):21-34.
(7) Leiding JW, Holland SM. Warts and all: human papillomavirus in primary immunodeficiencies. J Allergy Clin Immunol. 2012;130(5):1030-48.
(8) Kalinska-Bienias A, Kowalewski C, Majewski S. The EVER genes - the genetic etiology of carcinogenesis in epidermodysplasia verruciformis and a possible role in non-epidermodysplasia verruciformis patients. Postepy Dermatol Alergol. 2016;33(2):75-80.
(9) de Jong SJ, Créquer A, Matos I, Hum D, Gunasekharan V, Lorenzo L, et al. The human CIB1-EVER1-EVER2 complex governs keratinocyte-intrinsic immunity to β-papillomaviruses. J Exp Med. 2018;215(9):2289-310.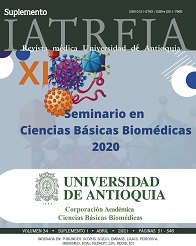 Cómo citar
1.
Rojas J, Jouanguy E, López J Álvaro, Franco JL, Arias AA. Clinical, immunologic and genetic characterization of Colombian patients with cutaneous recalcitrant warts. Iatreia [Internet]. 29 de abril de 2021 [citado 24 de septiembre de 2021];34(1-S):S9-S10. Disponible en: https://revistas.udea.edu.co/index.php/iatreia/article/view/345515
Los artículos publicados en la revista están disponibles para ser utilizados bajo la licencia Creative Commons, específicamente son de Reconocimiento-NoComercial-CompartirIgual 4.0 Internacional.
Los trabajos enviados deben ser inéditos y suministrados exclusivamente a la Revista; se exige al autor que envía sus contribuciones presentar los formatos: presentación de artículo y responsabilidad de autoría completamente diligenciados.