Nursing undergraduates experiences with nursing management subjects.
Keywords:
Education, nursing; organization and administration; faculty.
Abstract
Objective. To explore the perception nursing students have towards their experiences with management subjects.
Methodology. Case study, in which, content analysis and the Strengths Opportunities Weaknesses and Threats matrix were used. The research was carried out from December 2009 to August 2010. 18 nursing students from the 6th and 7th semesters of the Federal Brasileña University participated
Results. From the nucleus identified the following categories emerged: 1) Nursing student and their reception in health institutions, 2) theory and practice connection, 3) professor's role and subject organization, 4) student's role in the subject. Possibilities and limitations about the analyzed teaching process emerged.
Conclusion. The subject's teaching-learning process is not appropriate, reason why action strategies are required to balance academic contents with local contexts.
|Abstract = 138 veces | RESUMEN = 8 veces| | RESUMO = 1 veces| | PDF (ESPAÑOL (ESPAÑA)) = 23 veces| | PDF (PORTUGUÊS) = 7 veces| | PDF (PORTUGUÊS (BRASIL)) = 8 veces| | HTML (PORTUGUÊS) = 1 veces|
Downloads
Download data is not yet available.
References
(1) Rothbarth S, Wolff LDG, Peres AM. Desenvolvimento de competências gerenciais do enfermeiro na perspectiva de docentes de disciplinas de administração aplicada à enfermagem. Texto Contexto Enferm. 2009,18(2):321-9.
(2) Nimtz MA, Ciampone MHT. O significado de competência para o docente de administração em enfermagem. Rev. Esc Enferm USP. 2006;40(3):336-42.
(3) Meira MDD, Kurcgant P. O ensino de administração na graduação: percepção de enfermeiros egressos.Texto Contexto Enferm. 2009;18(4):670-9.
(4) Polit DF, Hungler BP. Fundamentos de pesquisa em Enfermagem. 3ed. Porto Alegre: Artes Médicas; 1995.
(5) Canabarro JG, Quintana AC, Andretti RD. Elaboração e análise da matriz FOFA com base no planejamento estratégico feito na empresa agropecuária Aguiar Ltda "Filial 4" do Ramo de Secagem e Armazenagem de Arroz. Revista Eletrônica de Administração [Internet]. 2008 [acesso 2010 Jan 10]; 12(2). Disponível em: http://www.facef.br/rea/edicao13/ed13_art4.pdf
(6) Morin E. Saberes globais e saberes locais: o olhar transdiciplinar. Rio de Janeiro: Garamond, 2000.
(7) Freire P. Pedagogia do Oprimido. Rio de Janeiro: Paz e Terra; 1978.
(8) Pourtois JP, Desmet H. A educação pós-moderna. São Paulo: Loyola; 1999.
(9) Moura ECC, Mesquita LFC. Estratégias de ensino-aprendizagem na percepção de graduandos de enfermagem. Rev Bras Enferm. [Internet]. 2010 [ acesso 2011 Feb 17]; 63(5). Disponível em: http://www.scielo.br/pdf/reben/v63n5/16.pdf
(10) Ministério da Saúde (BR). Secretaria de Gestão do Trabalho e da Educação na Saúde. Departamento de Gestão da Educação na Saúde. O pensamento social em Durkheim e Paulo Freire. In: Formação Pedagógica em Educação Profissional na Área de Saúde: Enfermagem. Brasília (DF):MS, 2003
(11) Tejada LM, Castro J, Miranda MM, Acostaz L, Alcántara E. Evaluación cualitativa de un programa de formación de enfermeras. La perspectiva de los profesores y los estudiantes. Invest Educ Enferm. 2008,26(2 supl):80-88
(12) Llapa-Rodríguez, EO, Trevizan, MA, Shinyashiki, GT. Reflexões conceituais sobre comprometimento organizacional e profissional no setor saúde. Rev Latino-Am. Enfermagem. 2008; 16(3):484-8.
(13) Lopes Neto D, Texeira E, Vale EG, Cunha FS, Xavier IM, Fernandes JD, et al. Aderência dos cursos de graduação em enfermagem às diretrizes curriculares nacionais Rev Bras Enferm [Internet]. 2007 [acesso 2009 Dez 13]; 60(6). Disponível em: http://www.scielo.br/pdf/reben/v60n6/02.pdf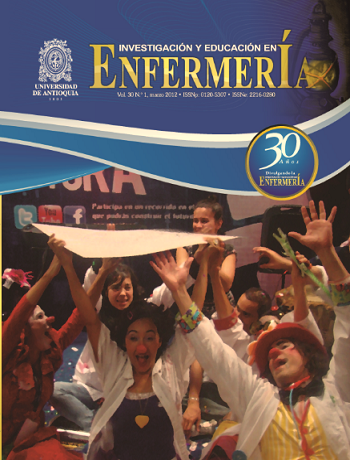 How to Cite
LLapa Rodriguez, E. O., Sirqueira Carvalho, T., Lisboa Gois, C. F., & d'Ávila Nery Guimarães, A. M. (2012). Nursing undergraduates experiences with nursing management subjects. Investigación Y Educación En Enfermería, 30(1). https://doi.org/10.17533/udea.iee.9485
Section
ORIGINAL ARTICLES / ARTÍCULOS ORIGINALES / ARTIGOS ORIGINAIS
License
This work is licensed under a Creative Commons Attribution-NonCommercial-ShareAlike 4.0 International License.
Derechos de propiedad / Direitos de Propriedade
English: If the article is accepted for publication, all copyright will be of exclusive property of Investigación y Educación en Enfermería. The text and the graphics included in the publication are exclusive responsibility of the authors and not necessarily reflect the thought of the Editorial Committee.
Español: Si el artículo es aprobado para publicación, todos los derechos son de propiedad de Investigación y Educación en Enfermería. El texto y las gráficas incluidas en la publicación son de exclusiva responsabilidad de los autores y no necesariamente refleja el pensamiento del Comité Editorial.
Português: Se o artigo for aceito para publicação, todos os direitos autorais serão de propriedade exclusiva de Investigación y Educación en Enfermería. O texto e os gráficos incluídos na publicação são de responsabilidade exclusiva dos autores e não refletem necessariamente o pensamento do Comitê Editorial.