Model-based maximum power point tracking for wind generators
Keywords:
Power optimization, wind generation, loss-free resistor, multi-machine wind system
Abstract
A model-based maximum power point tracking solution for wind systems is presented in this paper. The strategy uses the Loss-free resistor concept and a generator model, which relates the load impedance required to produce the maximum power depending on the generator rotor speed. The strategy performance is validated through simulation and the emulation of a multi-machine wind generation system. With the proposed strategy, it is possible to extract the maximum power of each generator and, therefore, the maximum power of the generation system.
|Abstract = 94 veces | PDF = 100 veces|
Downloads
Download data is not yet available.
References
L.A. Barroso, H. Rudnick, F. Sensfuss, P. Linares, "The Green Effect". IEEE Power Energy Mag. Vol. 8. 2010. pp. 22-35.
R. Moreno, G. Strbac, F. Porrua, S. Mocarquer, B. Bezerra. "Making Room for the Boom". IEEE Power Energy Mag. Vol. 8. 2010. pp. 36-46.
M.A. Abdullah, A.H.M. Yatim, C.W. Tan, R. Saidur. "A Review of Maximum Power Point Tracking Algorithms for Wind Energy Systems". Renew. Sustain. Energy Rev. Vol. 16. 2012. pp. 3220-3227.
S. Musunuri, H.L. Ginn. "Comprehensive Review of Wind Energy Maximum Power Extraction Algorithms" IEEE Power and Energy Society General Meeting. 2011. pp. 24-29.
Y. Zhu, M. Cheng, W. Hua, W. Wang. "A Novel Maximum Power Point Tracking Control for Permanent Magnet Direct Drive Wind Energy Conversion Systems". Energies. Vol. 5. pp. 1398-1412.
C.T. Pan, Y.L. Juan. "A Novel Sensorless MPPT Controller for a High-Efficiency Microscale Wind Power Generation System". IEEE Trans. Energy Convers. Vol. 25. 2010. pp. 207-216.
J. Hui, A. Bakhshai. "A New Adaptive Control Algorithm for Maximum Power Point Tracking for Wind Energy Conversion Systems". Power Electronics Specialists Conference. 2008. pp. 4003-4007.
A. Cid-Pastor, L. Martínez-Salamero, A. El Aroudi, R. Giral, J. Calvente, R. Leyva, "Synthesis of Loss-Free Resistor based on Sliding-Mode Control and its Applications in Power Processing". Control Eng. Pract. Vol. 21. 2013. pp. 689-699.
Shmilovitz, D. "On the Control of Photovoltaic Maximum Power Point Tracker via Output Parameters". IEE J. Electr. Power Appl. Vol. 152. 2005. pp. 239-248.
K. H. Ahmed, B. W. Williams, "Different Torque Ripple Reduction Methods for Wind Energy Conversion Systems Using Diode Rectifier and Boost Converter". IEEE International Electric Machines & Drives Conference. 2011. pp. 729–734.
R. W. Erickson, D. Maksimovic. "Fundamentals of Power Electronics". 2nd. ed. Ed. Springer Science & Business Media. 2007.
D. Gonzalez, C. Ramos-Paja, R. Giral. "Improved design of sliding mode controllers based on the requirements of mppt techniques". IEEE Trans. Power Electron. Vol. PP. 2015. pp. 1–1. Article in press.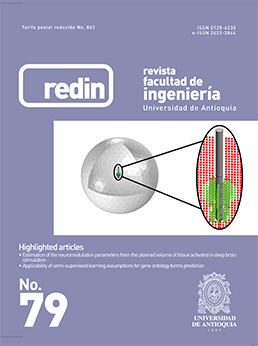 How to Cite
Saavedra-Montes A. J., Ramos-Paja C. A., & Ramírez Goméz C. A. (2016). Model-based maximum power point tracking for wind generators. Revista Facultad De Ingeniería Universidad De Antioquia, (79), 75-83. https://doi.org/10.17533/udea.redin.n7908
Copyright (c) 2016 Revista Facultad de Ingeniería Universidad de Antioquia
This work is licensed under a Creative Commons Attribution-NonCommercial-ShareAlike 4.0 International License.
Authors can archive the pre-print version (i.e., the version prior to peer review) and post-print version (that is, the final version after peer review and layout process) on their personal website, institutional repository and / or thematic repository

Upon acceptance of an article, it will be published online through the page https://revistas.udea.edu.co/index.php/ingenieria/issue/archive in PDF version with its correspondent DOI identifier
The Revista Facultad de Ingeniería -redin- encourages the Political Constitution of Colombia, chapter IV
Chapter IV Sanctions 51
The following shall be liable to imprisonment for two to five years and a fine of five to 20 times the legal minimum monthly wage: (1) any person who publishes an unpublished literary or artistic work, or part thereof, by any means, without the express prior authorization of the owner of rights; (2) any person who enters in the National Register of Copyright a literary, scientific or artistic work in the name of a person other than the true author, or with its title altered or deleted, or with its text altered, deformed, amended or distorted, or with a false mention of the name of the publisher or phonogram, film, videogram or software producer; (3) any person who in any way or by any means reproduces, disposes of, condenses, mutilates or otherwise transforms a literary, scientific or artistic work without the express prior authorization of the owners thereof; (4) any person who reproduces phonograms, videograms, software or cinematographic works without the express prior authorization of the owner, or transports, stores, stocks, distributes, imports, sells, offers for sale, acquires for sale or distribution or in any way deals in such reproductions. Paragraph. If either the material embodiment or title page of or the introduction to the literary work, phonogram, videogram, software or cinematographic work uses the name, business style, logotype or distinctive mark of the lawful owner of rights, the foregoing sanctions shall be increased by up to half.