Effects of two intravenouse dose levels of omeprazole on the gastric juice pH of healthy horses
Keywords:
equine, stomach, ulcer
Abstract
omeprazole suppresses gastric acid secretion and increases gastric juice pH by blocking the H+, K+ ATPase in the secretory membrane of parietal cells. Gastric juice pH below 4, long periods of no feed intake and stress are factors predisposing to gastric ulcers in horses. Objective: to determine the effect of 1 and 2 mg/Kg intravenous (IV) omeprazole on the gastric juice pH of Colombian Creole horses. Methods: seven horses were treated with two IV levels of omeprazole (1, and 2 mg/Kg body weight (BW)) in a crossover design. The omeprazole dose for each animal was reconstituted with 100 ml 0.9% NaCl. Gastric pH was measured using a portable pH-meter in stomach samples collected at time 0 (just before treatment), and 1, 2, 3, 5, 7, 9, 11, and 24 hours post-treatment. Results: the gastric pH at time 0 fluctuated from 1.6 to 3.2 in all horses. Both omeprazole doses (1 and 2 mg/Kg) significantly increased the gastric pH (pH > 4.6) from 1 to 11 hours after the treatment. At 24 hours post-treatment, pH of the group treated with 1.0 mg/Kg significantly decreased to 2.8 ± 0.3, but remained elevated at 5.7 ± 0.87 for the group treated with 2 mg/Kg. Conclusion: the study demonstrated that a single IV omeprazole dose of 2 mg/Kg, but not 1 mg/Kg, maintained gastric pH above 4 during 24 hours.
|Abstract = 363 veces | PDF = 86 veces| | HTML = 25 veces|
Downloads
Download data is not yet available.
References
Andrews FM, Frank N, Sommardahl BR, Buchanan SB, Ellio SB, Allen VA. Effects of intravenously administrated omeprazole on gastric juice pH and gastric ulcer scores in adult horses. J Vet Intern Med 2006; 20: 1202-1206.Andrews FM. &. Nadeau JA. Clinical syndromes of gastric ulceration in foals and mature horses. Equine Vet J Suppl 1999:30-33.Bays DE. & Finch H. Inhibitors of gastric acid secretion. Nat Prod Rep 1990; 7: 409-445.Birkmann KH, Junge K, Maischberger E, Wehrli Eser M, Schwarzwald CC. Efficacy of omeprazole powder paste or enteric-coated formulation in healing of gastric ulcers in horses. J Vet Intern Med 2014; 28: 925-933.Campbell-Thompson ML, Merritt AM. Effect of ranitidine on gastric acid secretion in young male horses. Am J Vet Res 1987; 48:1511-1515.Daurio CP, Holste JE, Andrews FM, Merritt AM, Blackford JT, Dolz F, Thompson DR. Effect of omeprazole paste on gastric acid secretion in horses. Equine Vet J Suppl 1999; 59-62.Doherty TJ, Andrews FM, Provenza MK, Frazier DL. The effect of sedation on gastric emptying of a liquid marker in ponies. Vet Surg 1999; 28: 375-379.Doucet MY, Vrins AA, Dionne R, Alva R, Ericsson G. Efficacy of a paste formulation of omeprazole for the treatment of naturally occurring gastric ulcers in training standard bred racehorses in Canada. Can Vet J 2003; 44: 58158-5.Holt S, Howden CW. Omeprazole. Overview and opinion. Dig Dis Sci 1991; 36: 385-393.McClure SR, White GW, Sifferman RL, Bernard W, Hughes FE, Holste JE, Fleishman C, Alva R, Cramer LG. Efficacy of omeprazole paste for prevention of recurrence of gastric ulcers in horses in race training. J Am Vet Med Assoc 2005; 226:1685-1688.McKeever JM, McKeever KH, Albeirci J.M, Gordon ME. Manso Filho HC. Effect of omeprazole on markers of performance in gastric ulcer-free standard bred horses. Equine Vet J Suppl 2006; 668-671.Murray MJ, Grodinsky C. The effects of famotidine, ranitidine and magnesium hydroxide/aluminum hydroxide on gastric fluid pH in adult horses. Equine Vet J Suppl 1992; 52-55.Murray MJ, Schusser GF, Pipers FS, Gross SJ. Factors associated with gastric lesions in thoroughbred racehorses. Equine Vet J 1996, 28; 368-374.Rand C, Stanley SD, Pusterla N. Effects of intra-rectally administered omeprazole paste on gastric fluid pH in healthy adult horses. Vet Rec 2014; 169:126.Ruiz JD, Zuluaga DA, Gutiérrez JV, García SC, Toro J, Aristizabal S. Evaluación del efecto de la alimentación y de la administración de omeprazol en pellets vía oral sobre el pH del jugo gástrico en equinos adultos. CES Medicina Veterinaria y Zootecnia 2012; 7:6.Sutton DG, Preston T. Christley RM, Cohen ND, Love S, Roussel AJ. The effects of xylazine, detomidine, acepromazine and butorphanol on equine solid phase gastric emptying rate. Equine Vet J 2002; 34:486-492.Sykes BW, Sykes KM. Hallowell GD. A comparison of two doses of omeprazole in the treatment of equine gastric ulcer syndrome: a blinded, randomised, clinical trial. Equine Vet J 2014; 46:416-421.Tellez E, Ocampo L, Bernad M, Sumano H. Pharmacodynamic study of a long-acting parenteral formulation of omeprazole in horses. J Vet Pharmacol Ther 2005; 28:587-589.Videla R, Andrews FM. New perspectives in equine gastric ulcer syndrome. Vet Clin North Am Equine Pract 2009; 25:283-301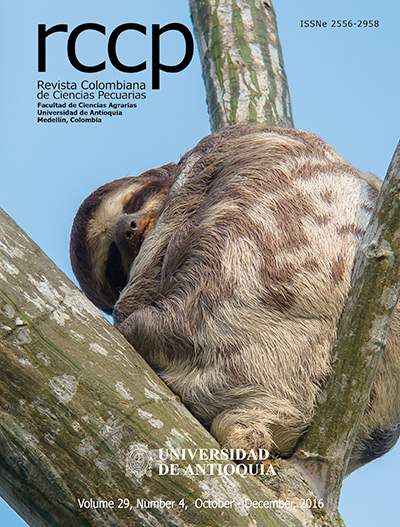 How to Cite
Ruiz, J. D., Ramírez, J. E., & Lezcano, Ángel. (2016). Effects of two intravenouse dose levels of omeprazole on the gastric juice pH of healthy horses. Revista Colombiana De Ciencias Pecuarias, 29(4), 283–287. Retrieved from https://revistas.udea.edu.co/index.php/rccp/article/view/325035
Section
Original research articles
License
The authors enable RCCP to reprint the material published in it.
The journal allows the author(s) to hold the copyright without restrictions, and will allow the author(s) to retain publishing rights without restrictions.