Reorganization of elderly care in a primary health care service through the Altadir method of popular planning
Keywords:
Aged; aged rights; health public policy.
Abstract
This paper's objective was to describe the experience of students and professors in selecting problems and developing strategies to solve these problems using the Altadir method of popular planning during the undergraduate nursing program at the State University of Maringá, Paraná (Brazil). The problem selected was care provided to elderly patients in a primary health care service. This paper provides a reflection on the use of the Altadir method to improve the quality of care delivered to this population.
|Abstract = 26 veces | PDF (ENGLISH) = 10 veces| | HTML (ENGLISH) = 6 veces| | HTML (PORTUGUÊS) = 5 veces|
Downloads
Download data is not yet available.
References
(1) Ermel RC, Fracolli LA. O trabalho das enfermeiras no Programa de Saúde da Família em Marília/SP. Rev Esc Enferm USP. 2006; 40(4):533-9.
(2) Instituto Brasileiro de Geografia e Estatística. Síntese de Indicadores Sociais: Uma Análise das Condições de Vida da População Brasileira 2009. Brasília (DF): Ministério do Planejamento, Orçamento e Gestão; 2009.
(3) Veras R. Envelhecimento populacional contemporâneo: demandas, desafios e inovações. Rev Saúde Pública. 2009; 43(3):548-54.
(4) Brasil. Ministério da Saúde (BR), Secretaria de Atenção à Saúde, Departamento de Atenção Básica. Envelhecimento e saúde da pessoa idosa. Brasília (DF): MS; 2006.
(5) Rodrigues RAP, Kusumota L, Marques S, Fabricio SCC, Rosset-Cruz I, Lange C. Política nacional de atenção ao idoso e a contribuição da enfermagem. Texto Contexto Enferm, Florianópolis. 2007; 16(3):536-45.
(6) Saliba O, Garbin CAS, Garbin AJI, Dossi AP. Responsabilidade do profissional de saúde sobre a notificação de casos de violência doméstica. Rev Saúde Pública. 2007; 41(3):472-7.
(7) Brasil. Lei n. 10.741. Dispõe sobre o Estatuto do Idoso e dá outras providências. Diário Oficial da Republica Federativa do Brasil, Poder Executivo, Brasília (DF); Oct 1, 2003.
(8) Kurcgant P, Ciampone MHT, Melleiro MM. O planejamento nas organizações de saúde: análise da visão sistêmica. Rev Gaucha Enferm. 2006; 27(3):351-5.
(9) Slalinski LM, Scochi MJ, Mathias TAF. A Utilização do Método Altadir de Planejamento Popular durante estágio curricular. Ciênc Cuid Saúde. 2006; 5(1):75-81.
(10) Tancredi FB, Barrios SRL, Ferreira JHG. Planejamento em Saúde. Série Saúde e Cidadania. São Paulo: Faculdade de Saúde Pública da Universidade de São Paulo; 1998.
(11) Botti ML, Scochi MJ. O Aprender Organizacional: relato de experiência em uma unidade básica de saúde. Saúde Soc. 2006; 15(1): 107-14.
(12) Pereira RJ, Cotta RMM, Franceschini SCC, Ribeiro RCL, Sampaio RF, Priore SE, et al. Contribuição dos domínios físico, social, psicológico e ambiental para a qualidade de vida global de idosos. Rev psiquiatr Rio Gd Sul. 2006; 28(1):176-83.
(13) Nardi EFR, Oliveira MLF. Conhecendo o apoio social ao cuidador familiar do idoso dependente. Rev Gaúcha Enferm. 2008; 29(1):47-53.
(14) Santos SSC. Concepções teórico-filosóficas sobre envelhecimento, velhice, idoso e enfermagem gerontogeriátrica. Rev Bras Enferm. 2010; 63(6):1035-9.
(15) Organização Mundial de Saúde. Cuidados Inovadores para Condições Crônicas: componentes estruturais de ação. Relatório Mundial. Brasília: Organização Mundial de Saúde; 2003.
(16) Faleiros VP. . Ser social. Brasília. 2007; (20): 35-61.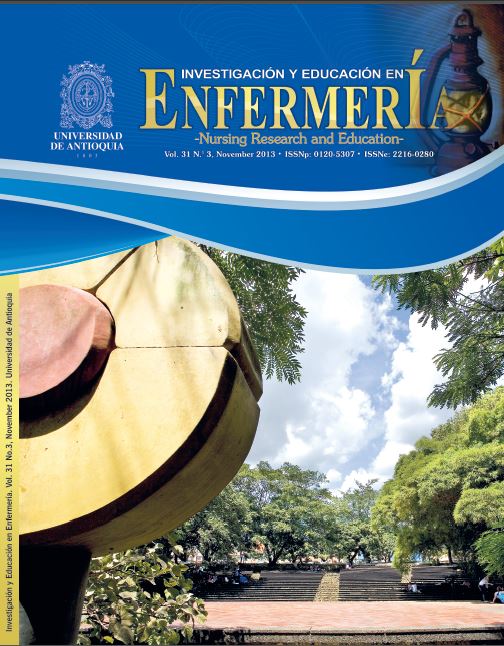 Downloads
How to Cite
Mantelo Cecilio, H. P., de Araújo Lopes, S., Antoniassi Baldissera, V. D., & Carreira, L. (2013). Reorganization of elderly care in a primary health care service through the Altadir method of popular planning. Investigación Y Educación En Enfermería, 31(3). Retrieved from https://revistas.udea.edu.co/index.php/iee/article/view/17509
Section
PRACTICE EXPERIENCE / EXPERIENCIA PRÁCTICA / EXPERIENCIA PRATICA
License
Derechos de propiedad / Direitos de Propriedade
English: If the article is accepted for publication, all copyright will be of exclusive property of Investigación y Educación en Enfermería. The text and the graphics included in the publication are exclusive responsibility of the authors and not necessarily reflect the thought of the Editorial Committee.
Español: Si el artículo es aprobado para publicación, todos los derechos son de propiedad de Investigación y Educación en Enfermería. El texto y las gráficas incluidas en la publicación son de exclusiva responsabilidad de los autores y no necesariamente refleja el pensamiento del Comité Editorial.
Português: Se o artigo for aceito para publicação, todos os direitos autorais serão de propriedade exclusiva de Investigación y Educación en Enfermería. O texto e os gráficos incluídos na publicação são de responsabilidade exclusiva dos autores e não refletem necessariamente o pensamento do Comitê Editorial.