Optimización experimental de una formulación de pulpa de uchuva (Physalis peruviana) para mejorar su procesamiento en el secado por atomización
Keywords:
goma arábiga, maltodextrina, reología, optimización experimental, Physalis peruviana L
Abstract
Antecedentes: En Colombia, el fruto de la uchuva (Physalis peruviana) está identificado como un fruto promisorio de exportación, por lo que la mejora de su procesamiento representa contribuir a una mayor competitividad de la cadena. Objetivos: el objetivo de este trabajo fue optimizar en función de parámetros fisicoquímicos y reológicos la formulación de una suspensión a base de pulpa de uchuva mezclada con los aditivos maltodextrina (MD) y goma arábiga (GA) con fines de ser utilizada en secado por atomización. Métodos: La optimización se realizó aplicando un diseño experimental central compuesto mediante superficie de respuesta con dos factores (MD y GA) y variables de respuesta (densidad, ºBrix, aw, pH, y parámetros reológicos). Resultados: La caracterización reológica de las suspensiones mostró un comportamiento tipo adelgazante con esfuerzo de cedencia (Modelo de Hershel-Bulkley). La suspensión que mejor se ajustó a los criterios de optimización para fines de secado por atomización fue para la formulación basada en MD (24%) y GA (0%) con caracterización reológica de Herschel-Bulkley tipo adelgazante con índice de consistencia (K= 0,119±0,017 Pa.sn), índice de potencia (n=0,75±0,03) y esfuerzo de cedencia (τo= 0,092±0,069 Pa). Los resultados para las propiedades fisicoquímicas en el punto optimizado fueron densidad = 1,167±0,005 g/mL, °Brix = 35,5±0,5, aw = 0,974±0,002. El pH y τo no fueron estadísticamente significativos (p>0,05) en la formulación de las suspensiones. Conclusiones: La optimización experimental representa una herramienta importante que permitió obtener una formulación de uchuva con MD y GA apta para secado por aspersión, representando un ahorro en tiempo y dinero para el investigador y la industria.
|Abstract = 337 veces | PDF (ESPAÑOL (ESPAÑA)) = 210 veces|
Downloads
Download data is not yet available.
References
Bastos GN, Santos AR, Ferrerira VM, Costa AM, Bispo CI, Silveira AJ, et al. Antinociceptive effect of the aqueous extract obtained from roots of Physalis angulata L. on mice. J. Ethnopharmacol. 2006; 103(2): 241-245.
Wu SJ, Ng LT, Huang YM, Lin DL, Wang SS, Huang SN, et al. Antioxidant activities of Physalis peruviana. J. Biol Pharm Bull. 2005; 28(6):963-936.
Pérez-Castorena AL, García M, Martínez M, Maldonado E. Physalins from Physalis solanaceus. J. Biochem Syst Ecol. 2004; 32(12):1231-1234.
Wu SJ, Ng LT, Lin DL, Huang SN, Wang SS, Lin CC. Physalis peruviana extract induces in human Hep G2 cells through CD95/ CD95L system and the mitochondrial signaling transduction pathway. J. Cancer Lett. 2004; 215(2):199-208.
Mayorga H, Duque C, Knapp H, Winterhalter P. Hydroxyester disaccharides from fruits of cape gooseberry (Physalis peruviana). J. Phytochemistry. 2002; 59(4): 439-445.
Ahmad S, Malik A, Yasmin R, Ullah N, Gul W, Khan PM. et al. Whitanolides from Physalis Peruvian, J. Phytochemistry. 1999; 50(4):647-651.
Ministerio de agricultura y desarrollo rural de Colombia y CCI. Sistema de inteligencia de mercados: información de monitoreo internacional [Internet]. 2006. [consulta: febrero de 2008.]. No. 13. Bogotá. 12. Disponible en: http://www.agronet.gov.co/www/ docs_agronet/2006427154348_uchuvamarzo.pdf;
Lopera S, Guzmán C, Cataño C, Gallardo C. Desarrollo y caracterización de micropartículas de ácido fólico formadas por secado por atomización, utilizando goma arábiga y maltodextrina como materiales de pared. J. Vitae. 2009; 16(1): 55-65.
Luh BS, Tropical fruit beverage. Fruit & vegetable juices processing technology. 3ª ed. (Eds. p.e. nelson and d.k. tressler). Connecticut: AVI, 344 – 435, 1980.
Toneli J, Park KJ, Murr F, Negreiros A. Spray drying optimization to obtain inulin powder. In: Proceedings of the 15th International Drying Symposium (IDS 2006). Budapest, Hungary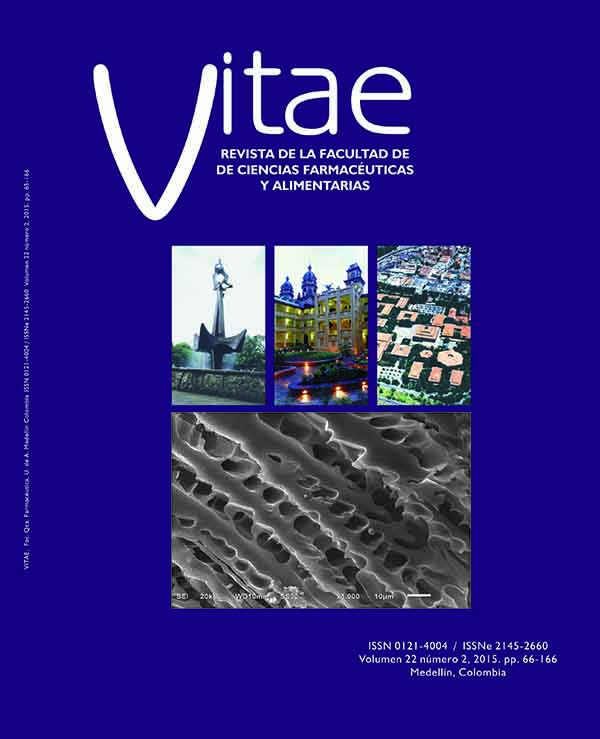 Downloads
How to Cite
CORTÉS RODRÍGUEZ, M., HERNÁNDEZ SANDOVAL, G. R., & CIRO VELÁSQUEZ, H. J. (2015). Optimización experimental de una formulación de pulpa de uchuva (Physalis peruviana) para mejorar su procesamiento en el secado por atomización. Vitae, 22(2), 130–139. https://doi.org/10.17533/udea.vitae.v22n2a07
Section
Foods: Science, Engineering and Technology
License
Copyright Notice and Open Access Statement
The Journal Vitae works under the Open Access license, and the published manuscripts remain available for the public, both on the Journal's website and in databases, under the Creative Commons license, "Noncommercial Attribution" and "Share alike" systems, adopted in Colombia. Hence, when the authors agree to publish in the Journal Vitae, they will not have the right to economic retributions on publications and reproductions through different diffusion media. The documents are freely available to the internet public, permitting users to read, download, copy, distribute, print, search, or link to the full texts and pass them as data to software. The only constraint on reproduction and distribution, should be to give authors control over the integrity of their work and the right to be appropriately acknowledged and cited.
Authors declare that:
They are the intellectual property owners and are responsible for all the information stated in the article.

This manuscript has not been submitted or published in other printed or digital media. They accept the responsibility for the judgments, opinions, and points of view expressed in the published article and, therefore, they exonerate Universidad de Antioquia and Journal Vitae from any process.

They exempt Universidad de Antioquia and Journal Vitae from settling conflicts or disputes related to the authorship of the referred article.

They accept the revision of the original manuscript by suitable personnel, and they bind themselves to perform the corrections appointed or suggested by the assessors.

Therefore, they know the editorial process and will not bind the Editorial Board of the Journal to assume any obligations regarding the volume and issue in which the article is published.

They transfer the rights of publication, reprinting, and distribution of the article from the moment of its approval, in print and digital format, without the right to economic rewards, and under the licensing conditions considered relevant by Journal Vitae.

They fully authorize Universidad de Antioquia and Journal Vitae to submit the published material to the diverse databases and indexing systems where the Journal can be found to comply with the requirements of the regulatory authorities to maintain the national classification of journals.

They will assume the article publication costs established for the current issue, and they will make the payment as soon as they are informed about the volume and the issue in which the final version of the article is published.

After the article is published, you can share digital or printed copies in a noncommercial manner. You will be able to use the paper in your institution or company for educational or research purposes, including the use in course programs.
Conflict of interest: Authors are responsible for recognizing and disclosing any financial or other benefits that could be perceived to bias their work, acknowledging all financial support and any personal connections with potential sponsors. Examples of such conflicts include receiving research funds or honoraria, serving on advisory boards, stock ownership, or employment and consulting arrangements. Authors without such connections should clearly state that they have no financial support or personal relationships that could be perceived to bias their work. All conflicts of interest should be disclosed on the author's identification page of the manuscript.