Optimización experimental del proceso de liofilización de uchuva adicionada con componentes activos por impregnación al vacío
Keywords:
alimentos funcionales, impregnación al vacío, liofilización, componentes fisiológicamente activos, Physalis peruviana L
Abstract
Antecedentes: Los procesos de optimización experimental, representan una herramienta efectiva para el mejoramiento de la calidad de los productos, contribuyendo en la diversificación de productos en la cadena de uchuva, como frutos promisorios de exportación. Objetivo: El objetivo del estudio fue optimizar el proceso de liofilización para obtener uchuvas (Physalis peruviana L.) semiesféricas adicionadas con componentes activos y de excelentes atributos de calidad. Métodos: Las muestras semiesféricas (3 - 4 g) fueron tratadas inicialmente por impregnación al vacío con una emulsión que contenía proteína de soja, sucralosa, tensoactivos, calcio, vitamina D3 (Colecalciferol), vitamina E (DL-α-tocoferol acetato) y vitamina B9. La optimización experimental del proceso de liofilización se realizó con un diseño factorial 22 con el fin de determinar la condición óptima de operación, utilizando como variables independientes la velocidad de calentamiento de la placa (ºC/min) y el tiempo de sostenimiento a la temperatura de la placa para cada segmento del proceso y como variables dependientes: concentración de los componentes con actividad fisiológica, actividad de agua, humedad, textura, color y tiempo total de proceso. Resultados: Se identificó una influencia de las condiciones del proceso sobre las variables de respuesta, donde una porción de 49 g de ¡ uchuvas liofilizadas alcanzó contenidos superiores al 20% del valor diario de referencia de vitamina D y entre el 10 y 20% del valor diario de referencia en calcio y vitaminas B9, C y E; permitiendo identificar al producto como "Excelente fuente de vitamina D" y "Buena fuente de calcio y vitaminas B9, C, E", según la normativa colombiana. La condición óptima de proceso se alcanzó a una velocidad de calentamiento de placa de 0,04 ºC/min y un tiempo de sostenimiento de la temperatura de la placa de 1,2 h. Conclusiones: La aplicación integrada de procesos de impregnación al vacío y liofilización, representan una alternativa importante en el desarrollo de alimentos funcionales en el fruto de uchuva.
|Abstract = 265 veces | PDF = 171 veces|
Downloads
Download data is not yet available.
References
Rey L, May JC. Freeze drying / Liophilization of pharmaceutical and biological products, second edition. New York, USA: Marcel Dekker Inc.; 2004. 580 p.
kos MR, et al. Food dehydration, In Handbook of Food Engineering by D.R. Helman y D.B. Lund, pp 257 Marcel Dekker, New York, USA; 1992.
Barbosa-Canovas G, Vega-Mercado H. Deshidratación de Alimentos, 1ª edición. Zaragoza, España: Editorial Acribia, España; 2000. 314 p.
Orrego, C, Congelación y liofilización de alimentos, 1ª edición. Manizales, Colombia: Artes gráficas Tizan Ltda.; 2008. 169 p.
Das I, Das SK, Bal S. Specific energy and quality aspects of infrared (IR) dried parboiled rice. J Food Eng. 2004; 62(1), 9–14.
Elbert G, Tolaba MP, Suárez C. Effects of drying conditions on head rice yield and browning index of parboiled rice. J Food Eng. 2001; 47(1): 37–41.
Madamba PS. The response surface methodology: an application to optimize dehydration operations of selected agricultural crops. Lebensm Wiss Technol. 2002; 35(7): 584–592.
Liu L, Miyawaki O, Nakamura K. Progressive Freeze-Concentration of Model Liquid Food. Food Sci Tech Int. 1997; 3(4): 348-352.
Kasper JC, Winter G, Friess W. Recent advances and further challenges in liophilization. Eur J Pharm Biopharm. 2013; 85 (2): 162-169.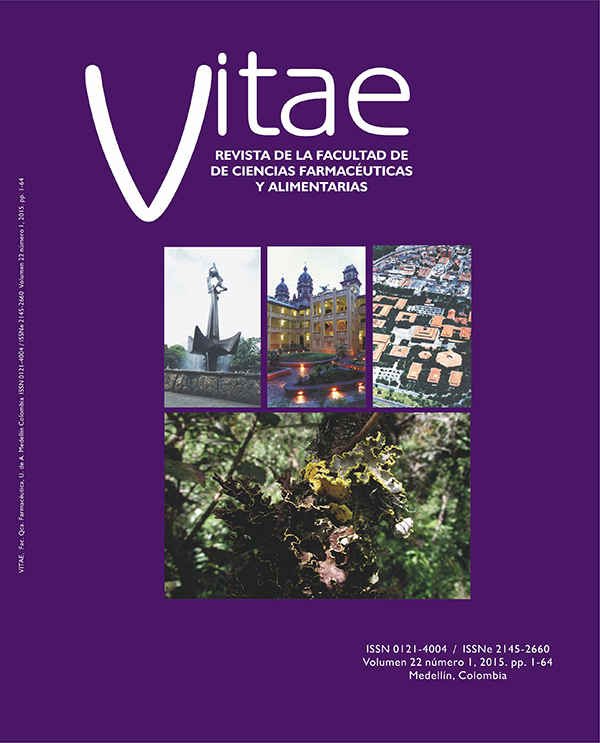 Downloads
How to Cite
CORTÉS RODRÍGUEZ, M., HERRERA H., E., & RODRÍGUEZ SANDOVAL, E. (2015). Optimización experimental del proceso de liofilización de uchuva adicionada con componentes activos por impregnación al vacío. Vitae, 22(1), 47–56. https://doi.org/10.17533/udea.vitae.v22n1a06
Section
Foods: Science, Engineering and Technology
License
Copyright Notice and Open Access Statement
The Journal Vitae works under the Open Access license, and the published manuscripts remain available for the public, both on the Journal's website and in databases, under the Creative Commons license, "Noncommercial Attribution" and "Share alike" systems, adopted in Colombia. Hence, when the authors agree to publish in the Journal Vitae, they will not have the right to economic retributions on publications and reproductions through different diffusion media. The documents are freely available to the internet public, permitting users to read, download, copy, distribute, print, search, or link to the full texts and pass them as data to software. The only constraint on reproduction and distribution, and the only role for copyright in this domain, should be to give authors control over the integrity of their work and the right to be appropriately acknowledged and cited.
Authors declare that:
They are the intellectual property owners and are responsible for all the information stated in the article.

This manuscript has not been submitted or published in other printed or digital media. They accept the responsibility for the judgments, opinions, and points of view expressed in the published article and, therefore, they exonerate Universidad de Antioquia and Journal Vitae from any process.

They exempt Universidad de Antioquia and Journal Vitae from settling conflicts or disputes related to the authorship of the referred article.

They accept the revision of the original manuscript by suitable personnel, and they bind themselves to perform the corrections appointed or suggested by the assessors.

Therefore, they know the editorial process and will not bind the Editorial Board of the Journal to assume any obligations regarding the volume and issue in which the article is published.

They transfer the rights of publication, reprinting, and distribution of the article from the moment of its approval, in print and digital format, without the right to economic rewards, and under the licensing conditions considered relevant by Journal Vitae.

They fully authorize Universidad de Antioquia and Journal Vitae to submit the published material to the diverse databases and indexing systems where the Journal can be found to comply with the requirements of the regulatory authorities to maintain the national classification of journals.

They will assume the article publication costs established for the current issue, and they will make the payment as soon as they are informed about the volume and the issue in which the final version of the article is published.

After the article is published, you can share digital or printed copies in a noncommercial manner. You will be able to use the paper in your institution or company for educational or research purposes, including the use in course programs.
Conflict of interest: Authors are responsible for recognizing and disclosing any financial or other benefits that could be perceived to bias their work, acknowledging all financial support and any personal connections with potential sponsors. Examples of such conflicts include receiving research funds or honoraria, serving on advisory boards, stock ownership, or employment and consulting arrangements. Authors without such connections should clearly state that they have no financial support or personal relationships that could be perceived to bias their work. All conflicts of interest should be disclosed on the author's identification page of the manuscript.