Development of food for an increasingly overweight population
Abstract
Nowadays, obesity is considered one of the biggest problems in public health, by its high prevalence and the relationship between the not chronic diseases such as diabetes, coronary heart disease, hypertension, dyslipidemia, among others. At the global level, over-weight is increased not only in high-income countries, but mainly in the low and medium, substantially in urban environments. In developing countries close to 35 million people were identified with this problem, while that developed the amount just reaches 8 million.
|Abstract = 195 veces | PDF = 146 veces|
Downloads
Download data is not yet available.
References
Mönckeberg BF, Muzzo BS. La desconcertante epidemia de obesidad. Rev Chil Nutr. 2015; 42:96-102.
Organización Mundial de la salud, 2010, Recomendaciones Mundiales sobre Actividad Física para la salud. http:// www.who.int/rpc/ guidelines. Fecha de consulta: 25 de enero de 2016.
Colombia. Ministerio de la protección social e instituto colombiano de bienestar familiar - icbf. (2011). Estudio Nacional de Situación Nutricional en Colombia 2010 - ENSIN. El Ministerio. Disponible en: https://www.minsalud.gov.co/sites/rid/Lists/BibliotecaDigital/RIDE/VS/ED/GCFI/libro ensin 2010.pdf.Consultado: 11 de febrero de 2012.
Colombia. Ministerio de salud y protección social. (2017). Encuesta nacional de la Situación Nutricional ENSIN 2015. El Ministerio. Disponible en: https://www.minsalud.gov.co/sites/rid/Lists/BibliotecaDigital/RIDE/VS/ED/PSP/presentacion-lanzamiento-ensin-2015.pdf. 27 de febrero de 2018.
Torres D, Reyes-Dieck C, Gallego E, Gómez-García A, Posada G, Maldonado-Celis M. Impact of osmodehydrated andean berry (Vaccinium Meridionale Swartz) on overweight adults. VITAE. 2018; 25-3: 147-153.
Annunziata A., Vecchio R. Functional foods development in the European market: a consumer perspective. J Funct Foods. 2011; 3: 223-228.
Santini A, Tenore GC, Novellino E. Nutraceuticals: A paradigm of proactive medicine. Eur J Pharm Sci. 2017; 96: 53-61.
Granato, D., Nunes, D.S., Barba, F.J.. An integrated strategy between food chemistry, biology, nutrition, pharmacology, and statistics in the development of functional foods: A proposal. Trends in Food Science & Technology. 2017; 62: 13-22. http://dx.doi.org/10.1016/j.tifs.2016.12.010
Roselli, M., Finamore, A., Brasili, E., Rami, R., Nobili, F., Orsi, C., Zambrini, A. V., Mengheri, E., Beneficial effects of a selected probiotic mixture administered to high fat-fed mice before and after the development of obesity. Journal of Functional Foods. 2018; 45: 321-329 https://doi.org/10.1016/j.jff.2018.03.039
Rahouli, W., Merzouk, H., El Haci, I. A., Bettioui, R., Azzi, R., Benali, M. Beneficial effects of Aloe vera gel on lipid profile, lipase activities and oxidant/antioxidant status in obese rats. Journal of Functional Foods. 2018; 48: 525-532. https://doi.org/10.1016/j.jff.2018.07.050
Rucakovic, L., Colson, N., Santhakumar, A. B., Kundur, A. R., Shuttleworth, M., Singh, I. The effects of anthocyanins on body weight and expression of adipocyte's hormones: Leptin and adiponectin. Journal of Functional Foods. 2018; 45: 173-180. https://doi.org/10.1016/j.jff.2018.03.042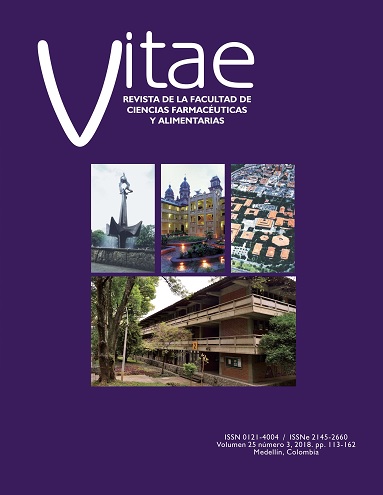 Downloads
How to Cite
FRANCO-AGUILAR, A., GRANDA-RESTREPO, D. M., & TORRES OQUENDO, J. D. (2018). Development of food for an increasingly overweight population. Vitae, 25(3), 118–119. https://doi.org/10.17533/udea.vitae.v25n3a01
License
Copyright Notice and Open Access Statement
The Journal Vitae works under the Open Access license, and the published manuscripts remain available for the public, both on the Journal's website and in databases, under the Creative Commons license, "Noncommercial Attribution" and "Share alike" systems, adopted in Colombia. Hence, when the authors agree to publish in the Journal Vitae, they will not have the right to economic retributions on publications and reproductions through different diffusion media. The documents are freely available to the internet public, permitting users to read, download, copy, distribute, print, search, or link to the full texts and pass them as data to software. The only constraint on reproduction and distribution, and the only role for copyright in this domain, should be to give authors control over the integrity of their work and the right to be appropriately acknowledged and cited.
Authors declare that:
They are the intellectual property owners and are responsible for all the information stated in the article.

This manuscript has not been submitted or published in other printed or digital media. They accept the responsibility for the judgments, opinions, and points of view expressed in the published article and, therefore, they exonerate Universidad de Antioquia and Journal Vitae from any process.

They exempt Universidad de Antioquia and Journal Vitae from settling conflicts or disputes related to the authorship of the referred article.

They accept the revision of the original manuscript by suitable personnel, and they bind themselves to perform the corrections appointed or suggested by the assessors.

Therefore, they know the editorial process and will not bind the Editorial Board of the Journal to assume any obligations regarding the volume and issue in which the article is published.

They transfer the rights of publication, reprinting, and distribution of the article from the moment of its approval, in print and digital format, without the right to economic rewards, and under the licensing conditions considered relevant by Journal Vitae.

They fully authorize Universidad de Antioquia and Journal Vitae to submit the published material to the diverse databases and indexing systems where the Journal can be found to comply with the requirements of the regulatory authorities to maintain the national classification of journals.

They will assume the article publication costs established for the current issue, and they will make the payment as soon as they are informed about the volume and the issue in which the final version of the article is published.

After the article is published, you can share digital or printed copies in a noncommercial manner. You will be able to use the paper in your institution or company for educational or research purposes, including the use in course programs.
Conflict of interest: Authors are responsible for recognizing and disclosing any financial or other benefits that could be perceived to bias their work, acknowledging all financial support and any personal connections with potential sponsors. Examples of such conflicts include receiving research funds or honoraria, serving on advisory boards, stock ownership, or employment and consulting arrangements. Authors without such connections should clearly state that they have no financial support or personal relationships that could be perceived to bias their work. All conflicts of interest should be disclosed on the author's identification page of the manuscript.