Una revisión de la literatura sobre la relación causal entre los factores oclusales (FO) y los desórdenes temporomandibulares (DTM) II: estudios epidemiológicos analíticos de observación
Rodolfo Acosta O.

Blanca Patricia Rojas S.
Abstract
Este es el segundo de una serie de artículos que tienen como propósito presentar una revisión de la literatura acerca de la relación causal existente entre los factores oclusales (FO) y los desórdenes temporomandibulares (DTM). En este artículo se presentan y se analizan los estudios epidemiológicos analíticos de observación; los cuales tienen un grado más alto en la pirámide de la evidencia científica y por tanto pueden ofrecer conclusiones más concretas sobre la posible relación entre FO y DTM. El análisis de los estudios reportados en este artículo no encontró ninguna relación causal entre los FO y el desarrollo de DTM. Aunque sí hubo la asociación de ciertos FO a los DTM, muchos de ellos pueden interpretarse mejor como la consecuencia y no la causa de un DTM. Adicionalmente, aunque en los estudios longitudinales ciertos FO fueron correlacionados con signos o síntomas de DTM, ninguno de los FO se pudo asociar con el desarrollo de un DTM o con alguna categoría diagnóstica entre los DTM.
ABSTRACT. This is the second in a series of articles that have as purpose to present a literature review about the causal relationship between occlusal factors (OF) and temporomandibular disorders (TMD). In this article, Analytic epidemiologic studies are presented and analyzed. Such analytic studies have a higher degree of confidence in the scientific evidence pyramid, and may offer more concrete conclusions about possible relationships between FO and TMD. The analysis of the studies reported in this article did not find any causal relationship between OF and the development of TMD. Although there was an association of some of the OF and TMD, many of them could be better seen as the consequence and not the cause of a TMD. Additionally, even though in the longitudinal studies certain OF were correlated to signs or symptoms of TMD, none of the OF could be associated to the development of a TMD or to any of the diagnostic categories of TMD.
|Abstract = 1855 veces | PDF (ESPAÑOL (ESPAÑA)) = 1122 veces|
Downloads
Download data is not yet available.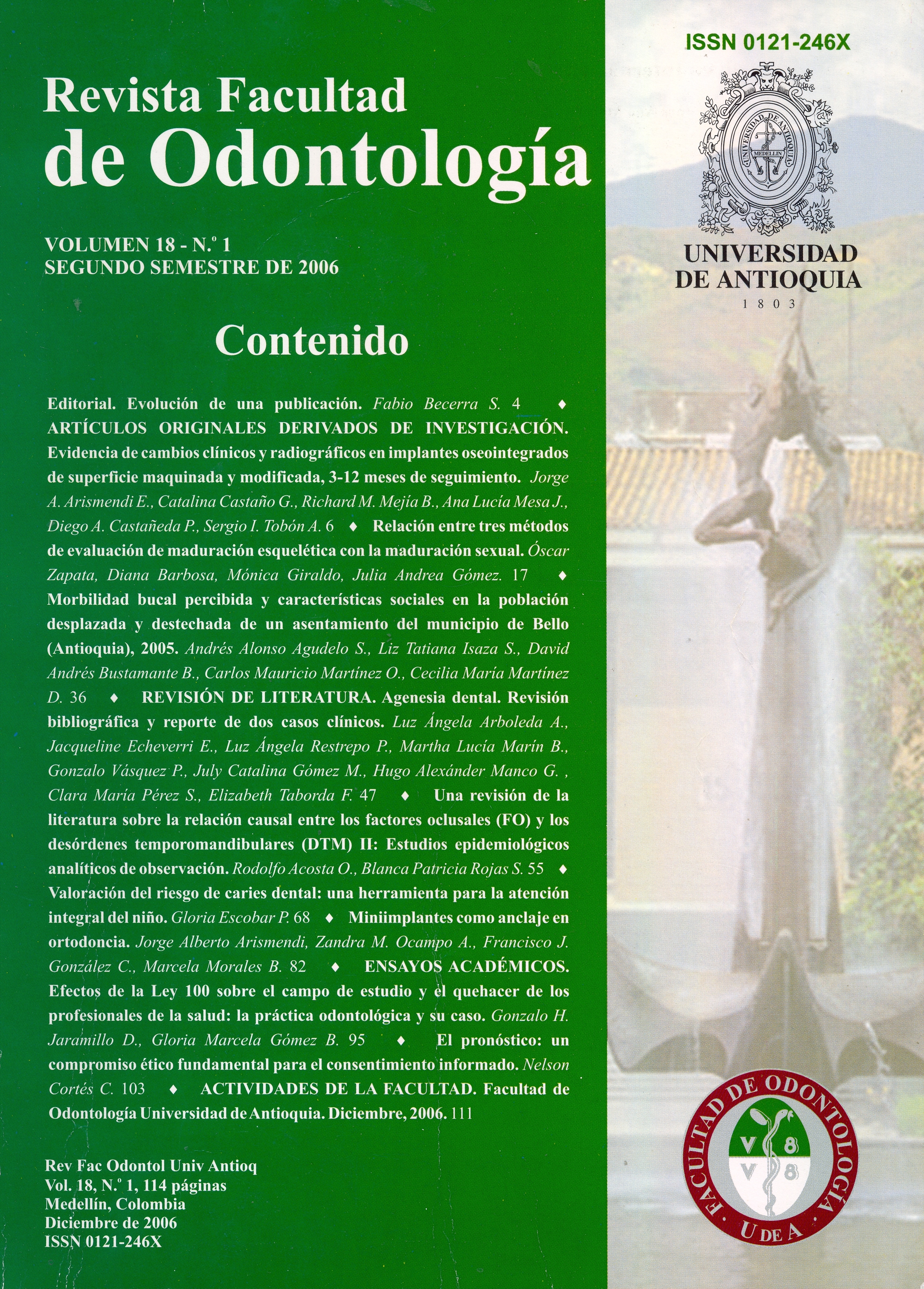 How to Cite
Acosta O., R., & Rojas S., B. P. (2009). Una revisión de la literatura sobre la relación causal entre los factores oclusales (FO) y los desórdenes temporomandibulares (DTM) II: estudios epidemiológicos analíticos de observación. Revista Facultad De Odontología Universidad De Antioquia, 18(1). Retrieved from https://revistas.udea.edu.co/index.php/odont/article/view/2775
Section
SYSTEMATIC REVIEW
Copyright Notice
Copyright comprises moral and patrimonial rights.
1. Moral rights: are born at the moment of the creation of the work, without the need to register it. They belong to the author in a personal and unrelinquishable manner; also, they are imprescriptible, unalienable and non negotiable. Moral rights are the right to paternity of the work, the right to integrity of the work, the right to maintain the work unedited or to publish it under a pseudonym or anonymously, the right to modify the work, the right to repent and, the right to be mentioned, in accordance with the definitions established in article 40 of Intellectual property bylaws of the Universidad (RECTORAL RESOLUTION 21231 of 2005).
2. Patrimonial rights: they consist of the capacity of financially dispose and benefit from the work trough any mean. Also, the patrimonial rights are relinquishable, attachable, prescriptive, temporary and transmissible, and they are caused with the publication or divulgation of the work. To the effect of publication of articles in the journal Revista de la Facultad de Odontología, it is understood that Universidad de Antioquia is the owner of the patrimonial rights of the contents of the publication.
The content of the publications is the exclusive responsibility of the authors. Neither the printing press, nor the editors, nor the Editorial Board will be responsible for the use of the information contained in the articles.
I, we, the author(s), and through me (us), the Entity for which I, am (are) working, hereby transfer in a total and definitive manner and without any limitation, to the Revista Facultad de Odontología Universidad de Antioquia, the patrimonial rights corresponding to the article presented for physical and digital publication. I also declare that neither this article, nor part of it has been published in another journal.
Open Access Policy
The articles published in our Journal are fully open access, as we consider that providing the public with free access to research contributes to a greater global exchange of knowledge.
Creative Commons License
The Journal offers its content to third parties without any kind of economic compensation or embargo on the articles. Articles are published under the terms of a Creative Commons license, known as Attribution – NonCommercial – Share Alike (BY-NC-SA), which permits use, distribution and reproduction in any medium, provided that the original work is properly cited and that the new productions are licensed under the same conditions.

This work is licensed under a Creative Commons Attribution-NonCommercial-ShareAlike 4.0 International License.