Passiflora quadrangularis L. prevents experimental hypertension and vascular remodelling in rats exposed to nitric oxide deficit
Keywords:
Isolated organ, hypertension, L-NAME, Passiflora quadrangularis L., vascular remodelling
Abstract
Background: Passiflora quadrangularis L. is among the species used in Colombian folk medicine for hypertension, but until now it has not been studied in experimental models. Objectives: To assess the capacity of P. quadrangularis L. EtOH extract to prevent the hypertension and vascular remodelling induced by nitric oxide (NO) deficit in Wistar rats. Methods: The nitric oxide (NO) synthase inhibitor L-NAME (10 mg/kg, i.p (intraperitoneal), every 48h) was administered for seven weeks to the following groups of rats: P. quadrangularis L.75, 150 and 300 mg/kg/d, p.o. (oral route); enalapril as reference agent, 10 mg/kg/d, p.o. and vehicle as control (mixture of propylene glycol 10%, glycerine 10% and polysorbate 2%). Arterial blood pressure (BP) and heart rate (HR) were measured twice a week. After sacrifice, the aortic rings were isolated, contraction was triggered with phenylephrine (PE 10-6 M) and then the relaxant response achieved with cumulative concentrations of acetylcholine (ACh, 10-10 – 10-5 M) or sodium nitroprusside (SNP, 10-10 – 10-5 M) was assessed. Histopathologic measures of thickness/lumen ratio from both the left ventricle and aorta walls, as well as phytochemical screening, were also performed. Results: As for enalapril, all doses of P. quadrangularis L. prevented the hypertension induced by L-NAME (122±1.2 versus 155±1.3 mmHg at seventh week). P. quadrangularis L. significantly increased the relaxant effect induced by ACh in isolated aorta and decreased the thickness/lumen ratio of aorta wall specimens. Conclusions: P. quadrangularis L. prevents experimental hypertension induced in rats with nitric oxide deficits improving the endothelium vasodilatation response and protecting against vascular remodelling.
|Abstract = 267 veces | PDF = 199 veces|
Downloads
Download data is not yet available.
References
Poulter NR, Prabhakaran D, Caulfield M. Hypertension. Lancet. 2015 Aug; 386(9995):801-12.
Sarki AM, Nduka CU, Stranges S, Kandala NB, Uthman OA. Prevalence of Hypertension in Low- and Middle-Income Countries. Medicine. 2015 Dec; 94(50):e1959.
Mills KT, Bundy JD, Kelly TN, Reed JE, Kearney PM, Reynolds K, et al. Global Disparities of Hypertension Prevalence and Control: A Systematic Analysis of Population-Based Studies From 90 Countries. Circulation. 2016 Aug;134(6):441-50.
Lobo MD, Sobotka PA, Pathak A. Interventional procedures and future drug therapy for hypertension. Eur Heart J. 2016 Jul 11;38(15):ehw303.
Brown MT, Bussell JK. Medication Adherence: WHO Cares? Mayo Clin Proc. 2011 Apr;86(4):304-14.
Cragg GM, Newman DJ. Natural products: A continuing source of novel drug leads. Biochim Biophys Acta - Gen Subj. 2013; 1830(6):3670-95.
Li EC, Heran BS, Wright JM. Angiotensin converting enzyme (ACE) inhibitors versus angiotensin receptor blockers for primary hypertension. In: Li EC, editor. Cochrane Database of Systematic Reviews. Chichester, UK: John Wiley & Sons, Ltd; 2014
Wiysonge CS, Opie LH. β-Blockers as Initial Therapy for Hypertension. JAMA. 2013 Nov; 310(17):1851.
Moser M. Relative efficacy of, and some adverse reactions to, different antihypertensive regimens. Am J Cardiol. 1989 Jan ;63(4):2B-7B.
Kehat I, Molkentin JD. Molecular pathways underlying cardiac remodeling during pathophysiological stimulation. Circulation. 2010 Dec 21; 122(25):2727-35.
Kopincová J, Púzserová A, Bernátová I. L-NAME in the cardiovascular system - nitric oxide synthase activator? Pharmacol Rep. 2012; 64(3):511-20.
Skogastierna C, Luksha L, Kublickiene K, Eliasson E, Rane A, Ekström L. Beneficial vasoactive endothelial effects of fluvastatin: focus on prostacyclin and nitric oxide. Heart Vessels. 2011 Nov; 26(6):628-36.
Nippon M. Angiotensin converting enzyme and aldosereductase inhibitory agent comprises Passiflora quadrangularis extract with organic solvent, water or vitexin. 1995-009562, 1993. 2p.
Sui H, Yu Q, Zhi Y, Geng G, Liu H, Xu H. [Effects of apigenin on the expression of angiotensin-converting enzyme 2 in kidney in spontaneously hypertensive rats]. Wei Sheng Yan Jiu. 2010 Nov; 39(6):693-6, 700.
Ramaiya SD, Bujang JS, Zakaria MH. Assessment of total phenolic, antioxidant, and antibacterial activities of Passiflora species. ScientificWorldJournal. 2014; 2014:167309.
de Castro PCF, Hoshino A, da Silva JC, Mendes FR. Possible anxiolytic effect of two extracts of Passiflora quadrangularis L. in experimental models. Phytother Res. 2007 May; 21(5):481-4.
Gazola AC, Costa GM, Castellanos L, Ramos FA, Reginatto FH, Lima TCM De, et al. Involvement of GABAergic pathway in the sedative activity of apigenin, the main flavonoid from Passiflora quadrangularis pericarp. Rev Bras Farmacogn. 2015; 25(2):158-63.
Avula B, Wang Y-H, Rumalla C, Smillie TJ, Khan IA. Simultaneous Determination of Alkaloids and Flavonoids from Aerial Parts os Passiflora Species and Dietary Supplements using UPLC-UV-MS and HPTLC. Narural Prod Commun. 2012; 7:1177-80.
Zucolotto SM, Fagundes C, Reginatto FH, Ramos FA, Castellanos L, Duque C, et al. Analysis of C-glycosyl flavonoids from South American Passiflora species by HPLC-DAD and HPLCMS. Phytochem Anal. 2012;23(3):2329.
Costa GM, Gazola AC, Zucolotto SM, Castellanos L, Ramos FA, Reginatto FH, et al. Chemical profiles of traditional preparations of four South American Passiflora species by chromatographic and capillary electrophoretic techniques. Rev Bras Farmacogn. 2016; 26(4):451-8.
Orsini F, Pelizzoni F, Verotta L. Quadranguloside a cycloartane triterpene glycoside from Passiflora quadrangularis. Phytochemistry. 1985; 25(1):191-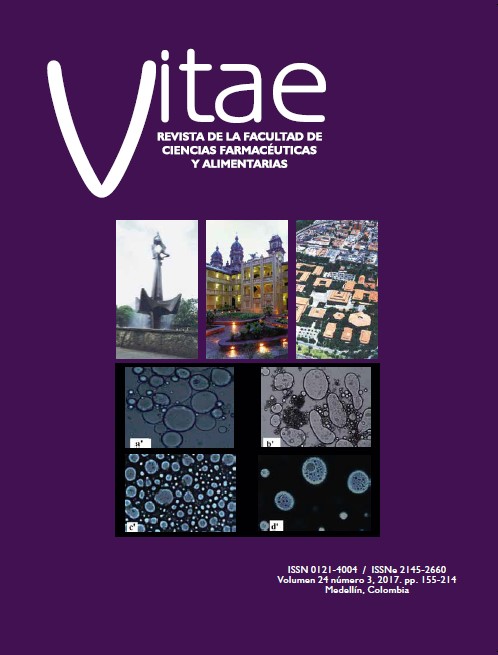 Downloads
How to Cite
BAREÑO, L. L., PUEBLA, P., GUERRA, C. M., SAN FELICIANO, A., ISAZA, G., & GUERRERO, M. F. (2017). Passiflora quadrangularis L. prevents experimental hypertension and vascular remodelling in rats exposed to nitric oxide deficit. Vitae, 24(3), 186–195. https://doi.org/10.17533/udea.vitae.v24n3a04
Section
Pharmacology and Toxicology
License
Copyright (c) 2017 Vitae
This work is licensed under a Creative Commons Attribution-NonCommercial-ShareAlike 4.0 International License.
Copyright Notice and Open Access Statement
The Journal Vitae works under the Open Access license, and the published manuscripts remain available for the public, both on the Journal's website and in databases, under the Creative Commons license, "Noncommercial Attribution" and "Share alike" systems, adopted in Colombia. Hence, when the authors agree to publish in the Journal Vitae, they will not have the right to economic retributions on publications and reproductions through different diffusion media. The documents are freely available to the internet public, permitting users to read, download, copy, distribute, print, search, or link to the full texts and pass them as data to software. The only constraint on reproduction and distribution, should be to give authors control over the integrity of their work and the right to be appropriately acknowledged and cited.
Authors declare that:
They are the intellectual property owners and are responsible for all the information stated in the article.

This manuscript has not been submitted or published in other printed or digital media. They accept the responsibility for the judgments, opinions, and points of view expressed in the published article and, therefore, they exonerate Universidad de Antioquia and Journal Vitae from any process.

They exempt Universidad de Antioquia and Journal Vitae from settling conflicts or disputes related to the authorship of the referred article.

They accept the revision of the original manuscript by suitable personnel, and they bind themselves to perform the corrections appointed or suggested by the assessors.

Therefore, they know the editorial process and will not bind the Editorial Board of the Journal to assume any obligations regarding the volume and issue in which the article is published.

They transfer the rights of publication, reprinting, and distribution of the article from the moment of its approval, in print and digital format, without the right to economic rewards, and under the licensing conditions considered relevant by Journal Vitae.

They fully authorize Universidad de Antioquia and Journal Vitae to submit the published material to the diverse databases and indexing systems where the Journal can be found to comply with the requirements of the regulatory authorities to maintain the national classification of journals.

They will assume the article publication costs established for the current issue, and they will make the payment as soon as they are informed about the volume and the issue in which the final version of the article is published.

After the article is published, you can share digital or printed copies in a noncommercial manner. You will be able to use the paper in your institution or company for educational or research purposes, including the use in course programs.
Conflict of interest: Authors are responsible for recognizing and disclosing any financial or other benefits that could be perceived to bias their work, acknowledging all financial support and any personal connections with potential sponsors. Examples of such conflicts include receiving research funds or honoraria, serving on advisory boards, stock ownership, or employment and consulting arrangements. Authors without such connections should clearly state that they have no financial support or personal relationships that could be perceived to bias their work. All conflicts of interest should be disclosed on the author's identification page of the manuscript.