El entrenamiento mental y los cirujanos: una estrategia de mejoramiento
Palabras clave:
Cirujanos, Entrenamiento Mental, Simulación
Resumen
El éxito de una cirugía depende de las competencias quirúrgicas y académicas del cirujano, del control de las variables propias del ambiente quirúrgico (estrés e incertidumbre) y de habilidades cognitivas avanzadas que permitan integrar lo anterior e impactar sobre el resultado. Las técnicas cognitivas de entrenamiento propias de atletas y músicos han sido utilizadas en los cirujanos para mejorar su desempeño quirúrgico, dada la similar naturaleza de su actividad, técnicamente demandante, con altos niveles de estrés y una permanente exigencia de resultados positivos. Una de estas estrategias es el Entrenamiento Mental o Cognitivo (EM) que consiste en la realización del acto quirúrgico en la mente previo a la cirugía, sin la necesidad del movimiento físico. Su efectividad en el desempeño quirúrgico ha permitido comprobar que las habilidades no técnicas juegan un papel relevante en la formación profesional. Es decir, la efectividad del cirujano reside en su destreza quirúrgica aunada a su destreza mental, y se relaciona directamente con la capacidad integradora de estas dos variables. 
El propósito de esta revisión es generar un marco conceptual del EM como una estrategia de mejoramiento para el desempeño del cirujano, considerando su metodología y sus potenciales beneficios para el cirujano, mejorando su desempeño quirúrgico en las salas de cirugía.
|Resumen = 124 veces | PDF = 108 veces| HTML = 0 veces|
Descargas
La descarga de datos todavía no está disponible.
Citas
(1.) Cocks M, Moulton CA, Luu S, Cil T. What surgeons can learn from athletes: mental practice in sports and surgery. J Surg Educ. 2014 Mar-Apr;71(2):262-9. DOI 10.1016/j.jsurg.2013.07.002.
(2.) Hall JC. Imagery practice and the development of surgical skills. Am J Surg. 2002 Nov;184(5):465-70.
(3.) Driskell J, Copper C, Moran A. Does Mental Practice Enhance Performance? J Appl Psychol. 1994;79(4);481-92.
(4.) Richardson A. Mental Imagery. Berlin: Springer; 1969.
(5.) Wallace L, Raison N, Ghumman F, Moran A, Dasgupta P, Ahmed K. Cognitive training: How can it be adapted for surgical education? Surgeon. 2017 Aug;15(4):231-239. DOI 10.1016/j.surge.2016.08.003.
(6.) Rogers RG. Mental practice and acquisition of motor skills: examples from sports training and surgical education. Obstet Gynecol Clin North Am. 2006 Jun;33(2):297-304, ix.
(7.) Roncal J. Michael Phelps motivation goals mental power [video]. 2016. Available from: https://www.youtube.com/watch?v=563LvRga7vs
(8.) Immenroth M, Bürger T, Brenner J, Nagelschmidt M, Eberspächer H, Troidl H. Mental training in surgical education: a randomized controlled trial. Ann Surg. 2007 Mar;245(3):385-91.
(9.) Madani A, Vassiliou MC, Watanabe Y, Al-Halabi B, Al-Rowais MS, Deckelbaum DL, et al. What Are the Principles That Guide Behaviors in the Operating Room?: Creating a Framework to Define and Measure Performance. Ann Surg. 2017 Feb;265(2):255-67. DOI 10.1097/SLA.0000000000001962.
(10.) Grön G, Wunderlich AP, Spitzer M, Tomczak R, Riepe MW. Brain activation during human navigation: gender-different neural networks as substrate of performance. Nat Neurosci. 2000 Apr;3(4):404-8.
(11.) Markman KD, Klein WM, Suhr JA. Mental Imagery and Implicit Memory. In: Handbook of Imagination and Mental Simulation. New York, NY: Routledge; 2008. p. 35-51.
(12.) Hinshaw K. The effecfs of mental practice on motor skill performance: critical evaluation and metaanalysis. Imagin Cogn Pers. 1991;11(1):3-35. DOI 10.2190/X9BA-KJ68-07AN-QMJ8.
(13.) Sánchez X, Lejeune M. Práctica mental y deporte: ¿qué sabemos después de casi un siglo de Investigación? Rev Psicol Deport. 1999; 8(1):21-37.
(14.) Coffman D. Effects of Mental Practice, Physical Practice, and Knowledge of Results on Piano Performance. JRME. 1987 Oct; 38(3):187-196. DOI 10.2307/3345182.
(15.) Mauro R, Barshi I. Cognitive Science and Aviation Training: Foundations for Effective Learning and Operational Application. SAE Technical Paper. 2003. DOI 10.4271/2003-01-3061.
(16.) Martínez Sánchez JA. Aspectos psicológicos de la supervivencia en operaciones militares. Sanid Mil. 2011Ene-Mar; 67(1):43-8.
(17.) Stefanidis D, Anton NE, Howley LD, Bean E, Yurco A, Pimentel ME, et al. Effectiveness of a comprehensive mental skills curriculum in enhancing surgical performance: Results of a randomized controlled trial. Am J Surg. 2017 Feb;213(2):318-24. DOI 10.1016/j.amjsurg.2016.10.016.
(18.) Eldred-Evans D, Grange P, Cheang A, Yamamoto H, Ayis S, Mulla M, et al. Using the mind as a simulator: a randomized controlled trial of mental training. J Surg Educ. 2013 Jul-Aug;70(4):544-51. DOI 10.1016/j.jsurg.2013.04.003.
(19.) Wood TC, Raison N, Haldar S, Brunckhorst O, McIlhenny C, Dasgupta P, et al. Training Tools for Nontechnical Skills for Surgeons-A Systematic Review. J Surg Educ. 2017 Jul - Aug;74(4):548-578. DOI 10.1016/j.jsurg.2016.11.017.
(20.) Hiemstra E, Kolkman W, Wolterbeek R, Trimbos B, Jansen FW. Value of an objective assessment tool in the operating room. Can J Surg. 2011 Apr;54(2):116-22. DOI 10.1503/cjs.032909.
(21.) Dedy NJ, Szasz P, Louridas M, Bonrath EM, Husslein H, Grantcharov TP. Objective structured assessment of nontechnical skills: Reliability of a global rating scale for the in-training assessment in the operating room. Surgery. 2015 Jun;157(6):1002-13. DOI 10.1016/j.surg.2014.12.023.
(22.) Yule S, Flin R, Paterson-Brown S, Maran N. Non-technical skills for urgeons in the operating room: a review of the literature. Surgery. 2006 Feb;139(2):140-9.
(23.) Maher Z, Milner R, Cripe J, Gaughan J, Fish J, Goldberg AJ. Stress training for the surgical resident. Am J Surg. 2013 Feb;205(2):169-74. DOI 10.1016/j.amjsurg.2012.10.007.
(24.) Arora S, Aggarwal R, Sevdalis N, Moran A, Sirimanna P, Kneebone R, et al. Development and validation of mental practice as a training strategy for laparoscopic surgery. Surg Endosc. 2010 Jan;24(1):179-87. DOI 10.1007/s00464-009-0624-y.
(25.) Mantilla Florez J, Suarez A, Laverde A, Moros J, Gonzalez-Neira EM, Suárez DR. Efecto del entrenamiento mental en la capacitación de aprendices en cirugía laparoscópica. Univ Méd. 2015 Oct-Dic;56(4):400-11.
(26.) Sinclair P, Fitzgerald JE, Hornby ST, Shalhoub J. Mentorship in surgical training: current status and a needs assessment for future mentoring programs in surgery. World J Surg. 2015 Feb;39(2):303-13; discussion 314. DOI 10.1007/s00268-014-2774-x.
(27.) Macafee DA. Is there a role for mentoring in Surgical Specialty training? Med Teach. 2008;30(2):e55-9. DOI 10.1080/01421590701798711.
(28.) Soucisse ML, Boulva K, Sideris L, Drolet P, Morin M, Dubé P. Video Coaching as an Efficient Teaching Method for Surgical Residents-A Randomized Controlled Trial. J Surg Educ. 2017 Mar - Apr;74(2):365-71. DOI 10.1016/j.jsurg.2016.09.002.
(29.) Abdalla G, Moran-Atkin E, Chen G, Schweitzer MA, Magnuson TH, Steele KE. The effect of warm-up on surgical performance: a systematic review. Surg Endosc. 2015 Jun;29(6):1259-69. DOI 10.1007/s00464-014-3811-4.
(30.) Kohls-Gatzoulis JA, Regehr G, Hutchison C. Teaching cognitive skills improves learning in surgical skills courses: a blinded, prospective, randomized study. Can J Surg. 2004 Aug;47(4):277-83.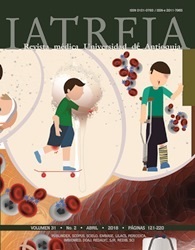 Cómo citar
1.
Ramírez-Sánchez NA, Vega-Peña NV, Domínguez-Torres LC, Sanabria-Quiroga Álvaro E. El entrenamiento mental y los cirujanos: una estrategia de mejoramiento. Iatreia [Internet]. 5 de abril de 2018 [citado 18 de septiembre de 2021];31(2):180-9. Disponible en: https://revistas.udea.edu.co/index.php/iatreia/article/view/328422
Sección
Artículos de revisión
Los artículos publicados en la revista están disponibles para ser utilizados bajo la licencia Creative Commons, específicamente son de Reconocimiento-NoComercial-CompartirIgual 4.0 Internacional.
Los trabajos enviados deben ser inéditos y suministrados exclusivamente a la Revista; se exige al autor que envía sus contribuciones presentar los formatos: presentación de artículo y responsabilidad de autoría completamente diligenciados.