Hernia umbilical: un problema no resuelto
Palabras clave:
cirugía, diagnóstico, hernia umbilical, medicina basada en evidencia, prótesis
Resumen
La cirugía de la hernia umbilical ha sido considerada tradicionalmente como sencilla y de fácil ejecución. El cambio conceptual de la hernia umbilical y los avances en su tratamiento han modificado su abordaje, estableciéndose escenarios de complejidad variable (obesidad, embarazo, cirróticos, distasis de los rectos, etc.) que demandan un conocimiento más profundo del tema por parte de la comunidad médica. El impacto económico en el sistema de salud, debido a su alta prevalencia como patología quirúrgica, implica un uso racional de recursos, así como la necesidad de una nueva categorización dentro de la cirugía de la pared abdominal. Es necesario establecer modificaciones en los procesos diagnósticos y terapéuticos en una entidad que ha sido relegada a los niveles básicos del ejercicio quirúrgico habitual.
|Resumen = 1937 veces | PDF = 970 veces| | HTML = 46 veces|
Descargas
Los datos de descargas todavía no están disponibles.
Citas
(1.) Kim LT. Complexity of the simple umbilical hernia repair. JAMA Surg. 2017;152(5):466. DOI 10.1001/jamasurg. 2016.5053.
(2.) Muysoms FE, Miserez M, Berrevoet F, Campanelli G, Champault GG, Chelala E, et al. Classification of primary and incisional abdominal wall hernias. Hernia. 2009;13(4):407–14. DOI 10.1007/s10029-009-0518-x.
(3.) Appleby PW, Martin TA, Hope WW. Umbilical Hernia Repair Overview of Approaches and Review of Literature. Surg Clin North Am. 2018;98(3):561–76. DOI 10.1016/j.suc.2018.02.001.
(4.) Burcharth J, Pedersen MS, Pommergaard HC, Bisgaard T, Pedersen CB, Rosenberg J. The prevalence of umbilical and epigastric hernia repair: a nationwide epidemiologic study. Hernia. 2015;19(5):815–9. DOI 10.1007/s10029-015-1376-3.
(5.) Zens T, Nichol PF, Cartmill R, Kohler JE. Management of asymptomatic pediatric umbilical hernias: a systematic review. J Pediatr Surg. 2017;52(11):1723-31. DOI 10.1016/j.jpedsurg.2017.07.016.
(6.) Earle DB, McLellan JA. Repair of umbilical and epigastric hernias. Surg Clin North Am. 2013;93(5):1057–89. DOI 10.1016/j.suc.2013.06.017.
(7.) Toms AP, Dixon AK, Murphy JMP, Jamieson N V. Illustrated review of new imaging techniques in the diagnosis of abdominal wall hernias. Br J Surg. 1999;86(10):1243–9. DOI 10.1046/j.1365-2168.1999.01211.x.
(8.) Nguyen MT, Berger RL, Hicks SC, Davila JA, Li LT, Kao LS, et al. Comparison of outcomes of synthetic mesh vs suture repair of elective primary ventral herniorrhaphy: A systematic review and meta-analysis. JAMA Surg. 2014;149(5):415–21. DOI 10.1001/jamasurg.2013.5014.
(9.) Winsnes A, Haapamäki MM, Gunnarsson U, Strigård K. Surgical outcome of mesh and suture repair in primary umbilical hernia: postoperative complications and recurrence. Hernia. 2016;20(4):509–16. DOI 10.1007/s10029-016-1466-x.
(10.) Shankar DA, Itani KMF, O'Brien WJ, Sanchez VM. Factors associated with long-term outcomes of umbilical hernia repair. JAMA Surg. 2017;152(5):461–6. DOI 10.1001/jamasurg.2016.5052.
(11.) Sanjay P, Reid TD, Davies EL, Arumugam PJ, Woodward A. Retrospective comparison of mesh and sutured repair for adult umbilical hernias. Hernia. 2005;9(3):248–51. DOI 10.1007/s10029-005-0342-x.
(12.) Kaufmann R, Halm JA, Eker HH, Klitsie PJ, Nieuwenhuizen J, van Geldere D, et al. Mesh versus suture repair of umbilical hernia in adults: a randomised, double-blind, controlled, multicentre trial. Lancet. 2018;391(10123):860–9. DOI 10.1016/S0140-6736(18)30298-8.
(13.) Bisgaard T, Kaufmann R, Christoffersen MW, Strandfelt P, Gluud LL. Lower Risk of Recurrence After Mesh Repair Versus Non-Mesh Sutured Repair in Open Umbilical Hernia Repair: A Systematic Review and Meta-Analysis of Randomized Controlled Trials. Scand J Surg. 2018. DOI 10.1177/1457496918812208.
(14.) Helgstrand F, Bisgaard T. Time for use of mesh repair for all umbilical hernias? Lancet. 2018;391(10123):821–2. DOI 10.1016/S0140-6736(18)30299-X.
(15.) Mirmehdi I, Ramshaw B. Synthetic Mesh: Making Educated Choices. In: Novitsky Yuri, editor. Hernia Surgery. Springer International Publishing Switzerland; 2016. p. 53–60.
(16.) Holihan JL, Nguyen DH, Nguyen MT, Mo J, Kao LS, Liang MK. Mesh Location in Open Ventral Hernia Repair: A Systematic Review and Network Metaanalysis. World J Surg. 2016;40(1):89-99. DOI 10.1007/s00268-015-3252-9.
(17.) Tulloh B, de Beaux A. Defects and donuts: the importance of the mesh:defect area ratio. Hernia. 2016;20(6):893–5. DOI 10.1007/s10029-016-1524-4.
(18.) Ponten JEH, Leenders BJM, Leclercq WKG, Lettinga T, Heemskerk J, Konsten JLM, et al. Mesh Versus Patch Repair for Epigastric and Umbilical Hernia (MORPHEUS Trial); One-Year Results of a Randomized Controlled Trial. World J Surg. 2018;42(5):1312–20. DOI 10.1007/s00268-017-4297-8.
(19.) Berrevoet F, Doerhoff C, Muysoms F, Hopson S, Muzi MG, Nienhuijs S, et al. A multicenter prospective study of patients undergoing open ventral hernia repair with intraperitoneal positioning using the monofilament polyester composite ventral patch: Interim results of the PANACEA study. Med Devices (Auckl). 2017;10:81-8. DOI. 10.2147/MDER.S132755.
(20.) Hajibandeh S, Hajibandeh S, Sreh A, Khan A, Subar D, Jones L. Laparoscopic versus open umbilical or paraumbilical hernia repair: a systematic review and meta-analysis. Hernia. 2017;21(6):905–16. DOI 10.1007/s10029-017-1683-y.
(21.) Saber AA, Rao AJ, Itawi EA, Elgamal MH, Martinez RL. Occult ventral hernia defects: a common finding during laparoscopic ventral hernia repair. Am J Surg. 2008;195(4):471–3. DOI 10.1016/j.amjsurg.2007.04.013.
(22.) Bittner R, Bingener-Casey J, Dietz U, Fabian M, Ferzli GS, Fortelny RH, et al. Guidelines for laparoscopic treatment of ventral and incisional abdominal wall hernias (International Endohernia Society (IEHS) - Part 1. Surg Endosc. 2014;28(1):2–29. DOI 10.1007/s00464-013-3170-6.
(23.) Lau H, Patil NG. Umbilical hernia in adults: Laparoscopic vs open repair. Surg Endosc. 2003;17(12):2016–20. DOI 10.1007/s00464-003-9027-7.
(24.) Warren JA, Cobb WS, Ewing JA, Carbonell AM. Standard laparoscopic versus robotic retromuscular ventral hernia repair. Surg Endosc. 2017;31(1):324-32. DOI 10.1007/s00464-016-4975-x.
(25.) Gonzalez A, Escobar E, Romero R, Walker G, Mejias J, Gallas M, et al. Robotic-assisted ventral hernia repair: a multicenter evaluation of clinical outcomes. Surg Endosc. 2017;31(3):1342-49. DOI 10.1007/s00464-016-5118-0.
(26.) Kokotovic D, Sjølander H, Gögenur I, Helgstrand F. Watchful waiting as a treatment strategy for patients with a ventral hernia appears to be safe. Hernia. 2016;20(2):281–7. DOI 10.1007/s10029-016-1464-z.
(27.) Fueter T, Schäfer M, Fournier P, Bize P, Demartines N, Allemann P. The Hernia–Neck-Ratio (HNR), a Novel Predictive Factor for Complications of Umbilical Hernia. World J Surg. 2016;40(9):2084–90. DOI 10.1007/s00268-016-3556-4.
(28.) Groene SA, Heniford DW, Prasad T, Lincourt AE, Augenstein VA. Identifying effectors of outcomes in patients with large umbilical hernias. Am Surg. 2016;82(7):613–21.
(29.) Strosberg DS, Pittman M, Mikami D. Umbilical hernias: the cost of waiting. Surg Endosc. 2017;31(2)901-6. DOI 10.1007/s00464-016-5052-1.
(30.) Dokmak S, Aussilhou B, Belghiti J. Umbilical hernias and cirrhose. J Visc Surg. 2012;149(5)32–9. DOI 10.1016/j.jviscsurg.2012.04.002.
(31.) Saleh F, Okrainec A, Cleary SP, Jackson TD. Management of umbilical hernias in patients with ascites: Development of a nomogram to predict mortality. Am J Surg. 2015;209(2):302-7. DOI 10.1016/j.amjsurg.2014.04.013.
(32.) Coelho JCU, Claus CMP, Campos ACL, Costa MA, Blum C. Umbilical hernia in patients with liver cirrhosis: A surgical challenge. World J Gastrointest Surg. 2016;8(7):476-82. DOI 10.4240/wjgs.v8.i7.476.
(33.) Kulacoglu H. Umbilical Hernia Repair and Pregnancy: Before, during, after… Front Surg. 2018;5(1). DOI 10.3389/fsurg.2018.00001.
(34.) Haskins IN, Rosen MJ, Prabhu AS, Amdur RL, Rosenblatt S, Brody F. Umbilical hernia repair in pregnant patients: review of the American College of Surgeons National Surgical Quality Improvement Program. Hernia. 2017 Oct;21(5):767-770. DOI 10.1007/s10029-017-1633-8.
(35.) Oma E, Henriksen NA, Jensen KK. Ventral hernia and pregnancy: A systematic review. Am J Surg. 2018;217(1):1638. DOI 10.1016/j.amjsurg.2018.04.016.
(36.) Gilleard WL, Brown JM. The structure and function of the abdominal muscles during pregnancy and the immediate postbirth period. Phys Ther. 1992;76(7):750-62. DOI 10.1093/ptj/76.7.750.
(37.) Juárez Muas DM. Preaponeurotic endoscopic repair (REPA) of diastasis recti associated or not to midline hernias. Surg Endosc. 2019 Jun;33(6):1777-82. DOI 10.1007/s00464-018-6450-3.
(38.) Naraynsingh V, Maharaj R, Dan D, Hariharan S. Strong linea alba: Myth or reality? Medical hypotheses. Med Hypotheses. 2012;78(2):291–2. DOI 10.1016/j.mehy.2011.11.004.
(39.) Nahabedian MY. Management Strategies for Diastasis Recti. Semin Plast Surg. 2018;32(3):147–53. DOI 10.1055/s-0038-661380.
(40.) Plsek PE, Greenhalgh T. Complexity science: The challenge of complexity in health care. Bmj.2001;323(7313):625–8. DOI 10.1136/bmj.323.7313.625.
(41.) Patiño JF. ¿Existe la cirugía basada en la evidencia? Rev Colomb Cir. 2014;29:262-8.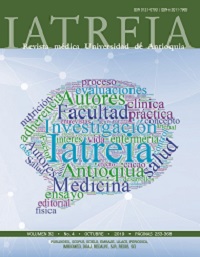 Cómo citar
1.
Lora-Aguirre A, Vega-Peña NV, Barrios-Parra AJ, Ruiz-Pineda JP. Hernia umbilical: un problema no resuelto. Iatreia [Internet]. 1 de octubre de 2019 [citado 30 de noviembre de 2023];32(4):288-97. Disponible en: https://revistas.udea.edu.co/index.php/iatreia/article/view/336827
Sección
Artículos de revisión
Licencia
Derechos de autor 2019 Universidad de Antioquia
Esta obra está bajo una licencia internacional Creative Commons Atribución-NoComercial-CompartirIgual 4.0.
Los artículos publicados en la revista están disponibles para ser utilizados bajo la licencia Creative Commons, específicamente son de Reconocimiento-NoComercial-CompartirIgual 4.0 Internacional.
Los trabajos enviados deben ser inéditos y suministrados exclusivamente a la Revista; se exige al autor que envía sus contribuciones presentar los formatos: presentación de artículo y responsabilidad de autoría completamente diligenciados.