EFFECT OF MANGO (Mangifera indica) CV. AZÚCAR JUICE CONSUMPTION ON PLASMA ANTIOXIDANT CAPACITY AND OXIDATIVE STRESS BIOMARKERS
Keywords:
Mangifera indica, mangiferin, oxidative stress, plasma antioxidant capacity, polyphenols.
Abstract
Background: Mango (Mangifera indica L.) is one of the world's most consumed fruit, and it is also a rich source of antioxidants that may prevent oxidative stress. Objectives: This study aimed to determine if mango (cv. Azúcar) juice can improve the antioxidant status of healthy individuals with low consumption of vegetables and fruit. Methods: This was a cross-over single-blind study carried out with 16 healthy individuals for 73 days. Participants were randomly assigned to either a mango juice period or a placebo period. Total phenolic content, antioxidant capacity, mangiferin, thiobarbituric acid reactive substances (TBARS), total glutathione, and 8-hydroxydeoxyguanosine levels were determined in plasma. Results: Plasma antioxidant activity was significantly higher in the juice consumption period than the placebo consumption period; however, total phenolic content, total glutathione, TBARS, and 8-hydroxydeoxyguanosine levels did not show significant differences between juice period and placebo period. Mangiferin was detected in every participant after juice consumption. Conclusions: Mango (cv. Azúcar) juice daily consumption improves plasma antioxidant capacity.
|Abstract = 690 veces | PDF = 342 veces| | HTML = 85 veces|
Downloads
Download data is not yet available.
References
Pizzino G, Irrera N, Cucinotta M, Pallio G, Mannino F, Arcoraci V, et al. Oxidative Stress: Harms and Benefits for Human Health. Oxid Med Cell Longev. 2017;2017:8416763. DOI: https://doi.
org/10.1155/2017/8416763
Phaniendra A, Jestadi DB, Periyasamy L. Free Radicals: Properties, Sources, Targets, and Their Implication in Various Diseases. Indian J Clin Biochem. 2015;30(1):11-6. DOI: https://
doi.org/10.1007/s12291-014-0446-0
Thanan R, Oikawa S, Hiraku Y, Ohnishi S, Ma N, Pinlaor S, et al. Oxidative stress and its significant roles in neurodegenerative diseases and cancer. Int J Mol Sci. 2014;16(1):193-217. DOI:
https://doi.org/10.3390/ijms1601019
Saha SK, Lee SB, Won J, Choi HY, Kim K, Yang GM, et al. Correlation between Oxidative Stress, Nutrition, and Cancer Initiation. Int J Mol Sci. 2017;18(7):E1544. DOI: https://doi. org/10.3390/ijms18071544.
Suwimol S, Pimpanit L, Aporn M, Pichita S, Ratiyaporn S, Wiroj J. Impact of Fruit and Vegetables on Oxidative Status and Lipid Profiles in Healthy Individuals. Food and Public Health. 2012;2(4):113-8. DOI: https://doi.org/10.5923/j.fph.20120204.06
Tonin F, Steimbach LM, Wiens A, Perlin CM, Pontarolo R. Impact of natural juice consumption on plasma antioxidant status: A systematic review and meta-analysis. Molecules. 2015;20(12):22146-56. DOI: https://doi.org/10.5923/j. fph.20120204.06.
Chen CH, Han RM, Liang R, Fu LM, Wang P, Ai XC, et al. Direct observation of the β-carotene reaction with hydroxyl radical. J Phys Chem B. 2011;115:2082-9. DOI: https://doi. org/10.1021/jp1100889
Papuc C, Goran GV, Predescu CN, Nicorescu V, Stefan G. Plant Polyphenols as Antioxidant and Antibacterial Agents for Shelf-Life Extension of Meat and Meat Products: Classification, Structures, Sources, and Action Mechanisms. Compr Rev Food Sci Food Saf. 2017;16(6):1243-68. DOI: https://doi.org/10.1111/1541-4337.12298.
Pardo-Andreu GL, Barrios MF, Curti C, Hernández I, Merino N, Lemus Y, et al. Protective effects of Mangifera indica L extract (Vimang), and its major component mangiferin, on iron-induced oxidative damage to rat serum and liver. Pharmacol Res. 2008;57(1):79-86. DOI: https://doi.org/10.1016/j.phrs.2007.12.004.
Corrales-Bernal A, Maldonado ME, Urango LA, Franco MC, Rojano BA. Mango de azúcar (Mangifera indica), variedad de Colombia: características antioxidantes, nutricionales y sensoriales. Revista Chilena de Nutrición. 2014;41(3):312-8. DOI: https://doi.org/10.4067/S0717-75182014000300013.
Food and Drug administration. Bacteriological Analytical Manual [Internet], eight ed. Washington, D.C: Association of Official Analytical Chemists; 1998 [cited 2018 Jan 8]. Available from: https://www.fda.gov/food/laboratory-methods-food/ bacteriological-analytical-manual-bam.
World Health Organization. Obesity: preventing and managing the global epidemic. Geneva, Switzerland: WHO; 2000. 252p. Series No: 894. Available in: https://www.who.int/nutrition/publications/obesity/WHO_TRS_894/en/
Zapata B, Chaparro D, Rojano BA, Alzate AF Restrepo LF, Maldonado-Celis M. Effect of storage time on physicochemical, sensorial, and antioxidant characteristics and composition of mango (cv. Azúcar) juice. Emirates Journal of Food and Agriculture. 2017; 29(5):367-77. DOI: : https://doi.org/10.9755/ejfa.2016-09-1256.
Luo F, LV Q, Zhao Y, Hu G, Huang G, Zhang J, et al. Quantification and purification of mangiferin from Chinese
mango (Mangifera indica L.) cultivars and its protective effect on human umbilical vein endothelial cells under H2O2-induced stress. Int J Mol Sci. 2012; 13(9):11260-74. DOI: https://doi.org/10.3390/ijms130911260.
Alzate-Arbeláez AF, Cogollo-Pacheco A, Rojano, B. Composition, antioxidant activity, thermal and oxidative stability of Lecythis tuyrana oil. J Food Nutr Res. 2018;57(1):87-97. Available from: http://www.vup.sk/en/index.php?mainID=2&navID=34&version=2&volume=57&article=2094.
García-García JA, Reding-Bernal A, López-Alvarenga JC. Cálculo del tamaño de la muestra en investigación en educación médica. Inv Ed Med. 2013;2(8):217-24. DOI: https://doi.org/10.1016/S2007-5057(13)72715-7.
Samuel VT. Fructose induced lipogenesis: from sugar to fat to insulin resistance. Trends Endocrinol Metab. 2011;22(2):60-5. DOI: https://doi.org/10.1016/j.tem.2010.10.003.
World Cancer Research Fund International/American Institute For Cancer Research. Continuous Update Project Report: Diet, Nutrition, Physical Activity and Colorectal Cancer. 2017. 110p. Available from: wcrf.org/colorectal-cancer-2017.
Shopov N, Yordanova M, Grudeva L. Changes in the oxidative stress of divers following a diet without fruits and vegetables. Int J Adv Res. 2018; 7(5):12880-3. DOI: http://dx.doi.org/10.24327/ijcar.2018.12883.2281.
Holt EM, Steffen LM, Moran A, Basu S, Steinberger J, Ross JA, Hong CP, Sinaiko AR. Fruit and vegetable consumption and its relation to markers of inflammation and oxidative stress in adolescents. J Am Diet Assoc. 2009; 109(3): 414-421. DOI: https://10.1016/j.jada.2008.11.036.
Cadet J, Richard-Wagner J. DNA base damage by reactive oxygen species, oxidizing agents, and UV radiation. Cold Spring Harbor Perspect Biol. 2013;5(2):pii: a012559. DOI: https://doi.org/10.1101/cshperspect.a012559.
Wang Y, Yang M, Lee SG, Davis CG, Koo SI, Chun OK. Dietary total antioxidant capacity is associated with diet and
plasma antioxidant status in healthy young adults. J Acad Nutr. Diet. 2012;112(10):1626-35. DOI:https://doi.org/10.1016/j.jand.2012.06.007.
Estrela JM, Mena S, Obrador E, Benlloch M, Castellano G, Salvador R, et al. Polyphenolic Phytochemicals in Cancer
Prevention and Therapy: Bioavailability versus Bioefficacy. J Med Chem. 2017; 60(23):9413-36. DOI: https://doi.org/10.1021/acs.jmedchem.6b01026.
Robles-Sánchez M, Astiazarán-García H, Martín-Belloso O, Gorinstein S, Alvarez-Parrilla E, De La Rosa La, et al.
Influence of whole and fresh-cut mango consumption on plasma lipids and antioxidant capacity of healthy adults. Food Res Int. 2011; 44(5):1386-91. DOI: https://doi.org/10.1016/j.foodres.2011.01.052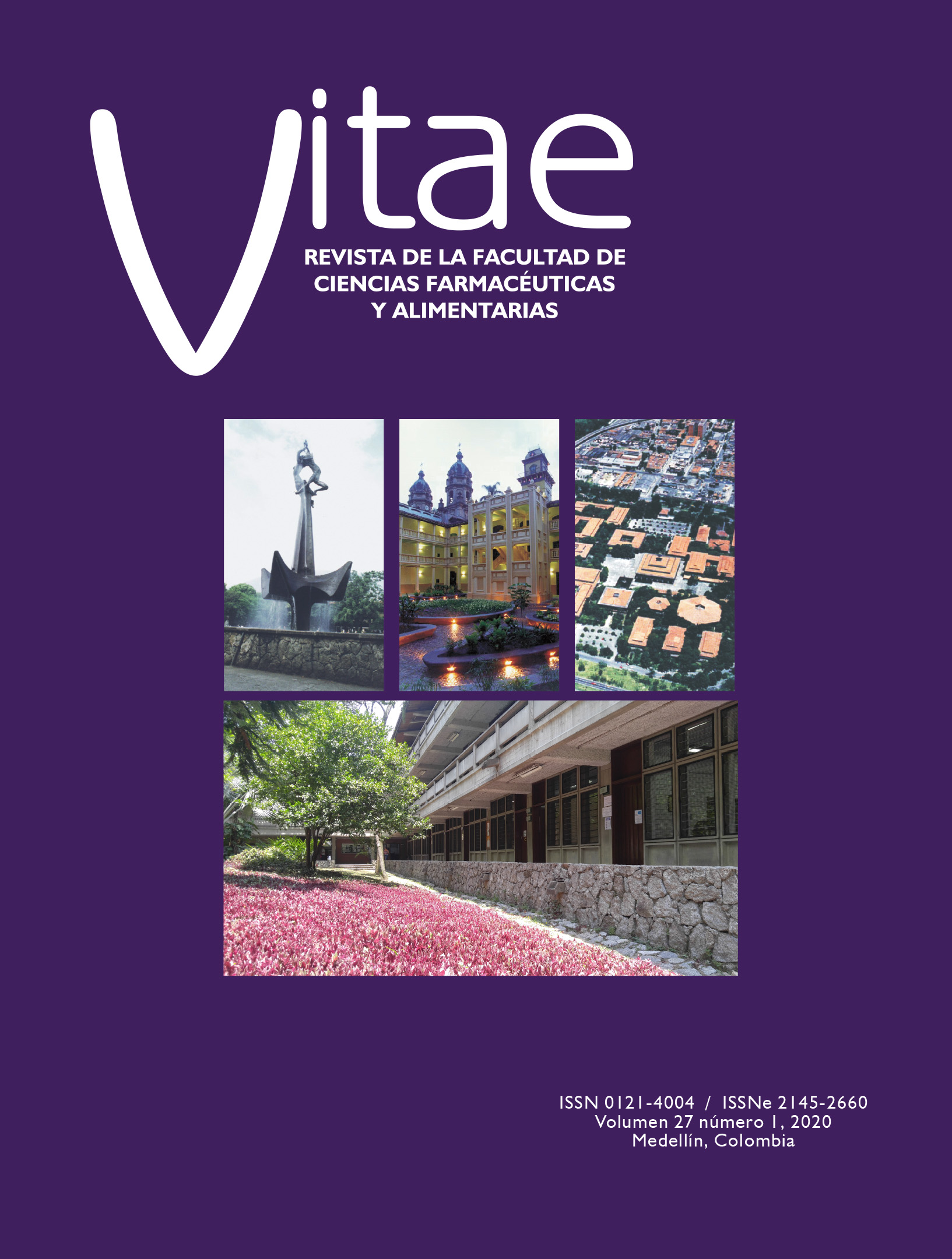 How to Cite
Zapata, M. bibiana, Ramos Polo, A., Alzate, A. F., Restrepo Betancur, L. F., Rojano, B., & Maldonado, M. E. (2020). EFFECT OF MANGO (Mangifera indica) CV. AZÚCAR JUICE CONSUMPTION ON PLASMA ANTIOXIDANT CAPACITY AND OXIDATIVE STRESS BIOMARKERS . Vitae, 27(1). https://doi.org/10.17533/udea.vitae.v27n1a03
Section
Complete Articles
License
Copyright (c) 2020 Vitae
This work is licensed under a Creative Commons Attribution-NonCommercial-ShareAlike 4.0 International License.
Copyright Notice and Open Access Statement
The Journal Vitae works under the Open Access license, and the published manuscripts remain available for the public, both on the Journal's website and in databases, under the Creative Commons license, "Noncommercial Attribution" and "Share alike" systems, adopted in Colombia. Hence, when the authors agree to publish in the Journal Vitae, they will not have the right to economic retributions on publications and reproductions through different diffusion media. The documents are freely available to the internet public, permitting users to read, download, copy, distribute, print, search, or link to the full texts and pass them as data to software. The only constraint on reproduction and distribution, should be to give authors control over the integrity of their work and the right to be appropriately acknowledged and cited.
Authors declare that:
They are the intellectual property owners and are responsible for all the information stated in the article.

This manuscript has not been submitted or published in other printed or digital media. They accept the responsibility for the judgments, opinions, and points of view expressed in the published article and, therefore, they exonerate Universidad de Antioquia and Journal Vitae from any process.

They exempt Universidad de Antioquia and Journal Vitae from settling conflicts or disputes related to the authorship of the referred article.

They accept the revision of the original manuscript by suitable personnel, and they bind themselves to perform the corrections appointed or suggested by the assessors.

Therefore, they know the editorial process and will not bind the Editorial Board of the Journal to assume any obligations regarding the volume and issue in which the article is published.

They transfer the rights of publication, reprinting, and distribution of the article from the moment of its approval, in print and digital format, without the right to economic rewards, and under the licensing conditions considered relevant by Journal Vitae.

They fully authorize Universidad de Antioquia and Journal Vitae to submit the published material to the diverse databases and indexing systems where the Journal can be found to comply with the requirements of the regulatory authorities to maintain the national classification of journals.

They will assume the article publication costs established for the current issue, and they will make the payment as soon as they are informed about the volume and the issue in which the final version of the article is published.

After the article is published, you can share digital or printed copies in a noncommercial manner. You will be able to use the paper in your institution or company for educational or research purposes, including the use in course programs.
Conflict of interest: Authors are responsible for recognizing and disclosing any financial or other benefits that could be perceived to bias their work, acknowledging all financial support and any personal connections with potential sponsors. Examples of such conflicts include receiving research funds or honoraria, serving on advisory boards, stock ownership, or employment and consulting arrangements. Authors without such connections should clearly state that they have no financial support or personal relationships that could be perceived to bias their work. All conflicts of interest should be disclosed on the author's identification page of the manuscript.