Acute oral toxicity from afFraction rich in phenolic compounds from the leaf extract of Swietenia macrophylla king in a murine model
Keywords:
Leaf extract, oral, pathology, Swietenia macrophylla, toxicology.
Abstract
Background: The mahogany tree (Swietenia macrophylla King) is widely used in traditional medicine, especially its seeds, which are used in Malaysia, Indonesia and some countries of South America. Recently an active fraction of the leaf ethanolic extract (labelled "Sm13-16,23"), showed promising results against some toxins of South American pit vipers. Objective: In this study the aim was to evaluate the acute oral toxicity of fraction Sm13-16,23 from the leaf ethanolic extract, using Swiss Webster mice. Materials and Methods: Fraction Sm13-16,23 was administered orally in a single dose to 2000 mg/kg and 300 mg/kg, clinical follow-up for 14 days was performed and then euthanasia, necropsy and histopathology of organs were performed. Results: Overall, there were not deaths recorded during the study period. Further not signs of toxicity in doses of 300mg/Kg were observed, but at doses of 2000 mg/kg, histopathological lesions in the liver, as karyomegaly and the binucleation were observed. Conclusion: Fraction Sm13-16,23 does not produce toxicity lesion at doses of 300mg/kg, indicating that the acute oral toxicity risk is low.
|Abstract = 181 veces | PDF = 137 veces|
Downloads
Download data is not yet available.
References
Brown N, Jennings S, Clements T. The ecology, silviculture and biogeography of mahogany (Swietenia macrophylla): a review of the evidence. Perspect. Plant Ecol. Evol. Syst. 2003; 6(1-2): 37 - 49.
Moghadamtousi SZ, Goh BH, Chan CK, Shabab T, Kadir HA. Biological activities and phytochemicals of Swietenia macrophylla King. Molecules. 2013; 18(9): 10465 - 10483.
Maiti A, Dewanjee S, Kundu M, Mandal SC. Protective effect of methanol extract of Swietenia macrophylla seeds on oxidative states associated with streptozotosin induced diabetic rats. Nat. Prod. Sci. 2007; 13(4): 295 - 299.
Maiti A, Dewanjee S, Mandal SC. In vivo evaluation of antidiarrhoeal activity of the seeds of Swietenia macrophylla King (Meliaceae). Trop. J Pharm. Res. 2007; 6: 711-716.
Maiti A, Dewanjee S, Subhash CM, Annadurai S. Exploration of antimicrobial potential of methanol and water extract of seeds of Swietenia macrophylla (Family: Meliaceae). Iranian J Pharmacol. Ther. 2007; 6(2): 99-102.
Balijepalli MK, Suppaiah V, Chin A, Buru AS, Sagineedu SR, Pichika MR. Acute oral toxicity studies of Swietenia macrophylla seeds in Sprague Dawley rats. Pharmacognosy Res. 2015; 7(1): 38-44. doi:10.4103/0974-8490.147197.
Cheng YB, Chien YT, Lee JC, Tseng CK, Wang HC, Lo IW, et al. Limonoids from the Seeds of Swietenia macrophylla with Inhibitory Activity against Dengue Virus 2. J Nat. Prod. 2014; 77(11): 2367-2374.
Mootoo BS, Ali A, Motilal R, Pingal R, Ramlal A, Khan A, et al. Limonoids from Swietenia macrophylla and S. aubrevilleana. J Nat. Prod. 1999; 62(11): 1514-1517.
Falah S, Suzuki T, Katayama T. Chemical constituents from Swietenia macrophylla and their antioxidant activity. Pak. J Biol. Sci. 2008; 11(16): 2007-2012.
Tan SK, Osman H, Wong KC, Boey PL. New phragmalin-type limonoids from Swietenia macrophylla King. Food Chem. 2009; 115(4): 1279-1285.
El Zalabani SM, El-Askary HI, Mousa OM, Issa MY, Zaitoun AA, Abdel-Sattar E. Acaricidal activity of Swietenia mahogani and Swietenia macrophylla ethanolic extracts against Varroa destructorin honeybee colonies. Exp. Parasitol. 2012; 130(2): 166-170.
Pereañez A, Núñez V, Patiño AC, Londoño M, Quintana JC. Inhibitory effects of plant phenolic compounds on enzymatic and cytotoxic activities induced by a snake venom phospholipase A2. Vitae. 2011; 18(3): 295-304.
Pereañez A, Lobo-Echeverri T, Rojano B, Vargas L, Fernández M, Gaviria CA, et al. Correlation of the inhibitory activity of phospholipase A2 snake venom and the antioxidant activity of Colombian plant extracts. Braz. J. Pharmacog. 2010; 20(6): 910-916.
Bhattacherjee P, Bhattacherjee D. Characterization of the aqueous extract of the root of Aristolochia indica: evaluation of its traditional use as an antidote for snake bites. J Ethnopharmacology .2013; 145(1): 220-6.
Patiño AC, López J, Aristizábal M, Quintana JC, Benjumea D. Evaluation of the inhibitory effect of extracts from leaves of Renealmia alpinia Rottb. Maas (Zingiberaceae) on the venom of Bothrops asper (mapana). Biomedica. 2012; 32(3): 365-74.
Phaopongthai J, Noiphrom J, Phaopongthai S, Pakmanee N, Sichaem J. Biological activities of Peristrophe bivalvis extracts: promising potential for anti-snake venoms against Naja Kaoutiaand Trimeresurus albovenoms. Nat Prod Res. 2016; 30(6): 697-9.
Naveen YP, Divya Rupini G, Ahmed F, Urooj A. Pharmacological effects and active phytoconstituents of Swietenia mahagoni: a review. J Integr. Med. 2014; 12(2): 86-93.
Percy DH, Barthold SW. Pathology of laboratory rodents and rabbits 3th ed. Iowa, USA: Blackwell Publishing; 2007. 325 p.
Maxie MG, Jubb KVF, Kennedy PC, Palmer N. Jubb, Kennedy and Palmer´s Pathology of Domestic Animals 5th ed Vol 2. St Louis, USA: Elsevier Saunders; 2016. 654 p.
Preciado L, Lobo-Echeverri T, Pereañez JA, Zapata K and Rojano B. Antioxidants from three Swietenia Species (Meliaceae). Journal of Medicinal Plants Research. 2016; 10(2): 8-17.
Pamplona S, Sá P, Lopes D, Costa E, Yamada, Silva C. In Vitro Cytoprotective Effects and Antioxidant Capacity of Phenolic Compounds from the Leaves of Swietenia macrophylla. Molecules 2015; 20(10): 18777-88.
Takami S, Imai T, Hasumura M, Cho YM, Onose J, Hirose M. Evaluation of toxicity of green tea catechins with 90-day dietary administration to F344 rats. Food and Chemical Toxicology. 2008; 46(6): 2222-24.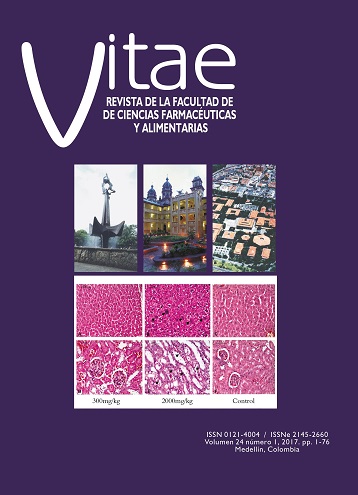 Downloads
How to Cite
HENAO DUQUE, A. M., RODRÍGUEZ, B. de J., PEREAÑEZ, J. A., LOBO-ECHEVERRI, T., & NÚÑEZ RANGEL, V. (2017). Acute oral toxicity from afFraction rich in phenolic compounds from the leaf extract of Swietenia macrophylla king in a murine model. Vitae, 24(1), 23–29. https://doi.org/10.17533/udea.vitae.v24n1a03
Section
Pharmacology and Toxicology
License
Copyright Notice and Open Access Statement
The Journal Vitae works under the Open Access license, and the published manuscripts remain available for the public, both on the Journal's website and in databases, under the Creative Commons license, "Noncommercial Attribution" and "Share alike" systems, adopted in Colombia. Hence, when the authors agree to publish in the Journal Vitae, they will not have the right to economic retributions on publications and reproductions through different diffusion media. The documents are freely available to the internet public, permitting users to read, download, copy, distribute, print, search, or link to the full texts and pass them as data to software. The only constraint on reproduction and distribution, and the only role for copyright in this domain, should be to give authors control over the integrity of their work and the right to be appropriately acknowledged and cited.
Authors declare that:
They are the intellectual property owners and are responsible for all the information stated in the article.

This manuscript has not been submitted or published in other printed or digital media. They accept the responsibility for the judgments, opinions, and points of view expressed in the published article and, therefore, they exonerate Universidad de Antioquia and Journal Vitae from any process.

They exempt Universidad de Antioquia and Journal Vitae from settling conflicts or disputes related to the authorship of the referred article.

They accept the revision of the original manuscript by suitable personnel, and they bind themselves to perform the corrections appointed or suggested by the assessors.

Therefore, they know the editorial process and will not bind the Editorial Board of the Journal to assume any obligations regarding the volume and issue in which the article is published.

They transfer the rights of publication, reprinting, and distribution of the article from the moment of its approval, in print and digital format, without the right to economic rewards, and under the licensing conditions considered relevant by Journal Vitae.

They fully authorize Universidad de Antioquia and Journal Vitae to submit the published material to the diverse databases and indexing systems where the Journal can be found to comply with the requirements of the regulatory authorities to maintain the national classification of journals.

They will assume the article publication costs established for the current issue, and they will make the payment as soon as they are informed about the volume and the issue in which the final version of the article is published.

After the article is published, you can share digital or printed copies in a noncommercial manner. You will be able to use the paper in your institution or company for educational or research purposes, including the use in course programs.
Conflict of interest: Authors are responsible for recognizing and disclosing any financial or other benefits that could be perceived to bias their work, acknowledging all financial support and any personal connections with potential sponsors. Examples of such conflicts include receiving research funds or honoraria, serving on advisory boards, stock ownership, or employment and consulting arrangements. Authors without such connections should clearly state that they have no financial support or personal relationships that could be perceived to bias their work. All conflicts of interest should be disclosed on the author's identification page of the manuscript.