Isolation and functional characterization of a basic phospholipase A2 from Colombian Bothrops asper venom
Keywords:
snake venoms, snake bites, Bothrops asper, phospholipases A2, necrosis, Colombia
Abstract
Background: Snakebites represent a relevant public health issue in many regions of the world, particularly in tropical and subtropical countries of Africa, Asia, Latin America and Oceania. Snake venoms are complex mixtures of toxic enzymes and proteins, where the most important and abundant muscle-damaging components in snake venoms are phospholipases A2 (PLA2s). Objective: Isolate and characterize a phospholipase A2 from Colombian Bothrops asper venom, in order to obtain information about venom composition of this species. Materials and methods: Cation-exchange chromatography followed by reverse phase HPLC were used to purify the protein. Mass spectrometry was used to determine its molecular mass. Biochemical characterization was performed using a synthetic substrate (4-nitro-3-octanoyloxy-benzoic acid). Myotoxic and edema-inducing activity of toxin were tested in mice, by measuring the plasma creatine kinase activity and footpad diameter, respectively. Moreover, cytotoxic activity was examined to murine skeletal muscle C2C12 myoblasts and myotubes. Results: A PLA2 of Bothrops asper venom from Colombia (BaspCol-PLA2) was purified. Its molecular mass was 13974.6 Da. The enzyme hydrolyzed a synthetic substrate with a KM of 3.11 mM and a VMax of 4.47 nmol/min, showing maximum activity at 40 °C and at pH 8.0. The PLA2 required Ca2+ for activity. The addition of Mg2+, Cd2+, Mn2+ and Zn2+ (10mM) in the presence of low Ca2+ concentration (1mM) decreased the enzyme activity. The substitution of Ca2+ by mentioned divalent cations also reduced the activity to levels similar to those in the absence of Ca2+. Three internal fragments (CCFVHDCCYGK, AAAI/LCFRDNI/LNTYNDKK, DAAI/LCFR) identified by a mass spectrometry analysis showed similarity with previously reported B. asper PLA2s. In mice, BaspCol-PLA2 induced a conspicuous local myotoxic effect and moderate footpad edema. In vitro, this enzyme induced cytotoxic effect on both myoblasts and myotubes. Additionally, it was classified as weakly anticoagulant PLA2, showing this effect at concentrations between 3 and 10 μg/mL when using human plasma. Conclusions: A PLA2 was purified and named BaspCol-PLA2, this enzyme displayed catalytic activity and molecular mass of 13974.6 Da. The toxin showed myotoxic, edema-forming, anticoagulant and cytotoxic activities.
|Abstract = 72 veces | PDF = 40 veces|
Downloads
Download data is not yet available.
References
Six DA, Dennis EA. The expanding superfamily of phospholipase A2 enzymes: classification and characterization. Biochim Biophys Acta. 2000; Oct 31; 1488 (1-2): 1-19.
Arni RK, Ward RJ. Phospholipase A2-a structural review. Toxicon. 1996; Aug; 34 (8): 827-841.
Lomonte B, Angulo Y, Calderón, L. An overview of Lysine-49 phospholipase A2 myotoxins from crotalid snake venoms and their structural determinants of myotoxic action. Toxicon. 2003; Dec 15; 42 (8): 885-901.
Ferlan I, Gubensek F. Phospholipases of Bothrops asper venom. Period Biol. 1978; 80: 31-36.
Alagón AC, Molinar RR, Possani LD, Fletcher PLJr, Cronan JEJr, Julia JZ. Venom from the snake Bothrops asper Garman. Purification and characterization of three phospholipases A2. Biochem J. 1980; Mar 1; 185 (3): 695-704.
Fernández J, Gutiérrez JM, Angulo Y, Sanz L, Juárez P, Calvete JJ, et al. Isolation of an acidic phospholipase A2
from the venom of the snake Bothrops asper of Costa Rica: biochemical and toxicological characterization. Biochimie. 2010; 2010 Mar 1; 92 (3): 273-283.
Gutiérrez JM, Ownby CL, Odell GV. Isolation of a myotoxin from Bothropsasper venom: partial characterization and action on skeletal muscle. Toxicon. 1984 Jan 1; 22 (1): 115-128.
Verheij HM, Boffa MC, Rothen C, Bryskaert MC, Verger R, De Haas G. Correlation of enzymatic activity and anticoagulant properties of phospholipase A2. Eur J Biochem.1980 Nov; 112 (1): 25-32.
Kini RM, Evans HJ. Structure–function relationships of phospholipases. The anticoagulant region of phospholipases A2. J BiolChem. 1987 Oct 25; 262-(30): 14402-14407.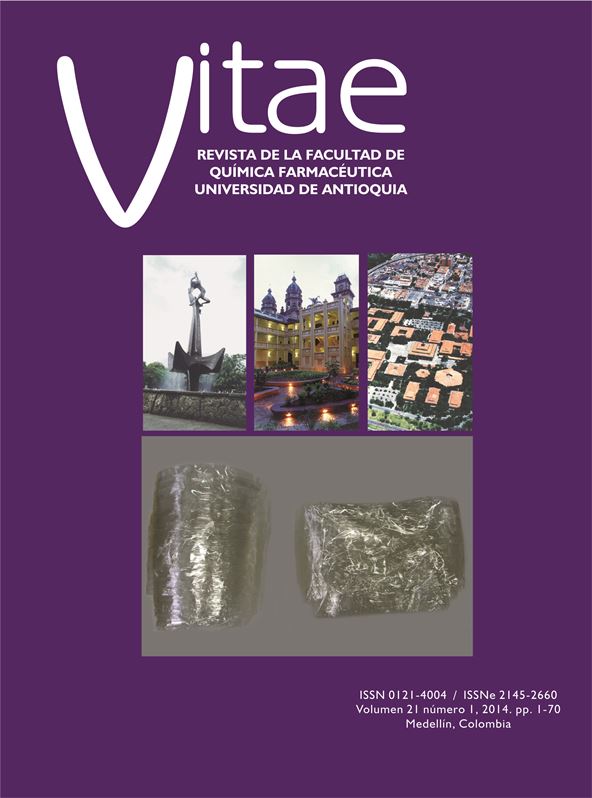 Downloads
How to Cite
PEREAÑEZ, J. A., QUINTANA, J. . C., ALARCÓN, J. C., & NÚÑEZ, V. (2014). Isolation and functional characterization of a basic phospholipase A2 from Colombian Bothrops asper venom. Vitae, 21(1), 38–48. Retrieved from https://revistas.udea.edu.co/index.php/vitae/article/view/16714
Section
Pharmacology and Toxicology
License
Copyright Notice and Open Access Statement
The Journal Vitae works under the Open Access license, and the published manuscripts remain available for the public, both on the Journal's website and in databases, under the Creative Commons license, "Noncommercial Attribution" and "Share alike" systems, adopted in Colombia. Hence, when the authors agree to publish in the Journal Vitae, they will not have the right to economic retributions on publications and reproductions through different diffusion media. The documents are freely available to the internet public, permitting users to read, download, copy, distribute, print, search, or link to the full texts and pass them as data to software. The only constraint on reproduction and distribution, and the only role for copyright in this domain, should be to give authors control over the integrity of their work and the right to be appropriately acknowledged and cited.
Authors declare that:
They are the intellectual property owners and are responsible for all the information stated in the article.

This manuscript has not been submitted or published in other printed or digital media. They accept the responsibility for the judgments, opinions, and points of view expressed in the published article and, therefore, they exonerate Universidad de Antioquia and Journal Vitae from any process.

They exempt Universidad de Antioquia and Journal Vitae from settling conflicts or disputes related to the authorship of the referred article.

They accept the revision of the original manuscript by suitable personnel, and they bind themselves to perform the corrections appointed or suggested by the assessors.

Therefore, they know the editorial process and will not bind the Editorial Board of the Journal to assume any obligations regarding the volume and issue in which the article is published.

They transfer the rights of publication, reprinting, and distribution of the article from the moment of its approval, in print and digital format, without the right to economic rewards, and under the licensing conditions considered relevant by Journal Vitae.

They fully authorize Universidad de Antioquia and Journal Vitae to submit the published material to the diverse databases and indexing systems where the Journal can be found to comply with the requirements of the regulatory authorities to maintain the national classification of journals.

They will assume the article publication costs established for the current issue, and they will make the payment as soon as they are informed about the volume and the issue in which the final version of the article is published.

After the article is published, you can share digital or printed copies in a noncommercial manner. You will be able to use the paper in your institution or company for educational or research purposes, including the use in course programs.
Conflict of interest: Authors are responsible for recognizing and disclosing any financial or other benefits that could be perceived to bias their work, acknowledging all financial support and any personal connections with potential sponsors. Examples of such conflicts include receiving research funds or honoraria, serving on advisory boards, stock ownership, or employment and consulting arrangements. Authors without such connections should clearly state that they have no financial support or personal relationships that could be perceived to bias their work. All conflicts of interest should be disclosed on the author's identification page of the manuscript.