Desempeño dinámico y energético de un autobús operando con gas natural vehicular
John Agudelo

Universidad de Antioquia

Ricardo Moreno

Universidad de Antioquia

Juan Pérez

Universidad de Antioquia
Abstract
En este artículo se calculó la potencia teórica requerida por un vehículo para cuatro casos de funcionamiento (2 velocidades y dos pendientes diferentes) con la ayuda de la dinámica longitudinal. Mediciones experimentales del consumo instantáneo de combustible, en conjunto con las potencias teóricas permitieron hallar la eficiencia energética global de un bus con motor a gas natural. Al aumentar la pendiente de la carretera o aumentar la velocidad del bus, la eficiencia energética global se incrementó. La variación de la pendiente de 0 a 7% hizo cambiar la eficiencia de 25,4 a 27,6% mientras que el cambio de velocidad de 15 a 40 km/h hizo que la eficiencia pasara de 25,9 a 27,1%. Para los rangos seleccionados de velocidad y pendiente, la eficiencia presentó un incremento al aumentar velocidad y pendiente, siendo un poco mayor con la pendiente.

|Abstract = 28 veces | PDF (ESPAÑOL (ESPAÑA)) = 14 veces|
Downloads
Download data is not yet available.
References
G. J. Mantilla, C. Galeano, H. Acevedo, C. Duque, "Implementación de un bus articulado con motor dedicado a gas natural en los sistemas de transporte masivo de Colombia: estudio técnico", Rev. Fac. Ing. Univ. Antioquia, N.° 43. Marzo 2008. pp 18-31.
Grupo de Investigación Conversión y Transferencia de Energía, Universidad Nacional Sede Bogotá. "Evaluación de vehículos dedicados a gas bus RENNO 280 GA articulado para sistemas masivos de transporte". 2005. http://www.ecopetrol.com.co/documentos/37788_Informe_Final _Colcha-18-02-2006.pdf. Consultada el 15 de Septiembre de 2008.
H. Heisler, "Advanced Vehicle Technology". Ed. Butterworth Heinemann, Elsevier science. 2002.
D. Karnopp,. "Vehicle Stability". University of California Ed. Marcel Dekker Inc. 2004.
R. Rajamani, "Vehicle Dynamics and Control". Springer US. 2006.
P. Pintado. "Un Curso de Automoción". Ed. Universidad de Sevilla. España. 1994.
R. Moreno. Análisis Mecánico y termodinámico en motores de encendido provocado adaptados a funcionamiento bicombustible gas natural-gasolina. Tesis de Maestría en Ingeniería. Universidad de Antioquia. 2004.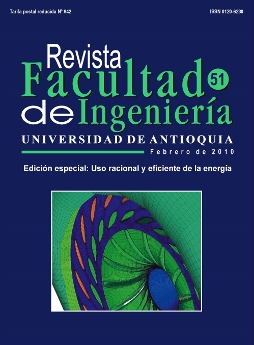 How to Cite
Agudelo J., Moreno R., & Pérez J. (2013). Desempeño dinámico y energético de un autobús operando con gas natural vehicular. Revista Facultad De Ingeniería Universidad De Antioquia, (51), 79-87. Retrieved from https://revistas.udea.edu.co/index.php/ingenieria/article/view/14922
Copyright (c) 2018 Revista Facultad de Ingeniería
This work is licensed under a Creative Commons Attribution-NonCommercial-ShareAlike 4.0 International License.
Authors can archive the pre-print version (i.e., the version prior to peer review) and post-print version (that is, the final version after peer review and layout process) on their personal website, institutional repository and / or thematic repository

Upon acceptance of an article, it will be published online through the page https://revistas.udea.edu.co/index.php/ingenieria/issue/archive in PDF version with its correspondent DOI identifier
The Revista Facultad de Ingeniería -redin- encourages the Political Constitution of Colombia, chapter IV
Chapter IV Sanctions 51
The following shall be liable to imprisonment for two to five years and a fine of five to 20 times the legal minimum monthly wage: (1) any person who publishes an unpublished literary or artistic work, or part thereof, by any means, without the express prior authorization of the owner of rights; (2) any person who enters in the National Register of Copyright a literary, scientific or artistic work in the name of a person other than the true author, or with its title altered or deleted, or with its text altered, deformed, amended or distorted, or with a false mention of the name of the publisher or phonogram, film, videogram or software producer; (3) any person who in any way or by any means reproduces, disposes of, condenses, mutilates or otherwise transforms a literary, scientific or artistic work without the express prior authorization of the owners thereof; (4) any person who reproduces phonograms, videograms, software or cinematographic works without the express prior authorization of the owner, or transports, stores, stocks, distributes, imports, sells, offers for sale, acquires for sale or distribution or in any way deals in such reproductions. Paragraph. If either the material embodiment or title page of or the introduction to the literary work, phonogram, videogram, software or cinematographic work uses the name, business style, logotype or distinctive mark of the lawful owner of rights, the foregoing sanctions shall be increased by up to half.