Aprendizaje, cultura y desarrollo. Una aproximación interdisciplinaria: reseña
Abstract
Esta recopilación de trabajos de investigadores latinoamericanos muestra diferentes perspectivas de algunos estudios de literacidad en educación que se han hecho en algunas partes de América. Las editoras recopilan y ponen en diálogo estudios de caso que van en distintos órdenes de los saberes. Aprender a leer y escribir significa, entre otros, interactuar con otros lectores y escritores y ver el conocimiento forjado en el uso cotidiano de la lengua escrita como un recurso importante (Street, 2005). Requiere, a su vez, contar con la participación de usuarios, el conocimiento de los discursos por parte de estos, el aprendizaje de modos de leer e interpretar y de vincularse en eventos comunicativos
|Abstract = 282 veces | PDF (ESPAÑOL (ESPAÑA)) = 228 veces| | HTML (ESPAÑOL (ESPAÑA)) = 19 veces| | VISOR (ESPAÑOL (ESPAÑA)) = 7 veces|
Downloads
Download data is not yet available.
References
Cole, M. (1996). Cultural psychology. A once and future discipline. Cambridge, MA: Harvard University Press.
Frisancho, S., Moreno, M.T., Ruiz, P. y Zavala, V. (Eds.). (2017 [2011]). Aprendizaje, cultura y desarrollo. Una aproximación interdisciplinaria. Lima: Fondo Editorial Pontificia Universidad Católica del Perú.
Gumperz, J. & D. Hymes (Eds) (1972). Directions in Sociolinguistics: The Ethnography of Communication. Oxford: Blackwell.
Petrucci, A. (2003). La ciencia de la escritura. Primera lección de paleografía. México: Fondo de Cultura Económica.
Street, B. (2005). Navigating Numeracies: Home/School Numeracy Practices. Multiple Perspectives on Attainment in Numeracy. Dordrecht, Netherlands: Springer.
Zavala, V., Niño-Murcia M. y Ames, P. (Eds.) (2004). Escritura y sociedad. Nuevas perspectivas teóricas y etnográficas. Lima: Red para el desarrollo de las ciencias sociales en el Perú.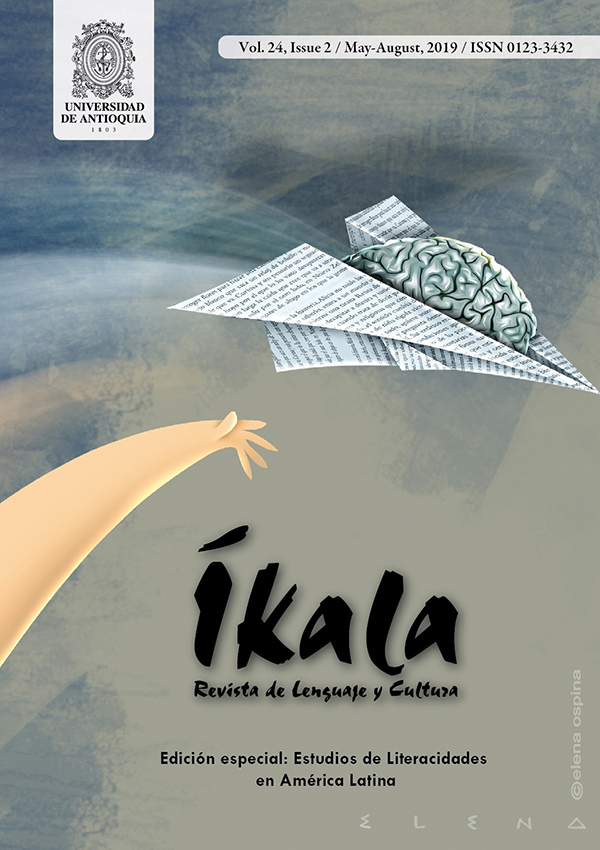 How to Cite
Yepes-Serrano, R. (2019). Aprendizaje, cultura y desarrollo. Una aproximación interdisciplinaria: reseña. Íkala, Revista De Lenguaje Y Cultura, 24(2), 445–449. https://doi.org/10.17533/udea.ikala.v24n02a14