ISSN (online) : 2145-566X | ISSN (print) 0123-3432
https://doi.org/10.17533/udea.ikala
Íkala, Revista de Lenguaje y Cultura is a quarterly peer-reviewed scientific journal, whose aim is to provide an academic forum for informed and respectful debate on current topics dealing with language, linguistics, literature, translation, and language teaching-learning, among others. From its inception in 1996, Íkala has published articles in several languages, such as English, Spanish, French, and Portuguese, aiming to include a multiplicity of voices and to unravel through them what Íkala, in its original Thule name means —"issues of the utmost importance".
Current Issue
Vol 26 No 3 (2021): Special Issue: The Role of Technology in Language Teaching and Learning amid the crisis generated by the COVID-19 Pandemic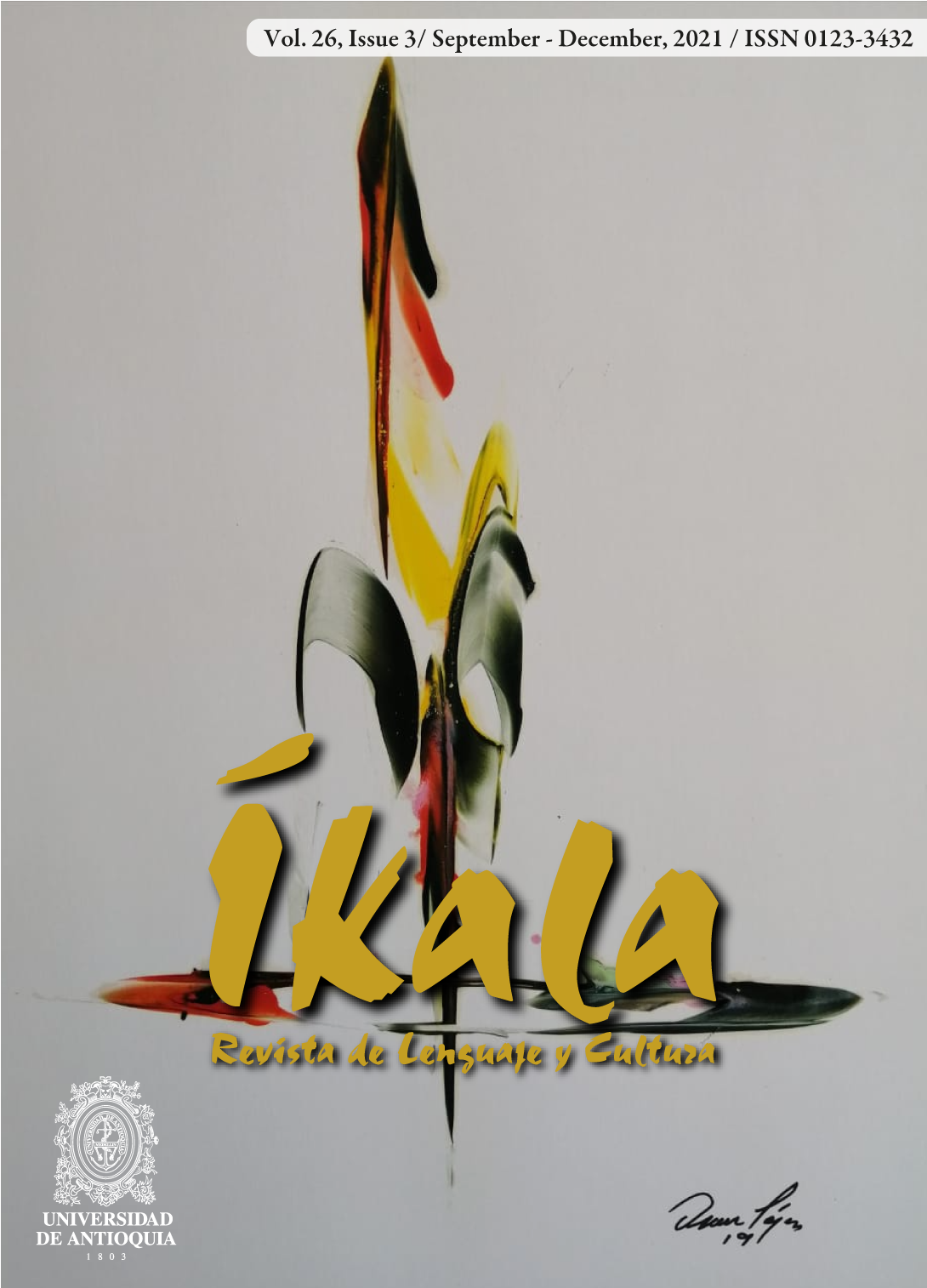 This special issue is an attempt to understand how teachers and students reacted to the unexpected teaching and learning situations they faced. We hope it will be of interest to teachers, students, administrators, and language practitioners who want to know how other colleagues worldwide reacted to the COVID-19 measures.
Our cover and dividers display works of the series "El vuelo del color" by artist Óscar López Ospina. We invite you to gaze the beautiful Flight of Color of our Featured artist here.
Full Issue
Editorial
|Abstract = 211 veces | PDF = 178 veces|

Empirical Studies

|Abstract = 83 veces | PDF = 90 veces|

|Abstract = 68 veces | PDF = 63 veces|

|Abstract = 61 veces | PDF = 45 veces|

|Abstract = 111 veces | PDF (ESPAÑOL (ESPAÑA)) = 96 veces|

|Abstract = 89 veces | PDF = 71 veces|

|Abstract = 53 veces | PDF = 51 veces|

|Abstract = 54 veces | PDF (ESPAÑOL (ESPAÑA)) = 61 veces|

|Abstract = 43 veces | PDF = 42 veces|

|Abstract = 137 veces | PDF = 81 veces|

|Abstract = 38 veces | PDF = 65 veces|

|Abstract = 86 veces | PDF = 64 veces|

|Abstract = 179 veces | PDF = 107 veces|

|Abstract = 99 veces | PDF = 50 veces|

Methodological Articles

View All Issues