Models of Research in Audiovisual Translation
Keywords:
translation studies, audiovisual translation, learning objectves, research areas in audiovisual translation
Abstract
This paper will aims to establish a classification of the research models in audiovisual translation and to describe the different theoretical approaches towards this field proposed during the last two decades.
Received: 31-05-04/ Accepted: 22-05-04
How to reference this article:
Chaume Varela, F. (2004). Modelos de investigación en traducción audiovisual. Íkala. 9 (1), pp. 351 – 365 
|Abstract = 229 veces | PDF = 184 veces|
Downloads
Download data is not yet available.
References
Agost, Rosa, 1999, Traducción y doblaje: palabras, voces e imágenes, Barcelona, Ariel, 159 p.
Agost, Rosa, Frederic Chaume y Amparo Hurtado, 1999, "La traducción audiovisual", en: Hurtado Albir, Amparo, dir., Enseñar a traducir, Madrid, Edelsa, 256 p.
Agost, Rosa y Frederic, Chaume, 2001, La traducción en los medios audiovisuales, Col-lecció Estudis sobre la Traducción N.° 7, Castelló de la Plana, Publicacions de la Universitat Jaume I., 250 p.
Basnett-McGuire, Susan, 1991, Translation Studies, 2.a ed., London, Methuen, 192 p.
Bravo, José María, 1993, La literatura en lengua inglesa y el cine, Valladolid, Universidad de Valladolid, Instituto de Ciencias de la Educación (ICE), 132 p.
Cattrysse, Patrick, 1992, "Film (Adaptation) as Translation: Some Methodological Proposals", Target, 4 (1), pp. 53-70.
Chaume, Frederic, 1997, "La traducción audiovisual: estado de la cuestión", en: Miguel Ángel Vega y Rafael Martín-Gaitero, eds., La palabra vertida, Madrid, Editorial Complutense, Ediciones del Orto, pp. 393-406. [758 p.]
__________, 2000, "Aspectos profesionales de la traducción audiovisual", en: Dorothy Nelly, ed., La traducción y la interpretación en España hoy: perspectivas profesionales, Granada, Comares, pp. 45-83. [236 p.].
Chaves, María José, 2000, La traducción cinematográfica, Huelva, Servicio de Publicaciones de la Universidad de Huelva, 221 p.
Delabastita, Dirk, 1989, "Translation and Mass-Communication: Film and TV Translation as Evidence of Cultural Dynamics", en: Babel, 35 (4), pp. 193-218.
__________, 1990, "Translation and the Mass Media", en: Susan Bassnett y André Lefevere, eds., Translation, History and Language, London, Pinter, pp.
Díaz Cintas, Jorge, 2001, La traducción audiovisual. El subtitulado, Salamanca, Ediciones Almar, 173 p.
__________, 2003, Teoría y práctica de la subtitulación. Inglés-español, Barcelona, Ariel. Eguíluz, Federico, et al., 1994, eds., Transvases culturales: literatura, cine, traducción, Gasteiz, Universidad del País Vasco-Euskal Herriko Unibertsitatea, 444 p.
Fodor, István, 1976, Film Dubbing: Phonetic, Semiotic. Esthetic and Psychological Aspects, Hamburg, Helmut Buske, 109 p.
Gambier, Yves, 1996, Les Transferts Linguistiques dans les Médias Audiovisuels, Villeneuve d' Ascq, Presses Universitaires du Septentrion, 246 p.
__________, 1998, Translating for the Media, Turku, University of Turku, 316 p.
Goris, Olivier, 1993, "The Question of French Dubbing: Towards a Frame for Systematic Investigation", Target, 5 (2), pp. 169-190.
Gottlieb, Henrik, 1997, Subtitles, Translation and Idioms, Copenhagen, University of Copenhagen, Center for Translation Studies and Lexicography, 354 p.
Hochel, Braño, 1986, "Communicative Aspects of Translations for TV", Nouvelles de la FIT, FIT Newsletter, (3), pp. 151-157.
Hurtado, Amparo, 1994-1995, "Modalidades y tipos de traducción", Vasos Comunicantes, (4), Madrid, Sección Autónoma de Traductores de Libros de la ACE, pp. 19-27.
Ivarsson, Jan, 1992, Subtitling for the Media, A Handbook of an Art., Stockholm, Transedit, 199 p. Ivarsson, Jan y Mary Carroll, 1998, Subtitling, Simrisham, Transedit, 184 p. Izard, Natalia, 1992, La traducció cinematogràfica, Barcelona, Publicacions de la Generalitat de Catalunya, 126 p.
Karamitroglou, Fotios, 2000, Towards a methodology for the investigation of norms in audiovisual translation, Amsterdam, Rodopi, 300 p.
Lambert, José, 1989, "La traduction: les langues et la communication de masse —les ambiguïtés du discours international", Target, 1 (2), pp. 215-237. 7-109. [133 pp.]. Linde, Zoe de, y Neil Kay, 1999, The Semiotics of Subtitling, Manchester, St. Jerome, 107 p.
Luyken, Georg-Michael, 1991, Overcoming Linguistic Barriers in Television. Dubbing and Subtitling for the European Audience, Manchester, E.I.M., 214 p.
Mayoral, Roberto, 2001, "Campos de estudio y trabajo en traducción audiovisual", en: Miguel Duro, ed., La traducción para el doblaje y la subtitulación, Madrid, Cátedra, pp. 19-45. [364 p.].
Mayoral, Roberto, Dorothy Kelly y Natividad Gallardo, 1988, "Concept of Constrained Translation. Non-Linguistic Perspectives of Translation", Meta, 33 (3), pp. 356-367.
Muñoz, Ricardo, 1999, "Contra Sísifo, interdisciplinariedad y multiculturalidad", Perspectives: Studies in Translatology, 7 (2), pp. 153-163.
Pajares, E.; R. Merino y J. M. Santamaría, 2001, eds., Trasvases culturales: literatura, cine, traducción 3, Vitoria, Universidad del País Vasco-Euskal Herriko Unibertsitatea.
Reiss, Katharina, 1971, Möglichkeiten und Grenzen der Übersetzungskritik, Munich, Max Hueber, 124 p.
Santamaría, José Miguel et al., 1997, eds., Trasvases culturales: literatura, cine, traducción 2, Gasteiz, Basque Country University-Euskal Herriko Uniberstitatea, 372 p.
Snell-Hornby, Mary, 1988, Translation Studies. An Integrated Approach, Amsterdam, Philadelphia, John Benjamins, 163 p.
Titford, Christopher, 1982, "Subtitling —Constrained Translation", Lebende Sprachen, 27 (3), pp. 113-116.
Vega, Miguel Ángel, 1999, "La enseñanza de la traducción científica y técnica", en: Ricardo Muñoz y Frederic Chaume, eds., Perspectivas: Studies in
Translatology, 1999, 7 (2), pp. 241-251. Whitman, Candace, 1992, Through the Dubbing Glass, Frankfurt, Peter Lang, 341 p.
Zabalbeascoa, Patrick, 1993, Developing Translation Studies to Better Account for Audiovisual Texts and Other New Forms of Text Production, tesis doctoral presentada en la Facultat de Lletres de la Universitat de LIeida, 278 p.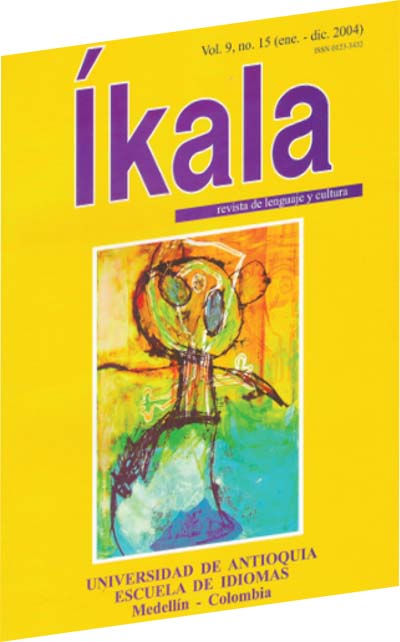 Downloads
How to Cite
Chaume Varela, F., & Jiménez (TRADUCTOR), J. A. (2004). Models of Research in Audiovisual Translation. Íkala, Revista De Lenguaje Y Cultura, 9(1), 351–365. https://doi.org/10.17533/udea.ikala.3152