Social representations about plagiarism in academic writing among university students
Keywords:
social representation, academic writing, didactics of writing, higher education
Abstract
Learning what students think about academic writing becomes a valuable source of information that may significantly contribute to didactic proposals more suitable to educational needs. This study aims to inquire on notion about aca-demic writing among students; whether they are being trained on this subject, and which training they are getting ; and how they perceive themselves as writers since their beginning university studies until now. The target population was made up of 96 students in the Modern Languages program at the University of Deusto. They produced some narratives for the purposes of this cross-sectional qualitative study about students' social representations. Findings suggest that gaining access to a whole new discursive community poses new challenges for students, face to which academic training is insufficient and inadequate. Moreover, while they may perceive some improvement in their writing performance throughout their career, they do not always attribute it to the education received.
|Abstract = 1898 veces | PDF (ESPAÑOL (ESPAÑA)) = 1038 veces| | HTML (ESPAÑOL (ESPAÑA)) = 175 veces|
Downloads
Download data is not yet available.
References
Agud, J. (2014). Fraude y plagio en la carrera y en la profesión. Revista Clínica Española, 214(7), 410-414.
Alves, M. & De Oliveira, L. (2016). A escrita de artigo acadêmico na universidade: autoria x plágio. Ilha do Desterro, 69(3), 077-093.
Anney, V. & Mosha, M. (2015). Student's Plagiarism in Higher Learning Institutions in the Era of Improved Internet Access: Case Study of Developing Countries. Journal of Education and Practice, 6(13), 203-217.
Araya Umaña, S. (2002). Representaciones sociales: ejes teóricos para su discusión. Cuaderno de Ciencias Sociales, 27. Costa Rica: Facultad Latinoamericana de Ciencias Sociales (FLACSO). Recuperado de: http://unpan1.un.org/intradoc/groups/public/documents/ICAP/UNPAN027076.pdf
Baird, C. & Dooey, P. (2014). Ensuring Effective Student Support in Higher Education Alleged Plagiarism Cases. Innovation in Higher Education, 39, 387-400.
Bardin, L. (1996). Análisis de contenido (2da edición). Madrid: Ediciones Akal S.A
Barrón, L. (2008). Detección automática de plagio en texto (Tesis de Máster en Inteligencia Artificial, Reconocimiento de Formas e Imagen Digital). Valencia: Universitat Politècnica de València. Recuperado de: http://users.dsic.upv.es/~lbarron/publications/2008/masterBarron.pdf
Bazerman, C. (2013). A Rethoric of Literate Action: Literate Action Volume 1. Perspectives on Writing. Fort Collins, Colorado: The WAC Clearinghouse and Parlor Press.
Bazerman, C. (2014). El descubrimiento de la escritura académica. En F. Navarro (Ed.). Manual de escritura para carreras de humanidades (pp. 11-16). Buenos Aires: Editorial de la Facultad de Filosofía de la Universidad de Buenos Aires.
Bereiter, M. & Scardamalia, C. (1992). Dos modelos explicativos de los procesos de composición escrita. Revista Infancia y aprendizaje, 58, 43-64.
Bocca, A. & Vasconcelo, N. (2008). Algunas reflexiones acerca de las prácticas y representaciones sociales en estudiantes universitarios: la escritura académica. Revista Enunciación, 13(1), 20-27.
Cabra-Torres, F., Marciales, G., Castañeda-Peña, H., Barbosa-Chacón, J. & Melo, L. (2016). Competencias informacionales. Rutas de exploración en la enseñanza universitaria. Bogotá: Editorial Pontificia Universidad Javeriana.
Carlino, P. (2003). Alfabetización Académica: un cambio necesario, algunas alternativas posibles. Revista Educere, 6(020), 409-420. Recuperado de: http://redalyc.uaemex.mx/src/inicio/artpdfred.jsp?icve=35662008&icvenum=2061
Carlino, P. (2005). Escribir, leer y aprender en la universidad: una introducción a la alfabetización académica. Buenos Aires: Fondo de Cultura Económica.
Carlino, P. (2006). Concepciones y formas de enseñar escritura académica. Revista Signo & Seña, (16), 71-117.
Carlino, P. (2013). Alfabetización académica diez años después. Revista Mexicana de Investigación Educativa, 18(57), 355-381.
Cassany, D. (2013). En línea: Leer y escribir en la red. España: Anagrama.
Castro, Y., Yoplac-López, B., Carpio-Tello, A., Sihuay-Torres, K. & Cósar-Quiroz, J. (2017). Percepción del plagio académico en estudiantes de Odontología. Educación Médica, 156, 1-5. doi: 10.1016/j.edumed.2017.03.003
Childers, D. & Bruton, S. (2016). "Should It Be Considered Plagiarism?" Student Perceptions of Complex Citation Issues. Journal of Academic Ethics, 14, 1-17. Doi: 10.1007/s10805-015-9250-6
Comas, R. & Sureda, J. (2007). CiberPlagio Académico. Una aproximación al estado de los conocimientos. Revista TEXTOS de la CiberSociedad, 10. Recuperado de: http://www.cibersociedad.net/textos/articulo.php?art=121
Comas, R., Sureda, J. & Oliver, M. (2011). Prácticas de citación y plagio académico en la elaboración textual del alumnado universitario. Teoría de la Educación en la Sociedad de la Información, 12(1), 359-385.
Egaña, T. (2012). Uso de bibliografía y plagio académico entre los estudiantes universitarios. RUSC. Universities and Knowledge Society Journal, 9(2). Recuperado de: http://www.redalyc.org/articulo.oa?id=78023425003
Ennam, A. (2017). Systematic Analysis if the Effects of Digital Plagiarism on Scientific Research: Investigating the Moroccan Context- Ibn Tofail University as Case Study. Journal of Education and Practice, 8(2).
Heckler, N., Forde, D. & Bryan, H. (2013). Using Writing Assignment Designs to Mitigate Plagiarism. Teaching Sociology, 41(1), 94-105. Doi: 10.1177/0092055X12461471
Husain, F., Al-Shaibani, G., & Ali Mahfoodh, O. (2017). Journal of Academic Ethics, 15, 167-195. Doi: 10.1007/s10805-017-9274-1
Ibáñez, J. (1986). Más allá de la sociología. El grupo de discusión: técnica y crítica. Madrid: Siglo XXI.
Jaramillo, S. & Rincón, N. (2014). Los estudiantes universitarios y la sociedad de la información: una combinación que ha facilitado el plagio académico en las aulas colombianas. Información, cultura y sociedad, (30), 127-137.
Jodelet, D. (1999), La representación social: fenómenos, concepto y teoría. Capítulo 13, en: S. Moscovici (Ed.) (1999), Psicología social II (pp. 469-495). Barcelona: Paidos.
Linne, J. (2014). "Ahora hago fast food académico". Los estudiantes de la Universidad de Buenos Aires en tiempos de Internet. Palabra Clave, 17(3), 695-716. Doi: 10.5294/pacla.2014.17.3.7
Martínez, A., Borjas, M. & Andrade, J. (2015). El fraude académico universitario: el caso de una universidad privada de la ciudad de Barranquilla. Zona Próxima, (23). Recuperado de: http://rcientificas.uninorte.edu.co/index.php/zona/article/viewArticle/7184/8131
McMillan, J. & Schumacher, S. (2005). Investigación educativa (5ª edición). Madrid: Pearson.
Moscovici, S. (1961). El psicoanálisis, su imagen y su público. Buenos Aires: Huemul.
Ochoa, L. & Cuevas, A. (2014). El plagio y su relación con los procesos de escritura académica. Forma y Función, 27(2), 95-113.
Ochoa, L. & Cuevas, A. (2016). Percepciones de estudiantes acerca del plagio: datos cualitativos. Revista Encuentros, 14(02), 25-41.
Ordóñez, C., Mejía, J. & Castellanos, S. (2006). Percepciones estudiantiles sobre el fraude académico: hallazgos y reflexiones pedagógicas. Revista de Estudios Sociales, (23), 37-44.
Ortega, E. (2011). La respuesta al plagio en la educación superior: un estudio internacional. Interdisciplinaridad y Sinergias en Economía y Negocios, XX International Congress of the European Academy of Management and Business Economics (AEDEM). Montenegro, 5-6-septiembre de 2011. European Academics Publishers, ISBN: 13: 978-84-695-4555-3.
Páramo, P. & Arango, M. (2008). Cuestionarios. En P. Páramo (Ed.), La investigación en ciencias sociales. Técnicas de recolección de información (2ª edición) (pp. 55-84). Bogotá: Universidad Piloto de Colombia.
Pievi, N. & Echaverry, E. (2005). Las representaciones sociales y su influencia en los procesos educativos. Memorias del Congreso Internacional en Educación, Lenguaje y Sociedad: tensiones educativas en América Latina. Universidad Nacional de La Pampa. Argentina, del 23 al 25 de noviembre de 2005. Recuperado de: http://www.memoria.fahce.unlp.edu.ar/trab_eventos/ev.6766/ev.6766.pdf
Rengifo, E. (1996). Propiedad intelectual. El Moderno Derecho de Autor. Bogotá: Universidad Externado de Colombia.
Rojas, M. & Olarte, J. (2010). Plagio en el ámbito académico. Revista Colombiana de anestesiología, 38(4), 537-538. Recuperado de: http://www.scielo.org.co/scielo.php?script=sci_arttext&pid=S0120-33472010000400010
Ruiz, A. (2016). Fuentes digitales y fuentes impresas. Prácticas letradas y plagio en el contexto universitario. Revista Chilena de Literatura, (94), 215-230. Recuperado de: http://www.scielo.cl/scielo.php?script=sci_arttext&pid=S0718-22952016000300011
Sanabria, L. (2014). Conceptualización jurídica del plagio en Colombia. Revista Colombiana de Cirugía, 29, 88-97. Recuperado de: http://www.scielo.org.co/pdf/rcci/v29n2/v29n2a2.pdf
Santana, O. (2008). Entre o plágio e a autoria: qual o papel da universidade? Revista Brasileira de Educacao, 13(38), 357-368.
Santos, C., Dos Santo, P., Sant'Ana, M., Masuda, H., Barboza, M., & Vasconcelos, S. (2017). Going Beyond Academic Integrity Might Broaden our Understanding of Plagiarism in Science Education: A Perspectiva from a Study in Brazil. Anais da Academia Brasileira de Ciencias, 89(1), 757-771. Doi: 10.1590/0001-3765201720160474
Skaar, H. (2015). Writing and pseudo-writing for Internet-based sources: implications for learning and assessment. Literacy UKLA, 49(2), 69-76.
Soto, G. (2009). Intertextualidad explícita en textos académicos de estudiantes universitarios. Un estudio exploratorio. Literatura y Lingüística, (20), 141-157. Recuperado de: http://www.scielo.cl/pdf/lyl/n20/art08.pdf
Šprajc, P., Urh, M., Jerebi, J., Trivan, D., & Jereb, E. (2017). Reasons for Plagiarism in Higher Education. Organizacija, 50, 33-45. Doi: 10.1515/orga-2017-0002.
Sureda J., Comas, R. & Urbina, S. (2005). The 'copy and paste' generation: plagiarism amongst students, a review of existing literature. International Journal of Learning, 12(2), 161-168.
Sureda, J. & Comas, R. (2009). Las causas del plagio académico entre el alumnado universitario según el profesorado. Revista Iberoamericana de Educación, 50, 197-220.
Toller, F. (2011). Propiedad intelectual y plagio en trabajos académicos y profesionales. Revista La Propiedad Inmaterial, (15), 85-97.
Tudela, J. & Aznar, J. (2013) ¿Publicar o morir? El fraude en la investigación y las publicaciones científicas. Revista Persona y Bioética, (1), 12-27. Recuperado de: http://www.redalyc.org/articulo.oa?id=83228613002
Wells, G. (2001). Indagación dialógica. Hacia una teoría y una práctica socioculturales de la educación. Temas de educación. Barcelona: Paidós.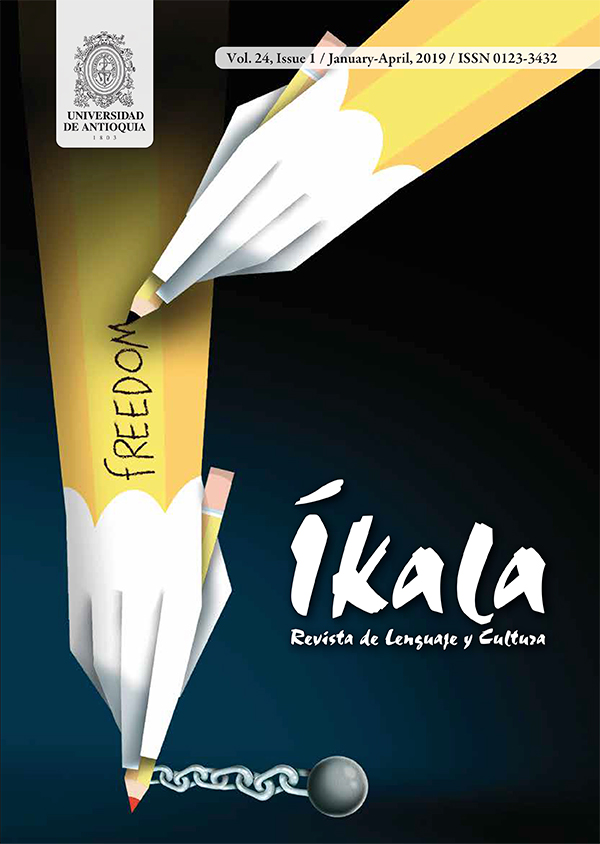 How to Cite
López Gil, K. S., & Fernández López, M. C. (2019). Social representations about plagiarism in academic writing among university students. Íkala, Revista De Lenguaje Y Cultura, 24(1), 119–134. https://doi.org/10.17533/udea.ikala.v24n01a06
Section
Empirical Studies
License
Copyright (c) 2019 Íkala
This work is licensed under a Creative Commons Attribution-NonCommercial-ShareAlike 4.0 International License.