Aprendizaje Intercultural Crítico mediante Temas de la Cultura Profunda en la Clase de Inglés
Keywords:
cultura superficial, cultura profunda, multiculturalismo crítico, competencia comunicativa intercultural, docentes de inglés en formación
Abstract
Este artículo describe una investigación cualitativa realizada en una clase de inglés avanzado perteneciente a un programa de lenguas modernas en una Universidad pública en Bogotá, Colombia, en el 2013. Desde el enfoque de multiculturalismo crítico, el estudio muestra cómo un grupo de profesores de inglés en formación abordaron temas complicados de la cultura profunda en lugar de temas "admirables" y representativos de la cultura superficial. Se discutieron elementos profundos y complejos de la cultura extranjera, los Estados Unidos, y la cultura de los docentes en formación, Colombia, a través de cuentos literarios auténticos de EE. UU. con el fin de construir la competencia comunicativa intercultural. El estudio indica que los participantes construyeron pensamiento crítico y conciencia intercultural cuando leyeron y hablaron de temas controversiales que se desarrollan en los cuentos y los relacionaron con su propia cultura y sus experiencias de vida. Entre dichos temas se destacan la pérdida de la identidad cultural, la diferencia entre asimilación cultural y aculturación, la injusticia social, los prejuicios y la lucha de clases. El estudio indica que la cultura profunda debería ser un tema de enseñanza relevante en la formación de docentes de inglés.
|Abstract = 575 veces | PDF = 378 veces| | HTML = 50 veces|
Downloads
Download data is not yet available.
References
Atkinson, Dwight. (1999). TESOL and culture. TESOL Quarterly, 33(4), 625–654.
Brown, H. D. (2000). Principles of language learning and teaching. San Francisco: San Francisco State University.
Buttaro, L. (2012). Stereotypes in the foreign language classroom: modifying negative attitudes to enhance foreign language learning. Sino–US English Teaching, 9(11), 1667–1675.
Byram, M. (1997).Teaching and assessing intercultural communicative competence. Clevedon: Multilingual Matters.
Byram, M. (2000).Assessing intercultural competence in language teaching. Sprogforum, 18(6), 8–13.
Byram, M., Nichols, A. and Stevens, D. (Eds.). (2009). Developing intercultural competence in practice. Exeter, England: Cromwell Press.
Faulkner, W. (1997). ''Hair'' William Faulkner, Collected short stories. New York: Vintage International, A division of Random House, Inc.
Freeman, L. (1998). Doing teacher–research: From inquiry to understanding. Boston: Heinle & Heinle.
Gómez Rodríguez, L. F. (2013). Enhancing intercultural competence through U.S. multicultural literature in the EFL classroom. Folios Journal, 38, 95–109.
Greenblatt, S. (1995). Culture. In F. Lentricchia and T. McLaughlin (Eds.), Critical Terms for Literature Study (pp. 225–32). Chicago: University of Chicago Press.
Gregory, N. (1964). ''Shame.'' Nigger: An autobiography. Washington: Washington Square Press Publication.
Hinkel, E. (2001). Building awareness and practical skills to facilitate cross–cultural communication. In M. C. Murcia (Ed).Teaching English as a second or foreign language (3rd Ed.) (pp. 443–358). Boston: Heinle, Cengage Learning.
Hymes, D. (1974). Foundations in sociolinguistics: An ethnographic approach. Philadelphia: University of Pennsylvania Press.
Hymes, D. (1996). Ethnography, Linguistics, Narrative Inequality. Bristol, PA: Taylor and Francis.
Kottak, C. (2007). Windows on humanity. A concise introduction to cultural anthropology. New York: McGraw Hill.
Kubota, R. (2004). Critical multiculturalism and second language education. In B. Norton & K. Toohey (Eds.), Critical pedagogies and language learning (pp. 30–52). Cambridge: Cambridge University Press.
Kumaravadivelo.B. (2001).Toward a postmethod pedagogy. TESOL Quarterly, 35(4), 537–560.
Macrae, C. N., Stangor, C., & Hewstone, M. (1996). Stereotypes and stereotyping. New York: The Guilford Press.
Marshall, C. & Gretchen, R. (2006). Designing qualitative research (4th ed.).London: SAGE Publications.
McKay, S. (2001). Literature as content for ESL/EFL. In M. Murcia (Ed.), Teaching Englishes a Second/Foreign Language (pp. 319–331). Boston, MA: Heinle & Heinle.
Olaya, A. & Gómez Rodríguez, L. F. (2013). Exploring EFL pre–service teachers' experience with cultural content and intercultural communicative competence at three Colombian universities. Profile Journal, 15(2), 49–67.
Patton, M. (2002).Qualitative research and evaluation methods (3rd ed.).California: Sage Publications, Inc.
Pennycook, A. (1999). Introduction: Critical approaches to TESOL. TESOL Quarterly,33(3), 229–348.
Prieto, F. (1998). Cultura y comunicación. México: Ediciones Coyoacán.
Silko, L.M. (s. f.) ''Lullaby.'' In B. Ballenger, The curious writer, concise edition. (pp. 8–15). Pearson Logman. Retrieved from http://www.warrenhills.org/cms/lib/NJ01001092/Centricity/Domain/314/Ball7810_ch08.pdf
Spencer–Oatey, H. (2008). Culturally speaking culture: communication and politeness theory. London: Continuum International Publishing Group.
Trujillo Sáenz, F. (2002).Towards interculturality through language teaching: argumentative discourse. Cauce, revista de filología y su didáctica, 25, 103–119.
Valcárcel, E. (2008). Grandma's Wake. In Wagenheim, Kal (Ed), Stories from Puerto Rico: Twelve short stories by six of Puerto Rico's most distinguished writers (pp. 159–168). New Jersey: Markus Wiener Publishers Books.
Zafeiriadou, N. (2011). On literature in the EFL classroom. Developing Teachers.com: A Website for the Developing Language Teacher, 1–4. Retrieved from http://www.alsaha.co.il/vb/showthread.php?t=10073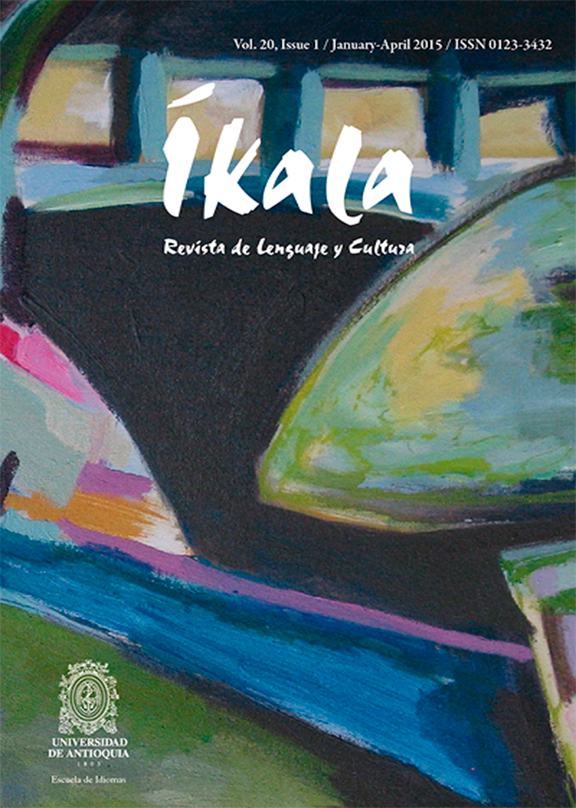 How to Cite
Gómez Rodríguez, L. F. (2015). Aprendizaje Intercultural Crítico mediante Temas de la Cultura Profunda en la Clase de Inglés. Íkala, Revista De Lenguaje Y Cultura, 20(1), 43–59. https://doi.org/10.17533/udea.ikala.v20n1a03
Section
Empirical Studies