Criticism of philosophical translation: the case of Jacques J. Derrida
Keywords:
philosophical translation criticism, deconstructive criticism, terminology.
Abstract
This article discusses philosophical translation criticism based on the Derridian texts. Firstly, I review some of the critiques made by J. Derrida on the French translation of Plato's Phaedrus. Some of the problems raised there allow me to demonstrate the polysemous textual fabric of philosophy and define the notion of deconstructive criticism. The second part presents some of the characteristics of philosophical translation from terminology's point of view and analyzes the Spanish and French retranslations of the Hegelian concept Aufhebung. Finally, in the third part I attempt to show that Derridian texts require a sort of criticism borrowing both from A. Berman's and H. Meschonnic's translation criticism projects.
Received: 26-11-2007 / Accepted: 08-07-2008
How to reference this article:
Castro Ramirez, N. (2008). La crítica de traducción filosófica: el caso de Jacques J. Derrida. Íkala. 13(2), pp.15-28.
|Abstract = 50 veces | PDF = 26 veces|
Downloads
Download data is not yet available.
References
Berman, A. (1995). Pour une critique des traductions: John Donne. Paris: Gallimard.
Brownlie, S. (2002). La traduction de la terminologie philosophique, Meta, 48 (3), 295-310.
Carreres, A. (2005). Cruzando límites. La retórica de la traducción en Jacques Derrida. Bern: Peter Lang.
Derrida, J. (1962). Introduction. En E. Husserl, L'origine de la géometrie. Paris: PUF.
Derrida, J. (2000). Introducción a El origen de la geometría de E. Husserl. Buenos Aires: Manantial.
Derrida, J. (1968). La différance. Bulletin de la société française de philosophie, jul.-sep.
Derrida, J. (1971). La différance. Trad. Salvador Oliva, Narcís Comadira y Dolors Oller. En Teoría de conjunto. Barcelona: Seix Barral.
Derrida, J. (1972a). La dissémination. Paris: Seuil.
Derrida, J. (1972b). Marges de la philosophie. Paris : Minuit.
Derrida, J. (1975). La diseminación. Madrid: Fundamentos.
Derrida, J. (1998). Psyché. Paris: Galilée.
Derrida, J. (2001). La deconstrucción en las fronteras de la filosofía. Traducción e introducción Patricio Peñalver. Barcelona: Paidós.
Derrida, J. (1999). Qu'est-ce qu'une traduction relevante? En Quinzièmes assises de la traduction littéraire (pp. 19-48). Arles: Actes Sud.
Derrida, J. (2003, [1989]). Márgenes de la filosofía. Madrid: Cátedra.
Ferrater Mora, J. (1975). Diccionario de filosofía. 5.ª ed., t. 1. Buenos Aires: Sudamérica.
Hegel, G. W. F. (1968). Ciencia de la lógica. Trad. Augusta y Rodolfo Mondolfo. Buenos Aires: Librería Hachette, Ed. Solar.
Johnson, B. (1981). Translator's introduction. En J. Derrida, Dissemination (pp. vii-xxxiii). Chicago: University of Chicago Press.
Lewis, P. (1985). The measure of translation effects. En J. Graham, Difference in Translation (pp. 31-62). New York: Cornell University Press.
Meschonnic, H. (1999). Poétique du traduire. Lagrasse: Verdier.
Peñalver, P. (2005), Polémicas y contextos de recepción. Recuperado septiembre 7 de 2007, de http://www.jacquesderrida.com.ar/comentarios/derrida_contextos.htm.
Pérez Soto, C. et al. (2002). Libro 2: La doctrina de la esencia. Geocities. Recuperado octubre 22 de 2007, http://www.geocities.com/horror_misfits/Hegel_ciencia_logica.doc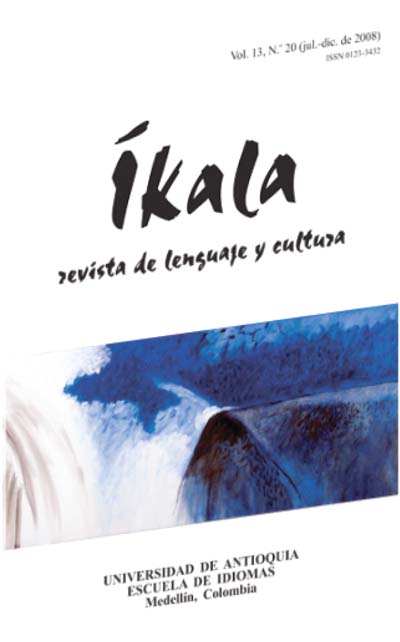 Downloads
How to Cite
Castro Ramírez, N. (2008). Criticism of philosophical translation: the case of Jacques J. Derrida. Íkala, Revista De Lenguaje Y Cultura, 13(2), 15–28. Retrieved from https://revistas.udea.edu.co/index.php/ikala/article/view/2670