Standards-Based Content Resources: A Prerequisite for Content Inte-gration and Content Interoperability
Keywords:
international standards, content repositories, standardized structured content, standardized data models, content integration and intero­perability, verification, validation, certification, eAccessibility, eInclusion.
Abstract
The purpose of this article is to show how standards-based approaches for content standardization, content management, content related services and tools as well as the respective certification systems not only guarantee relia­ble content integration and content interoperability, but also are of particular benefit to people with special needs in eAccessibility/eInclusion. The method was to document MoU/MG/05 N0221 "Semantic Interoperability and the need for a coherent policy for a framework of distributed, possibly federated repositories for all kinds of content items on a world-wide scale", which was adopted in 2005, was a first step towards the formulation of global interope­rability requirements for structured content. These requirements -based on advanced terminological principles- were taken up in EU-projects such as IN-SAFETY (INfrastructure and SAFETY) and OASIS (Open Architecture for Accessible Services Integration and Standardization). The results found were: Content integration and content interoperability are key concepts in connection with the emergence of state-of-the-art distributed and federated databases/repositories of structured content. Given the fact that linguistic content items are increasingly combined with or embedded in non-linguistic content items (and vice versa), a systemic and generic approach to data mo­deling and content management has become the order of the day. Fulfilling the requirements of capability for multilinguality and multimodality, based on open standards makes software and database design fit for eAccessibili­ty/eInclusion from the outset. It also makes structured content capable for global content integration and content interoperability, because it enhances its potential for being re-used and re-purposed in totally different eApplica­tions. Such content as well as the methods, tools and services applied can be subject to new kinds of certification schemes which also should be based on standards. Taking everything into account content must be totally reliable in some applications, e.g. in eAccessibility/ eInclusion. New methods and tools for certification, verification and validation are largely facilitated by standards-based data-models and standardized content, which will have an impact on future ICT-related standards in general. While thus increasing the reliability of data, risk of all sorts and liability will be reduced.
Received: 20-03-10 / Accepted: 20-04-10
How to reference this article:
Galinski, C. (2010). Standards-based Content Resources: A Prerequisite for Content Integration and Content Interoperability. Íkala, 15(2), pp.143-157. 
|Abstract = 29 veces | PDF = 16 veces|
Downloads
Download data is not yet available.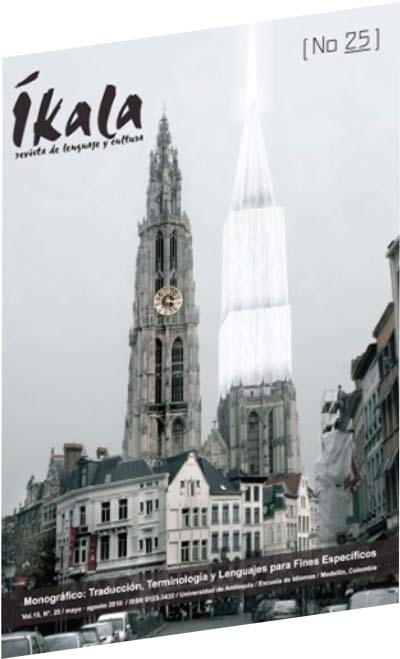 Downloads
How to Cite
Galinski, C. (2010). Standards-Based Content Resources: A Prerequisite for Content Inte-gration and Content Interoperability. Íkala, Revista De Lenguaje Y Cultura, 15(2), 143–157. Retrieved from https://revistas.udea.edu.co/index.php/ikala/article/view/6923