Exploring Possibilities for Alternative Assessment in Foreign Language Learning.
Keywords:
foreign language learning, alternative assesment, formative evaluation, self-assesment
Abstract
How to reference this article:
Cardenas Ramos, R. (1997). Exploring Possibilities for Alternative Assessment in Foreign Language Learning. Íkala, Revista de Lenguaje y Cultura, 2, (1-2). 57-73.
|Abstract = 71 veces | PDF = 54 veces|
Downloads
Download data is not yet available.
References
BREWSTER, J., G. Ellis and D. Gilord (1991). The Primary English Teacher's Guide.
London: Penguin Books.
CÁRDENAS. R. (1992). "Self-assessment in Foreign Language Learning: Does it
Work Paper presented at the XXVII National ASOCOPI Congress. University of
Valle. Cali. October 30ttl • November 1st.
CÁRDENAS, R. (1989). Evaluating the School at Modern Languages of the Faculty of Education at the University of Caldas. Evaluation Project. Reading, England: University of Reading. Unpublished.
ESTÉVEZ. C. (1996). Evaluación Integral por Procesos. Santafé de Bogotá:
Cooperativa Editorial del Magisterio.
GENESEE. F. and E. V. Hamayan "Classroom•based assessment In: Genesee. F.
(ed) (1994). Educating second Language Children. New York: Cambridge Universally
Press. Ch. 9
INDIRISANO, R. (1990). "On Informal Assessment" In: World at Language.
Morristown. NJ: Silver Burdett & Ginn.
JASMINE. J. (1992). Portfolio Assessment tor your Whole Language Classroom.
Huntington Beach. CA: teacher Created Materials, lnc.
L J. (1990). "Evaluation of Language Arts for Whole Language". Blackport central School.
MCCORMICK. R. and M. JAMES (1985). Curriculum Evaluation In Schools. London: Croom Helm.
MINISTERIO DE EDUCACIÓN NACIONAL (1995). Seminario -Taller sobre estrategias metodológicas y evotuocl6n de procesos: Ciclo de primaria. Santiago de Cali, noviembre.
PROVENZANO. J. z. (ed). Promising Practices. A Teacher Resource. Grades 4-6. Rosstyn. VA: National Clearinghouse for Bilingual Education.
REA-DICKINS, P. and K. Germaine (1992). Evaluation. Oxford: Oxford University
Press.
SCRlVEN. M. "The Methodology of Evaluation•. In: Tyler, Gagne and Scriven
(1967) Perspective of Curriculum Evaluation. Chicago: Rand & McNally & Co.
THE BOARD OF EDUCATION FOR THE CITY OF NORTH YORK (eds.) 198-. Look!
Hear! Developing Programs for Primary Children Based on Observation of Learning
Needs. WllloWdale. Ontario: Curriculum and Staff Development Services.
VANDEVELDE. L. (1986). Pédagogie. Education de Produits d'Apprentissage
Scolaire. Bruxelles: Université Libre de Bruxelles.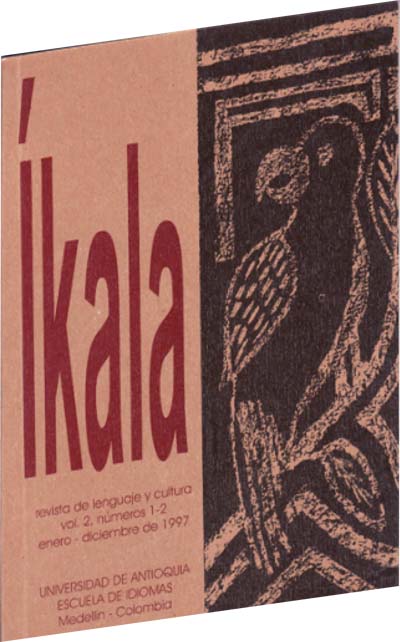 Downloads
How to Cite
Cárdenas Ramos, R. (1997). Exploring Possibilities for Alternative Assessment in Foreign Language Learning. Íkala, Revista De Lenguaje Y Cultura, 2(1-2), 57–73. https://doi.org/10.17533/udea.ikala.8044