general analysis of the translation of Manuel Puig's Heartbreak Tango to German
Keywords:
translation, translation procedures, translation into German, Manuel Puig, Boquitas pintadas, translation studies criticism
Abstract
The purpose of this paper is to compare the German translation of the novel Heartbreak Tango (1969) with its original in Spanish, in order to analyze the methods and procedures used by translator Adelheid Hanke-Schaefer. For purposes of extension, the passages of the novel under consideration were only those ones that were deemed to serve as an example and framework to detect, as far as possible, the challenges, doubts and other inconsistencies, often inevitable that may have emerged in the German version. In turn, this process
is a pretext to ponder upon translation in general.
|Abstract = 260 veces | PDF = 151 veces| | HTML = 41 veces|
Downloads
Download data is not yet available.
References
Amícola, José (2000). Manuel Puig y la narración infinita. En Noé Jitrik (Dir. de la obra) y Elsa Drucaroff (Dir. del volumen), Historia crítica de la literatura argentina. Vol. 11. La narración gana la partida. Buenos Aires: Emecé.
Cabrera, Delfina (2015). La traducción de la voz. Una lectura de Maldición eterna a quien lea estas páginas de Manuel Puig. Orbis Tertius, 20(21), 1.
Dos Santos Menezes, Andreia (2006). Sangue de amor correspondido x Sangre de amor correspondido. Análise de um caso emblemático de contato entre o PB e o E. (Tesis de posgraduación en Lengua espanola y litera San Pablo. Recuperado el 29 de diciembre de 2015, de http://dlm.fflch.usp.br/espanhol/93.
García Yebra, Valentín (1994). Traducción: historia y teoría. Madrid: Gredos.
Hurtado, Amparo (2001). Traducción y traductología: introducción a la traductología. Madrid: Cátedra.
Jill Levine, Suzanne (2000). Manuel Puig and the Spider Woman: His Life and Fictions. Londres: Faber&Faber.
Jill Levine, Suzanne (2012). Manuel Puig: Edipo ronda la Pampa. Cuadernos de Literatura, 16(31), 48-64.
Koller, Werner (2011). Einführung in die Übersetzungswissenschaft. Tübingen: A. Francke Verlag.
Logie, Ilse, y Romero, Julia (2008). Extranjeridad: lengua y traducción en la obra de Manuel
Puig. Revista Iberoamericana, LXXIV, (222), 1-20.
Puig, Manuel (1976). Boquitas pintadas. Barcelona: Seix Barral.
Puig, Manuel (1978). Der schönste Tango der Welt: ein Fortsetzungsroman. Dt. von Adelheid Hanke-Schaefer. Frankfurt am Main: Suhrkamp.
Stra, Sebastián Matías (2015). Boquitas pintadas, de Manuel Puig: una trama de relaciones en el escenario de conformaciones mediáticas. La trama de la comunicación, 19, 197-215.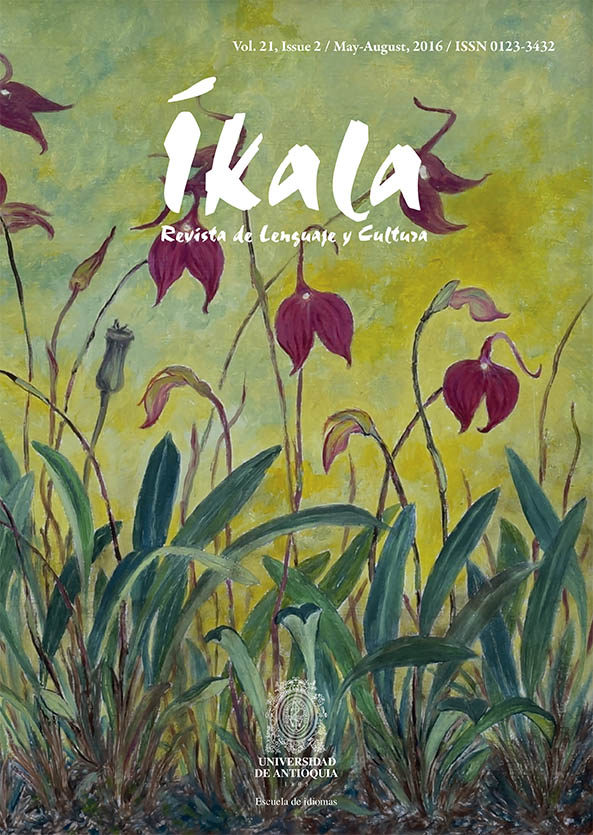 How to Cite
Quintero, A. F. (2016). general analysis of the translation of Manuel Puig's Heartbreak Tango to German. Íkala, Revista De Lenguaje Y Cultura, 21(2), 203–213. https://doi.org/10.17533/udea.ikala.v21n02a06
Section
Theoretical Articles