For a history of translation in Spanish America
Keywords:
translating, history, Hispanic America, translators
Abstract
In this article a general panorama of the history of translation in Hispanic America is presented, from the time of the Conquest to the present day. With this aim in mind, four historical periods have been identified, within which insight into the people, documents and events that illustrate the state of translating in each era, is given. This article, that only attempts to sketch a history still to write, is an invitation to study the translating patrimony of the region, which is, undoubtedly, much richer than has been previously reported.
Received: 23-04-03 / Accepted: 10-06-03.
How to reference this article:
Bastin, G. (2003). Por una historia de la traducción en Hispanoamérica. Íkala. 8(1), pp. 193 – 217
|Abstract = 94 veces | PDF = 874 veces|
Downloads
Download data is not yet available.
References
Arnaud, Vincent, 1950, "Los intérpretes en el descubrimiento, la conquista y la colonización en el Río de la Plata", Buenos Aires, no publicado.
Arencibia, Lourdes, 1993, "Apuntes para una historia de la traducción en Cuba", Livius, Revista de estudios de traducción, (3), pp. 1-17.
__________, 2000, El traductor Martí, Pinar del Río, Cuba, Ediciones hermanos Loynaz.
Bastin, Georges L., 1998, "Latin American Tradition", en: Routledge Encyclopedia of Translation Studies, London, Routledge, pp. 505-512.
__________, en imprenta, "La historia como cañón de futuro", Actas del Ier Congreso Internacional de Traductores e Intérpretes, Lima, UNIFE.
__________, en imprenta, "Traducción y Emancipación", Actas del IVº Congreso Internacional de Traducción e Interpretación, Buenos Aires, CTPCBA.
__________, en imprenta, "Traducción y emancipación: el caso de la Carmañola", Boletín de la Academia Nacional de Historia, Venezuela. Bastin, Georges y Adriana Díaz, en imprenta, "Las tribulaciones de la Carmañola (y la Marsellesa) en América Latina", TRANS, Málaga, Espagne. Bastin, Georges y Elvia R. Castrillón, en imprenta, "La Carta dirigida a los españoles americanos, una carta que recorrió muchos caminos…", HERMENEUS, Valladolid, Espagne.
Borges, Jorge Luis, 1932, Discusión, Buenos Aires, Gleizer. [Publicado originalmente en La Prensa, Buenos Aires, 8 de mayo de 1932].
_________, 1971, Historia de la eternidad, Madrid, Alianza Editorial.
Cabrera P., Ileana, 1993, "El aporte de la traducción al proceso de desarrollo de la cultura chilena en el siglo XIX", Livius, Revista de estudios de traducción, (3), pp. 51-63.
Calvo, Julio, 2002, "Traducción de las lenguas, traducción de las culturas en la América Andina", Revista de la Facultad de Lenguas Modernas, (5), Universidad Ricardo Palma, pp. 107-124.
Delisle, Jean y Judith Woodsworth, eds., 1995, Les traducteurs dans l'histoire, Ottawa, Les presses de l'université d'Ottawa.
Díaz Del Castillo, Bernal, 1986, Historia verdadera de la conquista de la Nueva España, Madrid, Editorial Espasa-Calpe.
Fossa, Lydia, 1992, "Los 'lenguas': interpretación consecutiva en el siglo XV", Boletín Asociación de traductores egresados de la Universidad Ricardo Palma, Lima, 4, sept.
__________, 2000, "Los primeros intérpretes de los evangelizadores o el riesgo de poner la palabra de Dios en boca de los nativos", LASA (Latin American Studies Association), Miami, marzo 16-18.
Fundación POLAR, 1988, Diccionario de Historia de Venezuela, 3 tomos.
Gargatagli, Ana, 1992, "La traducción de América". Ponencia presentada en el Primer Congrès Internacional sobre Traducción, Universitat Autónoma de Barcelona.
Grases, Pedro, 1981, "Traducciones de interés político-cultural en la época de la Independencia de Venezuela", en: Instituciones y nombres del siglo XIX, Obras 6, Caracas, Editorial Seix Barral, pp. 135-155.
Herren, Ricardo, 1991, Los indios caraspálidas, Barcelona, Planeta. Karttunen, Frances, 1994, Between worlds: Interpreters, guides, and survivors, New Brunswick, New Jersey, Rutgers University Press.
Kristal, Efraín, 2002, Invisible Work: Borges and Translation, Nashville, Tennessee, Vanderbilt University Press.
Leal, Idelfonso, 1979, Libros y bibliotecas en Venezuela colonial "1633-1767", Caracas, UCV, Ediciones de la Facultad de Humanidades y Educación.
Madariaga, Salvador de, 1992, Vida del muy Magnífico Señor Don Cristó- bal Colón, México, Hermes.
Orozco, Wilson, 2000, "La traducción en el siglo XIX en Colombia", Íkala, revista de lenguaje y cultura, 5 (9-10), Medellín, Universidad de Antioquia, Escuela de Idiomas, pp. 73-88.
Richardson, Letizia, 1998, "La traducción en el Correo del Orinoco (1818- 1820)", Trabajo de grado de Licenciatura en Traducción. Universidad Central de Venezuela, Facultad de Humanidades y Educación, Escuela de idiomas Modernos, Caracas, julio.
Rosenblat, Ángel, 1984, "Los conquistadores y su lengua", Biblioteca Ángel Rosenblat, Tomo III: Estudio sobre el español de América, Caracas, Monte Ávila Editores, pp. 1-122.
Santoyo, Julio César, 1987, Traducción, traducciones, traductores: ensayo de bibliografía española, España, Universidad de León.
Solano, Francisco de, 1991, V Centenario del descubrimiento de América, Documentos sobre política lingüística en Hispanoamérica 1942-1800, Madrid, Consejo Superior de Investigaciones Científicas, Centro de Estudios Históricos, Departamento de Historia de América.
Valero, Alejandra, 2001, "Andrés Bello traductor. Aproximación a la obra traductológica de Andrés Bello", Núcleo, (18), Universidad Central de Venezuela Escuela de Idiomas Modernos, pp.181-202.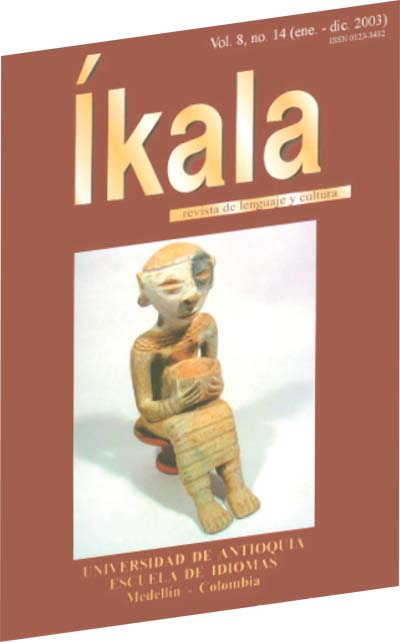 Downloads
How to Cite
Bastin, G. (2003). For a history of translation in Spanish America. Íkala, Revista De Lenguaje Y Cultura, 8(1), 193–217. https://doi.org/10.17533/udea.ikala.3185