Enhancing Pre-K Teachers' Personal and Professional Transformation by Articulating Two University Extension Approaches: A Reflection
Keywords:
Pre-K Teachers' Professional Development Programme, redefining teaching, English communicative dimension, didactic and pedagogical considerations, perception
Abstract
University extension has been expected to fill the existing gap between academia and society in order to improve universities and contribute to societal development. Different types of interventions have been sought, professional development programmes being an example. However, professional development programmes intended for pre-K teachers have been significantly scarce in the field of in-service teacher education in Medellín, Antioquia. This paper reflects on a pedagogical experience through a professional development programme resulting from a joint effort between Universidad Católica Luis Amigó, a local private company, and a local government office. The Pre-K English Teacher Professional Development Programme (in Spanish, Programa de Desarrollo Profesional Docente: Pre-K English) is aimed at (re)defining teaching strategies and developing the communicative dimension of English in a group of about 425 pre-K teachers and librarians from different local public schools across the city and in its surrounding rural areas. Such didactic transformation and language development contributed to the English language being introduced gradually and naturally in the pre-K setting; however, the programme's inner dynamic and pedagogical interests proved not to be in alignment with the interests and expectations of the University extension division, enterprise, or local government office.
|Abstract = 135 veces | PDF = 136 veces| | HTML = 8 veces|
Downloads
Download data is not yet available.
References
Alcaldía de Medellín & Secretaría de Educación de Medellín. (2014). El Plan de Estudios de la Educación Preescolar. Recuperado de https://www.master2000.net/recursos/fotos/98/2_Educacion_prescolar.pdf
Brown, J. S., Collins, A., & Duguid, P. (1989). Situated cognition and the culture of learning. Educational Researcher, 18 (1), 32-42
Brown, D.H. (2007). Teaching by principles: An interactive approach to language pedagogy. Nueva Jersey, Estados Unidos: Prentice Hall.
Bruner, J. S. (1961). The act of discovery. Harvard Educational Review 31 (1), pp 21–32. Congreso de la República de Colombia. (1994). Ley General de Educación. Sección Segunda: Educación Preescolar. Recuperado de http://www.mineducacion.gov.co/1621/articles-85906_archivo_pdf.pdf
Congreso de la República de Colombia. (2013). Ley de Bilingüismo. Recuperado de http://wsp.presidencia.gov.co/Normativa/Leyes/Documents/2013/LEY%201651%20DEL%2012%20DE%20JULIO%20DE%202013.pdf
Doblas, R. & Montes, M. (2009). El diseño de las rutinas diarias. Revista Digital Innovación y experiencias educativas, 16. Pp. 1-8 Recuperado de http://www.csi-csif.es/andalucia/modules/mod_ense/revista/pdf/Numero_16/VARIOS_RUTINAS_1.pdf
González, G. R. & González, M. (2003). Universidad, sociedad y extensión universitaria: apuntes para un análisis. In: http://www.sappiens.com/castellano/articulos.nsf/Educadores/Universidad,_Sociedad_y_extensi%C3%B3n_universitaria:_apuntes_para_un_an%C3%A1lisis./1441CF5BE17A6CC5C1256DD30047B14B!opendocument
Kumaravadivelu, B. (2003). Beyond Methods: Macrostrategies for Language Teaching. New Haven y Londres: Yale University Press.
Lave, J., & Wenger, E. (1990). Situated Learning: Legitimate Periperal Participation. Cambridge, UK: Cambridge University Press.
Maturana Patarroyo, L. (2013). Los Actos de Enseñanza como Dinamizadores de la Formación de Intelectuales Transformativos. Maestría en Educación. Tecnológico de Monterrey.
Marcelo, C. & Vaillant, D. (2009). Desarrollo Profesional Docente. ¿Cómo se aprende a enseñar? Madrid: Narcea, S.A. de Ediciones.
Mieles-Barrera, M., Henríquez-Linero, I. & Sánchez-Castellón, L. (2009). Identidad personal y profesional de los docentes de preescolar en el distrito de Santa Marta. En: Educación y Educadores, 12, 43-59. Recuperado de: http://www.redalyc.org/articulo.oa?id=83411512005
Ministerio de Educación Nacional de Colombia. (2016). Pedagogical Principles and Guidelines. Recuperado de:
http://aprende.colombiaaprende.edu.co/sites/default/files/naspublic/Anexo%2015%20Pedagogical%20Principles%20and%20Guidelines.pdf
Ministerio de Educacion Nacional (1997). Decreto 2247. Recuperado de http://www.mineducacion.gov.co/1621/articles-104840_archivo_pdf.pdf
Ministerio de Educación Nacional. (1998). Serie lineamientos curriculares: Preescolar.
Ministerio de Educación Nacional. (2014). Sentido de la educación inicial. Serie de orientaciones pedagógicas para la educación inicial en el marco de la atención integral. DOCUMENTO NO. 20.
Perrenoud, P. (2004). Diez Nuevas Competencias para Enseñar. Querétaro-México: Quebecor World, Gráficas Monte Albán.
Programa de Desarrollo Profesional Docente: Pre-K English (2015). Sistematización del Programa. Medellín: Universidad Católica Luis Amigó.
Quintero Arrubla, S. & Maturana Patarroyo, L. (2015). Programa de Desarrollo Profesional Docente: Pre-K English. Propuesta Técnico Académica. Medellín: Universidad Católica Luis Amigó.
Roberts, L. and Ajai-Ajagbe, P. (2013). Higher education and the Millennium Development Goals: where are we coming from, and where are we going? London: The Association of Commonwealth Universities.
Román, E., Garcia, F. & Licea, J. (2016). La Extensión Universitaria en México y Argentina, dos estudios de caso. ESPAMCIENCIA, 7 (2), pp. 167-176. Recuperado de: http://investigacion.espam.edu.ec/index.php/Revista/article/view/239/181
Serna, G. (2004). Modelos de extensión universitaria en México. En: Revista de la Educación Superior, XXXIII (3), 131.
Serna, G. (2007). Misión social y modelos de extensión universitaria: del entusiasmo al desdén. En: Revista Iberoamericana de Educación, 43, 3-25.
Spagnola, M. & Fiese, B. (2007). Family routines and rituals: A context for development in the lives of young children. Wolters Kluwer Health, (20), 4, Pp. 284-299 doi: 10.1097/01.IYC.0000290352.32170.5ª
Tünnermann, C. (2000). El nuevo concepto de la extensión universitaria y difusión cultural y su relación con las políticas de desarrollo cultural en América Latina. En: Anuario de Estudios Centroamericanos, 4: 93-126.
Unesco (1998). Declaración mundial sobre la educación superior en el siglo XXI: visión y acción. En: Conferencia Mundial sobre Educación Superior. París, Francia. En http://unesdoc.unesco.org/images/0011/001163/116345s.pdf
Unesco (2010). Education and the Millennium Development Goals. In http://www.unesco.org/new/en/education/themes/leading-the-international-agenda/education-for-all/education-and-the-mdgs/
Vallaeys, F. (2008). ¿Qué es la responsabilidad social universitaria? Nuevo León, México. In: www. cedus. cl.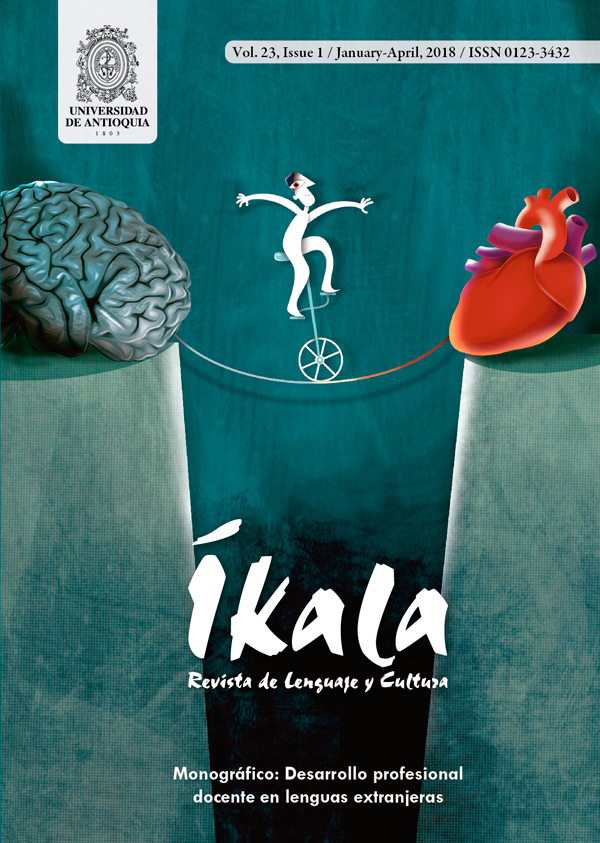 How to Cite
Maturana Patarroyo, L. M., & Uribe Hoyos, C. M. (2018). Enhancing Pre-K Teachers' Personal and Professional Transformation by Articulating Two University Extension Approaches: A Reflection. Íkala, Revista De Lenguaje Y Cultura, 23(1), 161–176. https://doi.org/10.17533/udea.ikala.v23n01a11
Section
Pedagogical experience