Multimodal Discursive Construction of Inclusive Education by the Two Most Voted Presidential Candidates in the Chilean Elections of 2017
Patricia Baeza Duffy

Pontificia Universidad Católica de Valparaíso

Liliana Vásquez-Rocca

Universidad Andrés Bello

https://orcid.org/0000-0002-2445-3253

Dominique Manghi H.

Pontificia Universidad Católica de Valparaíso
Keywords:
critical discourse, multimodal discourse, political discourse, inclusive education, presidential candidates
Abstract
This paper aims to characterize the discursive construction of two Chilean presidential candidates of 2017 on education, from an intersubjective, multimodal and critical perspective, which integrates the multimodal discourse analysis, the appraisal model, and the critical discourse studies. The methodology is qualitative. The corpus is made up of the programs and television networks of the two Chilean presidential candidates. The analysis was developed in two stages, one descriptive and the other interpretive-integrative. After the analysis, the results showed that the construction of meanings is carried out through intersemiotic evaluative prosodies, in which predominate appreciations, and to a lesser extent, judgments and affects. These evaluative prosodies shape strategies of legitimization and delegitimization: discredit and concealment in Piñera and alignment in Guillier. In this way, Piñera perpetuates the status quo of market logic in education, while Guillier uses the macro-strategy of transforming that status quo. The use of perpetuation macrostrategies by Piñera, has had profound social implications in Chilean society since the discursive construction of the aforementioned politician responds to a neoliberal model that is characterized by the application of the principles that come from private companies that enter in tension with inclusive education as they encourage selection and segregation rather than inclusion.
|Abstract = 197 veces | PDF (ESPAÑOL (ESPAÑA)) = 172 veces|
Downloads
Download data is not yet available.
References
Abdeljalil, A. & Thibaut, L. (2015). The Education Policies of International Organizations: Specific Differences and Convergences. Prospects: Quaterly Review of Comparative Education, XLV(45), 141-157.
Achugar, M. (2011). Aproximaciones discursivas a la transmisión del pasado reciente: síntesis cualitativa. En T. Oteíza & D. Pinto (Eds.), (Re)construcción: discurso, identidad y nación en los manuales escolares de historia y de ciencias sociales (pp. 43-48). Santiago: Cuarto propio.
Angouri, J (2010). Quantitative, qualitative or both? Combining methods in linguistic research. En N. Edley & L. Litosseliti (Eds.), Contemplating interviews and focus groups, (pp. 29-48). Londres: Continuum.
Autor1 (2017). Construcción de memorias que compiten sobre el pasado chileno reciente por adultos que vivieron ese período en Chile o en el exilio. Discurso & Sociedad, 11(3), 433-457.
Autor1 (2011). Reconstrucción de la memoria en Villa Grimaldi: Análisis multimodal de un centro chileno de detención y tortura. Discurso & Sociedad, 8(1), 57-82.
Bednarek, M. (2009). Language patterns and ATTITUDE. Functions of Language, 16(2), 165-192.
Benke, G. & Wodak, R. (2003). The Discursive Construction of Individual Memorias. How Austrian 'Wehrmacht's soldiers remember WWII. En J.R. Martin & R. Wodak (Eds.), Re/Reading the Past. Critical and Functional Perspectives on Time and Value (pp. 115-138). Amsterdam: Benjamins.
Beyer, H., Eyzaguirre, S., Figueroa, N., Hernando, A., Gallego, F. & Ochoa, F. (2016). Consideraciones para el nuevo sistema de postulación y admisión a establecimientos educacionales en Chile. Revista de Políticas Públicas, 11(89), 3-19.
Bourdieu, P. (1994). Language and Symbolic Power. Cambridge: Polity Press.
Castro, R. (2017). Revisión y Análisis Documental para Estado del Arte: Imaginarios Sociales sobre Inclusión Educativa. Revista Latinoamericana de Educación Inclusiva, 11(1), 183-297.
Charaudeau, P. (2005), El discurso mediático. Legitimidad, credibilidad y captación. En A. Harvey (Comp.), En torno al discurso, (pp. 311-316). Santiago de Chile: Ediciones Universidad Católica de Chile.
Coffin, C. & O'Halloran, K. (2006). The Role of Appraisal and Corpora in Detecting Covert Evaluation. Functions of Language, 13(1), 77-100.
Consejo Nacional de Televisión. (2017). La valoración de las audiencias de la franja electoral. Santiago de Chile: Consejo Nacional de Televisión.
De Cillia, R., Reisigl, M. & Wodak, R. (1999). The Discoursive Construction of National Identities. Discourse & Society, 10(2), 149-173.
Denzin, N. & Lincoln, Y. (Coord.) (2012). Manual de Investigación Cualitativa. Barcelona: Gedisa.
Economou, D. (2009). Photos in the News: Appraisal Analysis of Visual Semiosis and Verbal-Visual Interseiosis. Tesis de Doctorado. Sydney: University of Sydney (Australia).
Economou, D. (2014). Telling a Different Story. Stance in Verbal-Visual Displays in the News. En E. Djonov & S. Zhao, Critical Multimodal Studies of Popular Discourse (pp. 181-201). New York & Londres: Routledge.
Eyzaguirre, S. (2016), Tres factores claves para desmunicipalizar la educación pública. Puntos de referencias, 430, 1-16.
Fairclough, N. (2010), Critical Discourse Analysis: The Critical Study of Language. Londres: Routledge.
Fairclough, N.(1989), Language and Power. Londres: Routledge.
Fonte, I. & Williamson, R. (2011). Hacia una redefinición de la deixis personal en el español oral: un estudio conversacional. En L. Fant & A. Harvey (Eds.), El diálogo oral en el mundo hispanohablant, (pp. 67-94). Frankfurt y Madrid: Vervuert-Iberoamericana.
Foucault, M. (1993). Microfísica del Poder. Madrid: La Piqueta.
Gentili, P. (2001). Un zapato perdido. O cuando las miradas saben mirar. Cuadernos de Pedagogía, 308, 24-29.
Halliday, M. (1994). An introduction to functional grammar. Londres: Edward Arnold.
Halliday, M. & Matthiessen, C. (2004). An introduction to functional grammar. Londres: Hodder Arnold.
Hodge, R. & Kress, G. (1988). Social Semiotics. Cambridge: Polity.
Hood, S. (2010). Appraising Research: Evaluation in Academic Writing. Nueva York: Palgrave Macmillan.
Infante, M., Matus, C. & Vizcarra, R. (2011). Razonando sobre la idea de diferencia en las políticas educativas chilenas. Universum, 26(2), 143-163.
Infante, M. & Matus, C. (2009). Policies and practices on diversity: Reimagining possibilities for new discourses. Disability and Society, 24(4), 437-445.
Jewitt, C., Bezemer, J. & O'Halloran, K. (2016). Introducing Multimodality. Londres: Routledge.
Kress, G. & van Leeuwen, T. (2006). Reading images. The Grammar of Visual Design. Londres: Routledge.
Kress, G. & van Leeuwen, T. (2001). Multimodal Discourse - The Modes and Media of Contemporary Communication. Londres: Arnold.
Liu, Y. & O'Halloran, K. (2009). Intersemiotic Texture: Analyzing Cohesive Devices between Language and Images. Social Semiotics, 19(4), 367-380.
Autor2 (2013). Géneros en la enseñanza escolar: configuraciones de significado en clases de historia y biología desde una perspectiva multimodal. Revista Signos, 46(82), 236-247.
Autor2 & Haas, V. (2015). Uso de imágenes en clases de Ciencias Sociales y Ciencias Naturales: enseñando a través del potencial semiótico visual. Enunciación, 20(2), 248-260.
Martin, J. & White, P. (2005). The Language of Evaluation. Hampshire: Palgrave.
Mendizábal, N. (2009). Los componentes del diseño flexible en la investigación cualitativa. En I. Vasilachis (Coord.), Estrategias de investigación cualitativa (pp. 65-105). Buenos Aires: Gedisa.
Ministerio de Educación. (2016). Ley Nº 20.845 de Inclusión escolar. Recuperado de https://www.leychile.cl/Navegar?idNorma=1078172 (consulta: 10 de octubre de 2017).
Ministerio de Educación. (2005). Política Nacional de Educación Especial, Santiago de Chile: Chile.
O'Halloran, K. (2011). Multimodal Discourse Analysis. En K. Hyland & B. Smith (Eds.), Multimodal Studies: Exploring Issues and Domains, (pp. 120-137). Nueva York & Londres: Routledge.
O'Halloran, K. (2004). Multimodal Discourse Analysis: Systemic Functional Perspectives. Londres: Continnum.
Oteíza, T. & Pinuer, C. (2016). Des/legitimación de las memorias históricas: Valoración en discursos pedagógicos intermodales de enseñanza básica chilena. Revista Signos, 49(92), 377-402.
Oteíza, T. & Pinuer, C. (2013). Recontextualización diacrónica del pasado reciente chileno: desafíos para un análisis discursivo de la negociación de prosodias valorativa. En N. Pardo, D. García, T. Oteíza & M. Asqueta (Comp.), Estudios del discurso en América Latina. Homenaje a Anamaría Harvey, (pp. 727-749). Bogotá: ALED (Asociación Latinoamericana de Estudios del Discurso.
Oteíza, T. & Pinuer, C. (2012). Prosodia valorativa: construcción de eventos y procesos en el discurso de la historia. Discurso & Sociedad, 6(2), 418-446.
Plá, S. (2015), Debates contemporáneos sobre la inequidad y la exclusión educativa en América Latina. Sinéctica, 44, 1-19.
Slee, R. (2014). Discourses of inclusion and exclusion: darwing wider margins. Power and Education, 6(1), 7-17.
van Leeuwen, T. (2008). Discourse and Practice. New Tools for Critical Discourse Analysis. Oxford: University Press.
van Leeuwen, T. (2005). Introducing Social Semiotics. USA & Canada: Routledge.
Autor3. (2018). Desafíos para el desarrollo de una competencia multimodal disciplinar. El caso del género Informe De Política Monetaria (IPOM). Revista Signa, 27, 1095-1123.
Wittmann, E. (2008). Align, Don't Necessarily Follow. Educational Management Administration & Leadership, 36(1), 33-54.
White, P. (2003), Beyond modality and hedging: A dialogic view of the language of intersubjective stance. Text, 23(2), 259-284.
Wodak, R., de Cillia, R., Reisigl, M. & Liebhart, K. (2009). The Discoursive Construction of National Identity. Edinburgh: Edinburgh University Press.
Wodak, R. (2011). La historia en construcción/La construcción de la historia. La 'Wehrmacht alemana' en los recuerdos colectivos e individuales de Austria. Discurso & Sociedad, 5(1), 160-195.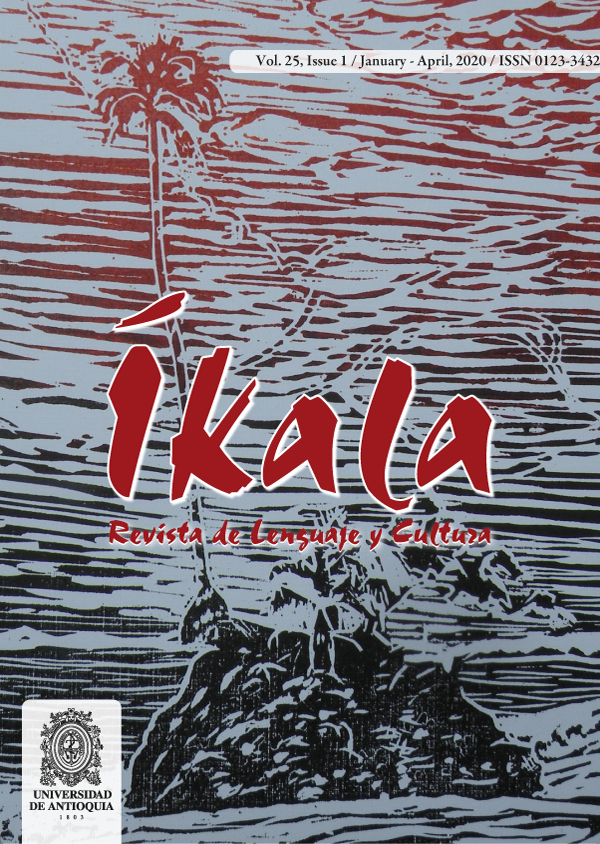 How to Cite
Baeza Duffy P., Vásquez-Rocca L., & Manghi H. D. (2020). Multimodal Discursive Construction of Inclusive Education by the Two Most Voted Presidential Candidates in the Chilean Elections of 2017. Íkala, 25(1), 93-112. https://doi.org/10.17533/udea.ikala.v25n01a07
Section
Empirical Studies
Copyright (c) 2020 Íkala, Revista de Lenguaje y Cultura
This work is licensed under a Creative Commons Attribution-NonCommercial-ShareAlike 4.0 International License.