Soledad Acosta de Samper and her role in translation in the 19th century Colombia
Keywords:
history of translation, Soledad Acosta de Samper, Paul Leroy-Beaulieu, traductology
Abstract
This is a reflection about the relationship between translation and the process of national formation in Colombia. The theories of Benedict Anderson and Gideon Toury, among others, serve as the general theoretical framework. There is an analisis of excerpts taken from translations done by 19th century Colombian translators. On secting is dedicated to the translation work done by Soledad Acosta de Samper on a French text written by Paul Leroy-Beaulieu about women´s jobs and education in France. The article closes exposing Acosta´s conclusions about her study of the French text and its relation with the situation of Colombian women in issues such as the State, family, education, and jobs.
Received: 02-12-03 / Accepted: 02-03-04
How to reference this article:
Aguirre Gaviria, B. E. (2004). Soledad Acosta de Samper y su papel en la traducción en Colombia en el siglo XIX. Íkala. 9(1), pp. 233 – 267 
|Abstract = 131 veces | PDF = 113 veces|
Downloads
Download data is not yet available.
References
Aguirre, Beatriz, "Translating / Building Woman in Colombia", Ponencia presentada en la Philosophy, Interpretation and Culture Conference, USA, Binghamton University, 2003.
Anderson, Benedict, 1993, Imagined Communities. Reflections on the Origin and Spread of Nationalism, Revised Edition, London, New York, Verso. Bastin, George, "Historia de la traducción en Hispanoamérica", Ikala, revista de lenguaje y cultura, 8, (14), Universidad de Antioquia, Escuela de Idiomas, en.-dic., pp. 193-217.
Boussingault, J. M. y Roulin, 1849, "Viajes científicos por los Andes ecuatoriales o colección de memorias sobre física, química e historia natural de la Nueva Granada, Ecuador y Venezuela", Semanario de la Nueva Granada, traducción de Joaquín Acosta, París, Lasserre.
Caro, Miguel Antonio, (1951), Versiones Latinas, Bogotá, Instituto Caro y Cuervo.
Craik, Dinah Mulock, 1858, A Woman´s Thoughts about Women, London, Hurst and Blackett, Limited.
Cuervo, Ángel y Rufino José, 1892, Vida de Rufino Cuervo y noticias de su época, París, A. Roger y F. Chernoviz.
Delisle, Jean, 2003, "La historia de la traducción: su importancia para la traductología y su enseñanza mediante un programa didáctico multimedia y multilingue", Ikala, revista de lenguaje y cultura, 8, (14), Universidad de Antioquia, Escuela de Idiomas, en.-dic., pp. 221-235.
García Maffla, Jaime y Rubén Sierra Mejía, 1999, Traductores de poesía en Colombia, Bogotá, Casa de Poesía Silva.
Heine, Heinrich, 1880, "Introducción a la traducción al alemán de El Quijote de Cervantes", traducción de Gustavo Bothe, (15), 5 de agosto de 1880, p. 113; (16), 12 de agosto de 1880, pp. 123-125.
Humboldt, A., 1942, "Geografía de las plantas o cuadro físico de los Andes equinocciales", traducción de Jorge Tadeo Lozano; Neo-Granadino, editor, Joaquín Acosta; director, Francisco José de Caldas, Bogotá, Editorial Kelly [original en francés: París, 1814].
La Mujer. Revista quincenal, redactada exclusivamente por señoras y señoritas, bajo la dirección de la señora Soledad Acosta de Samper, Bogotá, Imprenta de Silvestre y Compañía, 1878-1881.
Leroy-Beaulieu, Paul, 1888, Le Travail des femmes au 19e siècle, Paris, Charpentier et Cire, Libraries-Éditeurs.
Nietzsche, F., 1994, "La gaya ciencia", en: Miguel Ángel Vega, ed. y trad., Textos clásicos de la traducción, Madrid, Cátedra.
Ordóñez, Monserrat, 1998, Soledad Acosta de Samper, una nueva lectura, Bogotá, Ediciones Fondo Cultural Cafetero.
Orozco, Wilson, 2000, "La traducción en el siglo XIX en Colombia", Ikala, revista de lenguaje y cultura, 2 (9-10), Universidad de Antioquia, Escuela de Idiomas, en.-dic., pp. 73-88.
Steiner, George, 1992, Después de Babel. Aspectos del lenguaje y la traducción, México, Fondo de Cultura Económica.
Toury, Gideon, 1995, Descriptive Translation Studies and Beyond, Amsterdam and Philadelphia, John Benjamin Publishing Company.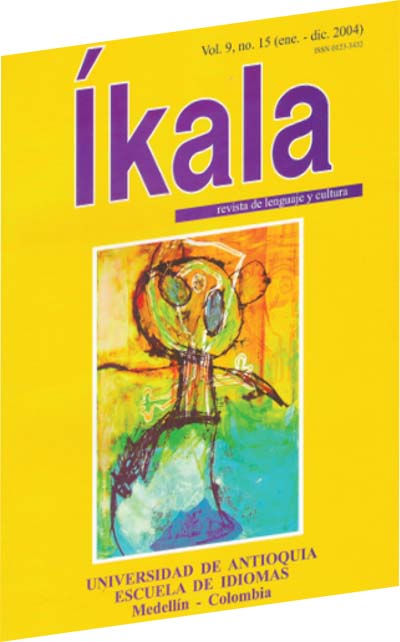 Downloads
How to Cite
Aguirre Gaviria, B. E. (2004). Soledad Acosta de Samper and her role in translation in the 19th century Colombia. Íkala, Revista De Lenguaje Y Cultura, 9(1), 233–267. https://doi.org/10.17533/udea.ikala.3148