Characterizing translators and interpreters in Colombia
John Jairo Giraldo-Ortiz

Universidad de Antioquia

http://orcid.org/0000-0001-6102-8400

Sandra Bibiana Clavijo-Olmos

Universidad EAN

Constanza Malavert-Chávez

Instituto Colombiano de Normas Técnicas y Certificación (ICONTEC)

Bibiana Salazar-Giraldo

Decoding Traducciones y servicios lingüísticos

Camilo Sarmiento-Jaramillo

Universidad del Rosario
Keywords:
translators, interpretation, translator's profile, translation in Colombia, characterization of translators
Abstract
This exploratory study applied a quantitative methodology and a descriptive approach with the purpose to characterize Colombian translators and interpreters. This study, along with others, intends to provide professionals, associations and government entities the elements needed for creating strategies that allow them to be more competitive in local and global contexts. The sample consisted of 98 participants of different nationalities working in Colombia, who answered a survey via the web. The main findings show that most of practising translators are women, between 30 and 40 years of age, freelance, residing mainly in big cities as Bogotá and Medellín, lack a culture of group action, such as in professional associations, have higher training in other areas of knowledge, are mainly engaged in scientific and technical translation, have low knowledge and use of standards for the assurance of service quality, and often work in complementary activities, such as translation or foreign languages teaching, editing and copyediting. These findings highlight the need to work on eliminating at least three major risks that affect the profession locally, as follows: (a) the limited offer of professionalization and continuing training programs; (b) the low coverage of the service, and (c) a lack of group action in professional associations
|Abstract = 163 veces | PDF (ESPAÑOL (ESPAÑA)) = 178 veces|
Downloads
Download data is not yet available.
References
Aguayo, N. (2013). El traductor-intérprete en el comercio exterior: ¿realidad o necesidad? Entreculturas. Revista de Traducción y Comunicación Intercultural, (5), 57-74.
Aguayo, N. (2017). La interdisciplinariedad como elemento clave en la conceptualización de los estudios de traducción en el campo de conocimiento. Skopos. Revista internacional de Traducción, 8, 3-26. https://www.uco.es/ucopress/ojs/index.php/skopos/article/view/10519
Clavijo, S. (2018). Breaking language and cultural barriers: A key to improve stakeholder relationships. En R. Pérez, C. Salcedo y D. Ocampo (Eds.), Handbook of research on intrapreneurship and organizational sustainability in SMEs (pp. 73-94). IGI Global. https://doi.org/10.4018/978-1-5225-3543-0.ch004.
Clavijo, S. et al. (2008). Entorno de la traducción en Colombia. En S. Clavijo, E. Mendoza, C. A. Franco, M. I. Duque y E. Rodríguez (Eds.), Babel en las empresas colombianas: una mirada actual de la traducción (pp. 11-36). Ediciones Ean.
Clavijo, S., y Duro, M. (2020). Competitiveness in the language service industry in Colombia and Spain: Perspectives to increase productivity. En Handbook of research on increasing the competitiveness of SMEs (pp. 355-375). IGI global. https://doi.org/10.4018/978-1-5225-9425-3.ch016
Colombia, Congreso de la República (2012). Ley 1581, por la cual se dictan disposiciones generales para la protección de datos personales. http://www.secretariasenado.gov.co/senado/basedoc/ley_1581_2012.html
Colombia, Ministerio de Ciencia, Tecnología e Innovación (2020). Grupos de investigación en traducción. https://bit.ly/2VYFZO7
Colombia, Presidencia de la República (1951a). Decreto 382, por el cual se crea el cargo de intérpretes oficiales. http://www.suin-juriscol.gov.co/viewDocument.asp?id=1086126
Colombia, Presidencia de la República (1951b). Decreto 2257, por el cual se reglamenta el Decreto ley 382 del 19 de febrero de 1951, sobre intérpretes oficiales. https://www.mineducacion.gov.co/1759/w3-article-103361.html?_noredirect=1
Delisle, J., y Woodsworth, J. (Eds.) (2005). Los traductores en la historia. Editorial Universidad de Antioquia.
Departamento Administrativo Nacional de Estadística. (2012). Clasificación industrial internacional uniforme de todas las actividades económicas. https://bit.ly/2S05zR3
European Language Industry Association (2019). 2019 Language Industry Survey–Expectations and Concerns of the European Language Industry. https://bit.ly/2S0Un6r.
Fundación Italia Morayta. (2017). Estudio de encuesta sobre la traducción y la interpretación en México. Fundación Italia Morayta. https://bit.ly/3gJ2bE1
Gouadec, D. (2010). Translation as a profession. John Benjamins. https://doi.org/10.1075/btl.73.
Hortal, A. (2010). Ética general de las profesiones (3.ª ed.). Desclée de Brouwer.
ICONTEC. (2013). Norma técnica colombiana NTC-ISO 704 Trabajo terminológico. Principios y métodos. ICONTEC.
ICONTEC. (2017a). Norma técnica colombiana NTC-ISO 17100. Servicios de traducción. Requisitos para la prestación del servicio. ICONTEC.
ICONTEC. (2017b). Guía técnica colombiana GTC 283. Proyectos de traducción: Guía general. ICONTEC.
ICONTEC. (2018). Norma técnica colombiana NTC-ISO 18841: Servicios de interpretación, requisitos y recomendaciones generales. ICONTEC.
Lozano, C. (2011). Estudio sobre el mercado de la traducción en España [Tesis de grado, Universidad de Salamanca]. https://bit.ly/2RZDv01
Ministerio de Cultura de España y TT ACE Traductores (2010). Libro blanco de la traducción editorial en España. Ministerio de Cultura de España, TT ACE traductores. https://bit.ly/2zokFcy
Morón, M. (2010). Perfiles profesionales en traducción e interpretación: análisis DAFO en el marco de la sociedad multilingüe y multicultural. La Linterna del Traductor, 4, 91-109https://bit.ly/2S0EahJ
Ortiz, J. (2017). Los estudios de traducción y el mundo hispánico: conceptos y ubicación. Matices en Lenguas Extranjeras, (10), 72-96. https://doi.org/10.15446/male.n10.68180
Quiroz, G., Gómez, N. y Zuluaga, F. (2013). Panorama general del traductor e intérprete oficial en Colombia. Núcleo, 25(30), 165-203.
Quiroz, G., Zuluaga, F., y Gómez, N. (2015). Estatus actual del traductor en Colombia. Editorial Universidad de Antioquia.
Valdez, L. (2018). El traductor en Baja California. En L. R. Fernández (Coord.), La profesión del traductor en México (pp. 65-106). Universidad Intercontinental.
Zuluaga, J., y Quiroz, G. (2018). Análisis del desempeño de candidatos a traductor e intérprete oficial en Colombia. Cadernos de Tradução, 38(2), 263-293. https://doi.org/10.5007/2175-7968.2018v38n2p263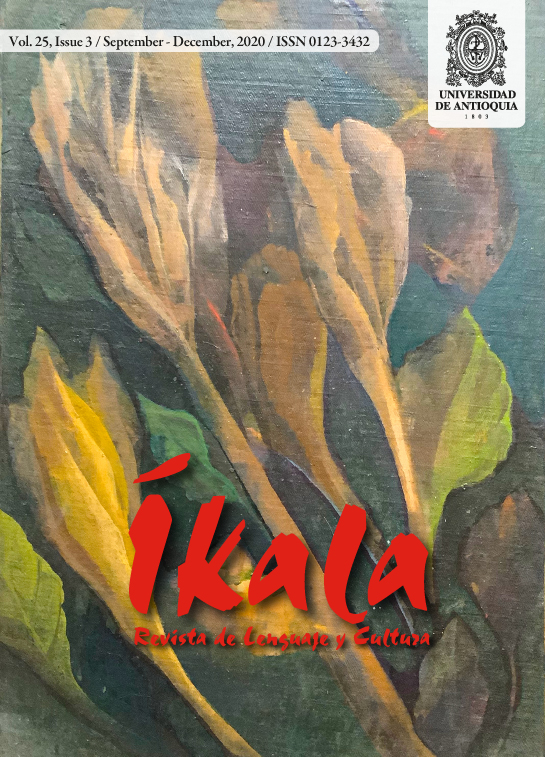 How to Cite
Giraldo-Ortiz, J. J., Clavijo-Olmos, S. B., Malavert-Chávez, C., Salazar-Giraldo, B., & Sarmiento-Jaramillo, C. (2020). Characterizing translators and interpreters in Colombia. Íkala, 25(3), 695-712. https://doi.org/10.17533/udea.ikala.v25n03a01
Section
Empirical Studies
Copyright (c) 2020 Íkala
This work is licensed under a Creative Commons Attribution-NonCommercial-ShareAlike 4.0 International License.
The authors that publish in this journal accept the following conditions:
Attribution — You must give appropriate credit, provide a link to the license, and indicate if changes were made. You may do so in any reasonable manner, but not in any way that suggests the licensor endorses you or your use.

NonCommercial — You may not use the material for commercial purposes.

Share alike — If you remix, transform, or build upon the material, you must distribute your contributions under the same license as the original.