*¿Traducir en lengua materna?
Victor Villa Mejía

Universidad de Antioquia
Abstract
How to reference this article:Villa Mejia, V. (1997). ¿Traducir en lengua materna?. Íkala, Revista de Lenguaje y Cultura, 2, (1-2). 123-134.
References
ABAD FACIOLINCE., Héctor (1994). "Diccionario personal". La Hoja de Medellín. Medellín, No. 17 y ss.
ARDENER, Edwin (1976). Multilingüismo y categoría social. Buenos Aires, Paidós.
BOLAÑOS, Sergio (1990). "La traducción: explicación lingüística del proceso". Glotta. Bogotá, Vol. 5 No. 1, p. 28-37.
COLON, Héctor (1985). "La calle que los marxistas nunca entendieron". Comunicación y Cultura. México, No. 14, p. 81-94.
CORDER, S. (1986) Error analysis and interlanguage. Oxford, University Press.
ELORDUY, María Esther (1991). "El trasfondo cultural en la traducción". Estudios de Lingüística Aplicada. México, No. 14, P. 70 – 76.
FERGUSON, Charles 81974). "Diglosia". En: Garvin, P y Lastra, Y. –comps-. Antología de estudios de etnolingüística y sociolingüística. México, UNAM.
FROST, Elsa Cecilia (1992). El arte de la traición a los problemas de la traducción. México, UNAM.
GARCÍA, C y MUÑOZ, C. 81993). Diccionario de las hablas populares de Antioquia. Medellín, Universidad de Antioquia.
GASCA, Charo (1884). "El nuevo lenguaje de los evangelios". Siempre en Domingo. El Mundo. Medellín, nov. 20, p 2.
HARTUNG, Wolfdietrich (1984). "Algunos aspectos de la variación lingüística en las sociedades monolingües" revista Internacional de Ciencias Sociales. París. Vol. 36 No. 1, p. 137 – 161.
LOTERO, Gildardo (1993). "¿Un parche en el idioma?". Dominical. El Colombiano, Medellín, dic. 5, p. 6.
NAVIA, José (1991). "Universidad de Babel". El Tiempo. bogotá, nov. 3, p. 1D.
SALAZAR, Alonso (1990), No nacimos pa' semilla. Bogotá, Cinep.
SPITALETTA, Reinaldo (1994). "Enseñar es peligroso". El Colombiano. Medellín, abr. 17 a may. 15.
VELEZ URIBE, John (1993). "Lenguaje paisa". Papel Salmón. La Patria. Manizales.
WANDRUZCA, Mario (1980). Interlingüística, Madrid, Gredos.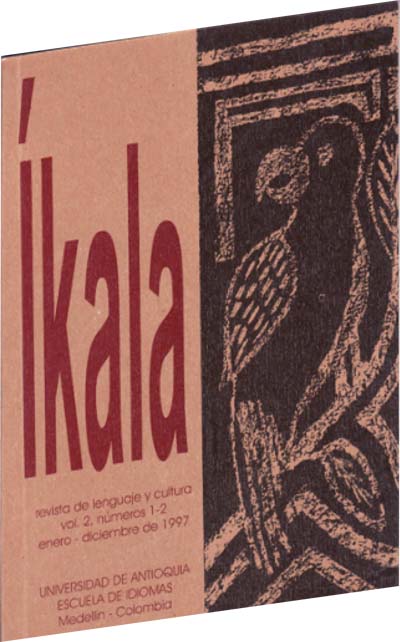 Section
Empirical Studies
Copyright (c) Íkala, Revista de Lenguaje y Cultura
This work is licensed under a Creative Commons Attribution-NonCommercial-ShareAlike 4.0 International License.
The authors that publish in this journal accept the following conditions:
Attribution — You must give appropriate credit, provide a link to the license, and indicate if changes were made. You may do so in any reasonable manner, but not in any way that suggests the licensor endorses you or your use.

NonCommercial — You may not use the material for commercial purposes.

Share alike —  If you remix, transform, or build upon the material, you must distribute your contributions under the same license as the original.