Educational Research in the Undergraduate Foreign Language Teaching Program at Universidad de Pamplona
Keywords:
educational research, training research, training on research, undergraduate program, Bachelor of Arts, FFL
Abstract
The importance of the educational research does not only contribute to close the existing knowledge gap in the field, but also helps to enhance the teachers' critical view on their teaching process; to have a better understanding of the educational phenomena, to improve the decision making process and to formulate educational policies to improve teaching and learning. The main purpose of this case study was to provide an overview on the research projects that have been conducted in the major of French in Bachelor of Arts in Foreign Languages at the Universidad de Pamplona. Data was collected through the undergraduate researchers' journals, surveys, and video recordings on their experiences when writing a proposal, collecting and analyzing data for their projects. Based on a typological analysis, this case study reports findings on how educational research has contributed on the foreign language pre-service teachers training process; their interests and difficulties.
|Abstract = 188 veces | PDF = 165 veces| | HTML = 10 veces|
Downloads
Download data is not yet available.
References
Cárdenas R. et Faustino, C. (2003). Developing reflective and investigative skills in teacher preparation program: The design and implementation of the classroom research component at the foreign language program of Universidad del Valle . Colombian Applied Linguistics Journal, 5, 22-38.
Cárdenas R. et Faustino, C. (2008). Impacto del componente de investigación en la formación de licenciados en lenguas extranjeras . Revista Lenguaje, 36(2), 407-446.
Chaudron, C. (2001), Progress in Language Classroom Research: Evidence from The Modern Language Journal, 1916-2000. Modern Language Journal, 85, 57-76.
Creswell, J. (2012). Educational research: Planning, conducting and evaluating quantitative and qualitative research (4th. ed.). Boston: Pearson.
Ellis, R. (2010). Recherche sur l'enseignement et la pédagogie de langues. Le Français dans le Monde, Recherches et Applications, 48, 46-65.
Galisson R. et Puren C. (1999), La formation en questions. (Collection Didactique des Langues Étrangeres). Paris: Clé International.
Hatch, A. (2002), Doing Qualitative Research in Education Settings. New York, State University of New York Press.
López M. et Zuluaga, C. (2005). Impacto de la formación investigativa en los estudiantes de licenciatura en idiomas de la Universidad de Caldas. Revista Lenguaje, 33, 286-303.
McNulty M. et Usma, J. (2005) Evaluating research skills development in a Colombian Undergraduate Foreign Language Teaching Program. Íkala, Revista de Lenguaje y Cultura, 10(1), 95-125.
Quintero J. et al. (2003). La investigación-acción mejora la planeación de clases en lengua extranjera. Íkala, Revista de Lenguaje y Cultura, 8(14), 39-56.
Restrepo, B. (2004). Formación investigativa e investigación formativa: Acepciones y operacionalización de esta última. Revista Iberoamericana de Educación. Page consultée a http://hermesoft.esap.edu.co/esap/hermesoft/portal/home_1/rec/arc_3529.pdf
Universidad de Pamplona (UP). (2010). Projet Éducatif du Programme de Licence en Langues Étrangères, Anglais-Français. Comité de programa, Université de Pamplona.
Viáfara, J. (2008). Pedagogical Research in the Practicum at Universidad Nacional: EFL Pre-Service Teachers' Conceptions and Experiences. Revista Electrónica Matices en Lenguas Extranjeras, 2, Page consultée a http://www.bdigital.unal.edu.co/15958/7/10704-22379-1-PB.pdf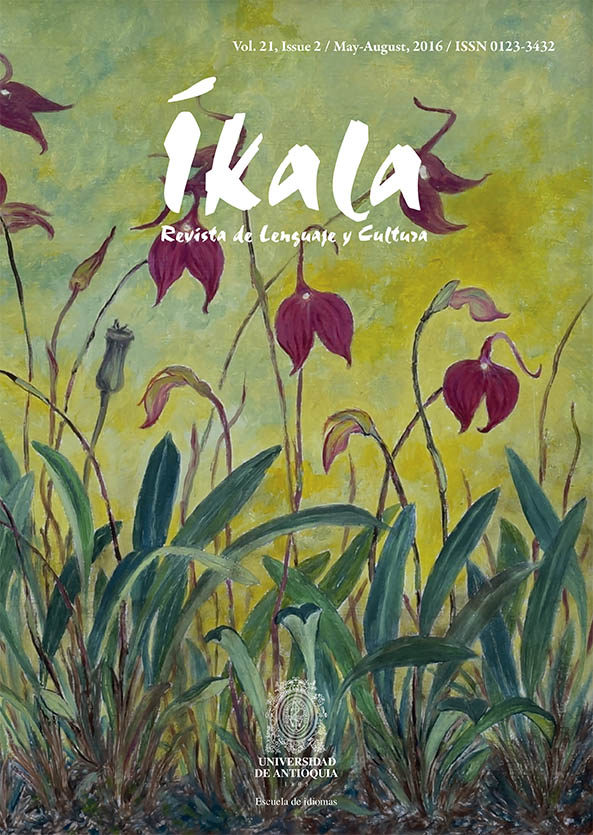 How to Cite
Martínez Cáceres, M. (2016). Educational Research in the Undergraduate Foreign Language Teaching Program at Universidad de Pamplona. Íkala, Revista De Lenguaje Y Cultura, 21(2), 227–236. https://doi.org/10.17533/udea.ikala.v21n02a08