Who is Educating EFL Teachers: a Qualitative Study of in-service in Colombia
Adriana González

Universidad de Antioquia
Keywords:
, teacher education, professional development, in-service training, conferences, continuing education
Abstract
This paper reports the findings of a qualitative study designed to explore the professional needs of EFL teachers. Data collection techniques included focus groups, a questionnaire, and in-depth interviews. The results suggest that many EFL teachers may not experience the benefits of the professional options provided by institutions of higher education; less formal and structured training opportunities, such as professional conferences and publishers' sessions,  are considered by many of them as the real agents of their education.  The implications of these beliefs for the professionalization of the teachers are discussed.
Received: 25-08-03 / Accepted: 29-09-03
How to reference this article:
González, A. (2003). Who is Educating EFL Teachers: a Qualitative Study of in-service in Colombia. Íkala. 8(1), pp. 153 – 172 
|Abstract = 370 veces | PDF = 574 veces|
Downloads
Download data is not yet available.
References
Arias, Clara, 1994, "Teacher Development: Meeting the Challenge of Changing Worlds", Keynote speech at the 29th ASOCOPI Congress, Medellín, Colombia.
Debus, Mary, 1988, "The Handbook for Excellence in Focus Group Research Academy for Educational Development", HEALTHCOM or the Communication and Marketing for Child Survival Project, U.S. Agency for International Development.
Ducharme, Edward, 1986, "Teacher Educators: What do We Know?", ERIC Clearinghouse on Teacher Education Washington DC., ERIC Identifier: ED279642.
Freeman, Donald, 1998, Doing Teacher Research: from Inquiry to Understanding, Newbury House.
Freeman, Donald and Jack.C., Richards, (eds.), 1996, Teacher Learning in Language Teaching, Cambridge University Press.
Freeman, Donald, 1996, "Renaming Experience/Reconstructing Practice. Developing New Understanding of Teaching", in: Freeman, Donald and Jack.C., Richards, (eds.), 1996, Teacher Learning in Language Teaching, Cambridge University Press.
Gibbs, Anita, 1997, "Focus Groups", Social Research Update, 19, University of Surrey, http://www.soc.surrey.ac.uk/sru/SRU19.html
González, Adriana and Quinchía, Diana, 2003, "Tomorrow's EFL Teacher Educators", Colombian Journal of Applied Linguistics. (In press) González, Adriana, Claudia Montoya, Nelly Sierra , 2002, "What do EFL Teachers Seek in Professional Development Programs? Voices from Teachers", http:// quimbaya.udea.edu.co/~ikala/vol7_2.html
______________, 2001, "EFL Teachers Look at Themselves: Could They Grow Together?", HOW Journal of the Colombian Association of English Teachers, Special issue, 9, 27-33.
Johnson, Karen, 2002, "Second Language Teacher Education", TESOL Matters, 12, http://www.tesol.org/pubs/articles/2002/tm12-2-02.html
______________, (ed.), 2000, "Teacher Education. Case Studies", in: TESOL Practice Series. Teachers of English to Speakers of Other Languages.
Kvale, S., 1996, InterViews: An Introduction to Qualitative Research Interviewing, London, Sage.
Kumaravadivelu, B., 1994, "The Postmethod Condition: (E)merging Strategies for Second/foreign Language Teaching", TESOL Quarterly, 28 (1), 27-48. Maslow, Abraham, 1970, Motivation and Personality, 2nd ed., Harper & Row. McNamara, Carter, 1999, "Basics of Conducting Focus Groups", http:// www.mapnp.org/library/evaluatn/focusgrp.htm Morgan
D.L., 1988, Focus Groups as Qualitative Research, Newbury Park. Cal., Sage Publications.
Norwood, George, 1996, "Maslow's Hierarchy of Needs", http://www.connect.net/ georgen/maslow.htm
National Center for Education Statistics, 1998, Teacher Quality: A Report on the Preparation and Qualifications of Public School Teachers. United States Department of Education, http://nces.ed.gov/surveys/frss/publications/1999080/ index.asp Richards, Jack, 1998, Beyond Training, New York, Cambridge University Press.
______________, 1990, "The Dilemma of Teacher Education in Second Language Teaching", in: Richards, Jack and Nunan, David, Second Language Teacher Education, Cambridge University Press.
Woodward, Tessa, 1991, Models and Metaphors in Language Teacher Training, Loop Input and Other Strategies, Cambridge University Press.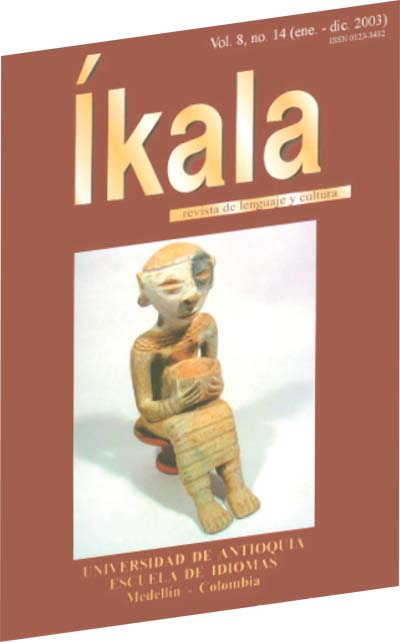 Section
Empirical Studies
Copyright (c) Íkala, Revista de Lenguaje y Cultura
This work is licensed under a Creative Commons Attribution-NonCommercial-ShareAlike 4.0 International License.
The authors that publish in this journal accept the following conditions:
Attribution — You must give appropriate credit, provide a link to the license, and indicate if changes were made. You may do so in any reasonable manner, but not in any way that suggests the licensor endorses you or your use.

NonCommercial — You may not use the material for commercial purposes.

Share alike — If you remix, transform, or build upon the material, you must distribute your contributions under the same license as the original.