Some considerations on reading at the University context
Keywords:
literacy, areas of knowledge, hypertext, higher education, cultural education.
Abstract
This article introduces the theoretical elements of an ongoing researchproject entitled "Reading in the University of Antioquia'. The authorsconcentrate on three areas: the role of reading in higher education; thechallenge which new communications system represent for thedevelopment of reading and writing skills in this sector, and the effectwhich the use of photocopies has on students' leaming experience.Key words: literacy, areas of knowledge, hypertext, higher education,cultural education.
How to reference this article:
Henao, J. I. & Castañeda L. S. (2000). Consideraciones sobre la lectura en el medio universitario. Íkala. 5 (1-2), pp. 7 – 24 
|Abstract = 234 veces | PDF (ESPAÑOL (ESPAÑA)) = 4033 veces|
Downloads
Download data is not yet available.
References
CASSANY, Daniel, 1996, "La cultura de la escritura: planteamientos didácticos", en: Aspectos didácticos de Lengua y Literatura, 8, Cassany, D. y otros. Zaragoza: Universidad de Zaragoza
CUBILLOS REYES, Constanza, 1998, Saldo en Rojo, Bogotá, Planeta.
DA SILVA, Ezequiel Theodoro, 1993, "Lectura y ciudadanía", en: Memorias del 1er Congreso Nacional de Lectura. Santa Fé de Bogotá, Fundalectura, p.24.
DONALD, Lu, 1997, El Internet en el aula. Nuevas oportunidades para la alfabetización, el aprendizaje y la enseñanza, en: Memorias del Tercer Congreso Nacional de Lectura. Bogotá, Fundalectura, pp. 47 – 68
EL ESPECTADOR, Un milenio para leer, Bogotá (may. 17 1996), p. 4D
EL TIEMPO, Un intento por defender el español, Bogotá (nov. 10 1997), p 5C
_______, Fotocopias, ¿y dónde están los autores?, Bogotá (abr. 30 1997), p. 6C
FONDO DE LECTURA ECONÓMICA, Azteca Boletín Bibliográfico, México, vol. 1, no. 3 (ago. 1996), p. 48
HENAO ÁLVAREZ, Octavio, El texto electrónico: un nuevo reto para loa didáctica de la lectoescritura, en: Lengua y Vida, Buenos Aires, vol. 19, no. 1 (mar. 1998), pp. 17 – 23
MELO, Jorge Orlando, Libros, televisión y computadores: viejas y nuevas tecnologías de la lectura, en: Memorias del Tercer Congreso Nacional de Lectura. Bogotá, Fundalectura, 1997, pp. 21 – 46
PACHECO, José Emilio, La lectura como placer, en: Hojas de Lectura, Bogotá, no. 43 (dic. 1996), pp. 14 – 21
PETIT, Michèle, 1999, Nuevos acercamientos a los jóvenes y la lectura, México, Fondo de Cultura Económica.
PIERRE, Regine, Saber leer hoy: de la definición a la evaluación del saber-leer, en: La Lectura, Cali (1997), pp. 131 – 164
SALLENAVE, Danièle, 1997, Letras Muertas, Buenos Aires, Losada.
SARLO, Beatriz, La vuelta al siglo en bicilceta, en: Magazín Dominical, Bogotá, no. 746 (jul. 31 1997), pp. 3 – 7
STEINER, George, Libros en una era de postanalfabetismo, en: Revista Universidad de Antioquia, Medellín, No. 255 (ene.-mar. 1999), pp. 7 – 15
WOOLF, Virginia, ¿Cómo hay que leer un libro?, en: Leer y Releer, Medellín, no. 19 (1998).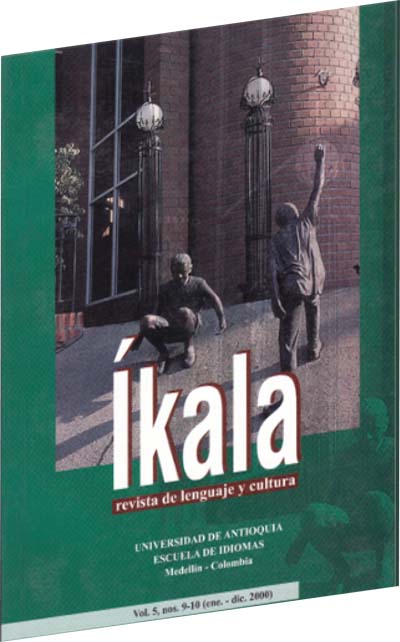 Downloads
How to Cite
Henao, J. I., & Castañeda, L. S. (2000). Some considerations on reading at the University context. Íkala, Revista De Lenguaje Y Cultura, 5(1), 7–24. Retrieved from https://revistas.udea.edu.co/index.php/ikala/article/view/8543