Academic Writing: Perceptions of Students of Human Sciences and Engineering Sciences at a Chilean University
Keywords:
academic writing, teaching writing, academic writing in human sciences, academic writing in engineering sciences
Abstract
This paper presents an exploratory cross-sectional quantitative study, whose main goal was to know the perceptions among two student groups from a Chilean university about academic writing. The first group was enrolled in a program in the field of human sciences (20 students in the translation program) and the second was enrolled in engineering sciences (32 engineering students). For this purpose, a Likert questionnaire, based on a scale to identify problems in academic writing and on approaches addressing the need to consider five dimensions covering the before, during and after writing stages. The results show that students of engineering sciences perceive greater difficulties in facing writing. In the dimensions of textualization and revision, statistically significant differences were observed between both groups. This demonstrates the need to teach to write in different specialized fields at the university.
|Abstract = 26 veces | PDF (ESPAÑOL (ESPAÑA)) = 50 veces|
Downloads
Download data is not yet available.
References
Álvarez, G., y Difabio, H. (2017). Formación virtual en estrategias para la producción conceptual y escrita en el posgrado en Ciencias Sociales y Humanas. Revista Q, 10(20), 110-136. https://doi.org/10.18566/revistaq.v10n20.a05
Avilán, A. (2004). La escritura: abordaje cognitivo (Hacia una didáctica cognitiva de la escritura). Acción Pedagógica, 13(1), 31-48.
Bangert-Drowns, R., Hurley, M., y Wilkinson, B. (2004). The effects of school-based writing-to-learn interventions on academic achievement: A meta-analysis. Review of Educational Research, 74(1), 29-58. https://doi.org/10.3102/00346543074001029
Bereiter, C., y Scardamalia, M. (1987). The psychology of written composition. Hillsdale, NJ: Erlbaum.
Campbell, J., Smith, D., y Brooker, R. (1998). From conception to performance: How undergraduate students conceptualize and construct essays. Higher Education, 36(4), 449-469. https://doi.org/10.1023/A:1003451627898
Carlino, P. (2003). Alfabetización académica: un cambio necesario, algunas alternativas posibles. Educere, 6(20), 409-420.
Carlino, P. (2004). El proceso de escritura académica: cuatro dificultades de la enseñanza universitaria. Educere, 8(26), 321-327.
Carlino, P. (2005). Escribir, leer y aprender en la universidad. Buenos Aires: Fondo de Cultura Económica.
Castelló, M. (2002). De la investigación sobre el proceso de composición a la enseñanza de la escritura. Revista Signos, 35(51-52), 149-162. https:// doi.org/10.4067/S0718-09342002005100011
Difabio, H. (2012). Hacia un inventario de escritura académica en el posgrado. Revista de Orientación Educacional, 26(49), 37-53.
Difabio, H. (2013). Evaluación de las concepciones de escritura académica en doctorandos en educación. Actualidades Investigativas en Educación, 13(3), 1-21. https://doi.org/10.15517/aie.v13i3.12040
Errázuriz, M., Arriagada, L., Contreras, M., y López, C. (2015). Diagnóstico de la escritura de un ensayo de alumnos novatos de Pedagogía en el campus Villarrica UC, Chile. Perfiles Educativos, 37(150), 76-90. https://doi.org/10.22201/iisue.24486167e.2015.150.53163
Figueras, N., y Puig, F. (2013). Pautas para la evaluación del español como lengua extranjera. Madrid: Edinumen.
Figueroa, B., y Aillon, M. (2015). Escritura académica de un ensayo mediado por el aprendizaje colaborativo virtual. Estudios Pedagógicos, 41(1), 79-91. https://doi.org/10.4067/S0718-07052015000100005
Flower, L., y Hayes, J. (1981). A cognitive process theory of writing. College Composition and Communication, 32(4), 365-387. https://doi.org/10.2307/356600.
Hounsell, D. (1984). Learning and essay writing. En Ference Marton, Dai Hounsell y Noel Entwistle (Eds.), The Experience of Learning (pp.103-123). Edinburgh: Scottish Academic Press.
Lavelle, E. (1993). Development and validation of an inventory to assess processes in college composition. British Journal of Educational Psychology, 63(3), 489-499. https://doi.org/10.1111/j.2044-8279.1993.tb01073.x
Lavelle, E., y Bushrow, K. (2007). Writing approaches of graduate students. Educational Psychology, 27(6), 807-822. https://doi.org/10.1080/01443410701366001
Lavelle, E., y Guarino, A. (2003). A multidimensional approach to understanding college writing processes. Educational Psychology, 23(3), 295-305. https://doi.org/10.1080/0144341032000060138
Lonka, K. (1996). The writing process questionnaire. Helsinki: Department of Psychology, University of Helsinki.
Martínez, A. (2011). La evaluación de las lenguas: garantías y limitaciones. Granada: Ediciones Mágina.
Molano, L., y López, G. (2007). Concepciones de profesores y estudiantes sobre la escritura académica en la Universidad Icesi. Lenguaje, 35(1), 119-146. https://doi.org/10.25100/lenguaje.v35i1.4848
Montolío, E. (2000). Manual práctico de escritura académica. Barcelona: Ariel.
Narvaja, E., Di Stefano, M., y Pereira, C. (2013). La lectura y la escritura en la universidad. Buenos Aires: Eudeba.
Ortiz, E. (2011). La escritura académica universitaria: estado del arte. Íkala, Revista de Lenguaje y Cultura, 16(28), 17-41.
Rodríguez, B., y García, L. (2015). Escritura de textos académicos: dificultades experimentadas por escritores noveles y sugerencias de apoyo. Revista de Investigación Educativa, (20), 249-265. https://doi.org/10.25009/cpue.v0i20.1332
Scardamalia, M., y Bereiter, C. (1992). Dos modelos explicativos de los procesos de composición escrita. Infancia y Aprendizaje, 15(58), 43-64. https://doi.org/10.1080/02103702.1992.10822332
Tapia, M. (2014). Los comentarios escritos: género orientado a la consecución de otro género en el proceso de la escritura académica. Onomázein, (30), 254-268. https://doi.org/10.7764/onomazein.30.21
Torrance, M., Thomas, G., y Robinson, E. (1994). The writing strategies of graduate research students in the social sciences. Higher Education, 27(3), 379-392. https://doi.org/10.1007/BF03179901
Villalón, R. (2010). Las concepciones de los estudiantes sobre la escritura académica. (Tesis para optar por el grado de doctor). Universidad Autónoma de Madrid. Recuperada de https://repositorio.uam.es/handle/10486/4865
Villalón, R., y Mateos, M. (2009). Concepciones del alumnado de secundaria y universidad sobre la escritura académica. Infancia y Aprendizaje, 32(2), 219-232
Zimmerman, B., y Bandura, A. (1994). Impact of self-regulatory influences on writing course attainment. American Educational Research Journal, 31(4), 845-862. https://doi.org/10.3102/00028312031004845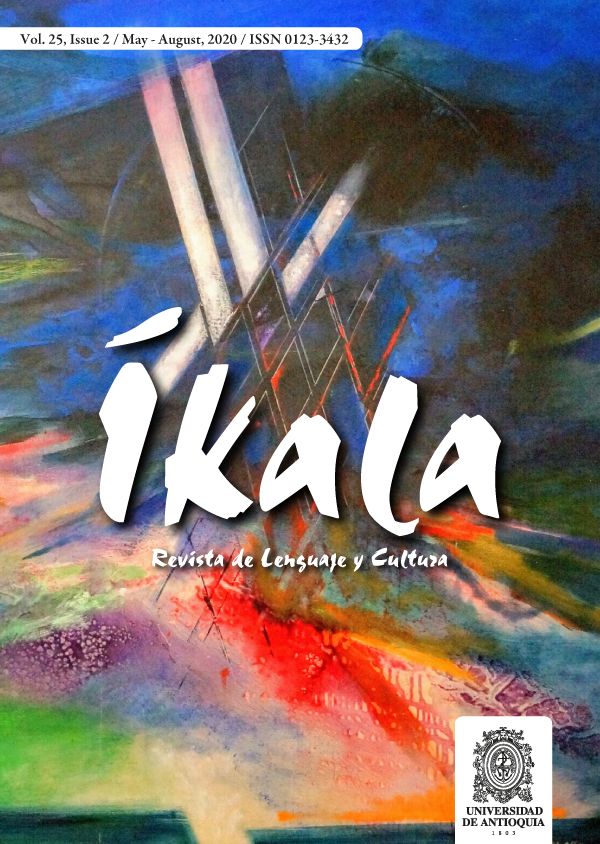 Section
Empirical Studies
Copyright (c) 2020 Íkala
This work is licensed under a Creative Commons Attribution-NonCommercial-NoDerivatives 4.0 International License.
The authors that publish in this journal accept the following conditions:
Attribution — You must give appropriate credit, provide a link to the license, and indicate if changes were made. You may do so in any reasonable manner, but not in any way that suggests the licensor endorses you or your use.

NonCommercial — You may not use the material for commercial purposes.

Share alike — If you remix, transform, or build upon the material, you must distribute your contributions under the same license as the original.