Developing Knowledge, Skills and Attitudes through a Study Group: A Study on Teachers' Professional Development
Keywords:
professional development, study group, knowledge, skills, attitudes, foreign language teacher education
Abstract
This article presents the results of a qualitative study that explored the development of knowledge, skills and attitudes of a group of foreign language teacher educators and pre-service teachers through their participation in a study group. Sources of data included minutes of meetings, observations, tape recorded meetings, self-assessment forms and interviews. The fi ndings show that teachers developed knowledge about the subject matter and research. Moreover, they developed skills such as research skills, critical thinking and collaborative work, and attitudes such as initiative, commitment, positive attitude towards research, and risk taking. It is concluded that the use of study groups can be an effective strategy for the professional development of teachers.
Received: 06-04-07 / Accepted: 06-08-07
How to reference this article:

Sierra Piedrahita, A. M. (2007). Developing Knowledge, Skills and Attitudes through a Study Group: A Study on Teachers' Professional Development. Íkala. 12(1), pp. 279 – 305.
|Abstract = 188 veces | PDF = 74 veces|
Downloads
Download data is not yet available.
References
Anderson, G. L., Herr, K., and Nihlen, S. A. (1994). Studying your own school: An educator's guide for qualitative practitioner research. Thousand Oaks, California: Corwin Press, Inc.
Arbaugh, F. (2003). Study groups as a form of professional development for secondary
mathematics teachers.
Journal of Mathematics Teacher Education, 6(2), 139-163.
Birchak, B., C. Connor, Crawford, K. M., Kahn, L.H., Kaser, S., Turner, S., and Short, K.
(1998). Teacher study groups. Building community through dialogue and refl ection.
Urbana, IL: National Council of Teachers of English.
Burbank, M. D., and Kouchack, D. (2003). An alternative model for professional development: Investigations into effective collaboration. Teaching and Teacher Education, 19, 499-514.
Burnaford, G., Fischer, J., and Hobson, D. (2001). Teachers doing research: The power of action through inquiry. Mahwah, New Jersey: Lawrence Erlbaum Associates.
Cardenas, M. L. (2002). Teacher research as a means to create teachers' communities in
inservice programs.
Revista How. A Colombian Journal for English Teachers, 9, 1-6.
Collins III, J.W., and O'Brien, N. P. (2003). The Greenwood Dictionary of Education.
Westport, Connecticut: Greenwood Press.
Feiman-Nemser, S. (2001). From preparation to Practice: Designing a continuum to strengthen and sustain teaching. Teachers College Record, 103 (6), 1013-1055.
Fullan, M. (2001). The new meaning of educational change (3rd ed.). New York: Teachers
College Press.
Garet, M. S., Porter, A.C., Desimone, L., Birman, B.F., and Kwang S. Y. (2001). What makes professional development effective? Results from a national sample of teachers.
American Educational Research Journal, 38 (4), 915-945.
Gonzalez, M. A., Montoya, A. C., and Sierra, O. N. (2002). What do EFL teachers seek in
professional development programs? Voices from teachers. Ikala, Revista de Lenguaje y
Cultura, 7(13), 29-50.
Grossman, P. (2005). Research on pedagogical approaches in teacher education. In M. Cochran-Smith & K. M. Zeichner (Eds.), Studying teacher education. London.: Lawrance Erlbaum Associates Inc.
Grossman, P.L. (1995). Teacher's knowledge. In L. W. Anderson (Ed.).
Internationalencyclopedia of teaching and teacher education
(Second Edition ed., pp. 20-24). Columbia: Pergamon.
Hammerness, K., Darling-Hammond, L., Bransford, J., Berliner, D., Cochran-Smith, M.,
McDonal, M., and Zeichner, K. M. (2005). How teachers learn and develop. In L. Darling-
Hammond & J. Bransford (Eds.), Preparing teachers for a changing world: what teachers
should learn and be able to do (pp. 358-389). San Francisco: Jossey-Bass A Willey Imprint.
Herner, L. M. (2000). Forming and benetting from educator study groups.
Teaching Exceptional Children 32 (5), 30-37.
Hudelson, S. (2001). Growing together as professionals. How: A Colombian Journal for
English Teachers, Special Issue 9 20-26.
Lefever-Davis, S., Wilson, C., Moore, E., Kent, A., and Hopkins, S. (2003). Trends in teacher certication and literacy, teacher study groups: A strategic approach to promoting student's literacy development. The Reading Teacher, 56(8), 782-784.
Murphy, C. (1992). Study groups foster schoolwide learning.
Educational Leadership, 50 (3), 71-74.
Peixotto, K., and Fager, J. (Eds.) (1998). High-quality professional development: An essential component of successful schools. Portland, OR: Northwest Regional Educational Laboratory.
Randi, J., and Zeichner, K. M. (2004). New visions of teacher professional development. In
M. Smylie & D. Miretzky (Eds.). Developing the teacher workforce (pp. 180-221). Chicago
University and Chicago Press.
Roberts, S. M., andPruitt, E. Z. (2003). Schools as professional learning communities:
Collaborative activities and strategies for professional development. Thousand Oaks: Corwin Press Inc.
Schwarz, M. S. (2001). Collaborative groups as professional development. Teacher and Teacher Education, 17 (6), 685-704.
Sparks, D., and Loucks-Horsley, S. (1990). Models of staff development. In W. R. Houston, M. Haberman & J. Sikula (Eds.), Handbook of research and teacher education: ApProject of the association of teacher educators (pp. 234-250). New York: Macmillan Publishing Company.
Sullivan, S. C., Itzo Pesce, A. J., and Grosser, G.S. (1998). The cyclopedic education dictionary. Albany: Delmar Publishers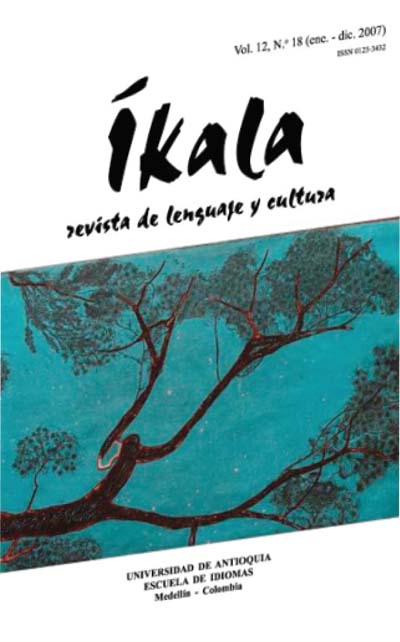 Downloads
How to Cite
Sierra-Piedrahita, A. M. (2007). Developing Knowledge, Skills and Attitudes through a Study Group: A Study on Teachers' Professional Development. Íkala, Revista De Lenguaje Y Cultura, 12(1), 279–305. https://doi.org/10.17533/udea.ikala.2721