Writing in History: Literary Art and Historical Narrative Considerations
Keywords:
Literature, History, New History, narrative
Abstract
For some scholars the differences between History and literature are clear. For others, however, the boundaries between the two are blurred, leading to the belief that every written document, including those from History, is an example of literature which demands ''historical verification''. By identifying the differences and similarities between the two, taking into account a group of recent theoretical proposals, we are able to demonstrate the degree of importance of each one according to a common understanding of ''reality''.
Received: 16-11-07 / Accepted: 12-02-08
How to refrence this article:
Bedoya G. A. (2008). La escritura en la Historia: consideraciones acerca del arte literario y la narración histórica. Íkala. 13(1), pp.91-102.
|Abstract = 52 veces | PDF = 26 veces|
Downloads
Download data is not yet available.
References
Burke, Peter (1993). Historia de los acontecimientos y renacimiento de la narración. En Formas de hacer historia (pp. 287-305). Barcelona: Alianza.
Chartier, Roger (2000). La historia, entre relato y conocimiento. Historia y Espacio. Revista del Departamento de Ciencias Sociales de la Facultad de Ciencias Sociales de la Universidad del Valle. Cali: Universidad del Valle, 17, jun., 185-206.
Levi, Giovani (1993). Sobre microhistoria. En Burke, Peter, Formas de hacer historia (pp. 119-144). Barcelona: Alianza.
Levi, Giovani (2004). Un problema de escala. Contrahistorias, México, Jiménez Editores, 2, 119-143.
Lukács, George (1965). Ensayos sobre el realismo. Buenos Aires: Siglo Veinte.
Stone, Lawrence (1981). El renacer de la narrativa: reflexiones sobre una nueva vieja historia. Revista Eco, 239, 449-478.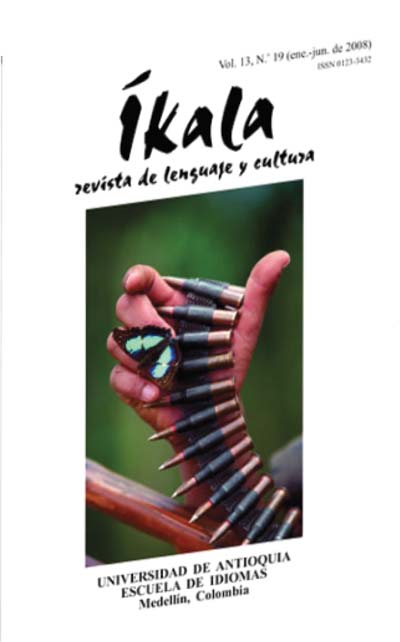 Downloads
How to Cite
Bedoya, G. A. (2008). Writing in History: Literary Art and Historical Narrative Considerations. Íkala, Revista De Lenguaje Y Cultura, 13(1), 91–102. https://doi.org/10.17533/udea.ikala.2690