A Review of Monolingualism and Linguistic Exhibitionism in Fiction by Anjali Pandey Palgrave Macmillan, London and New York, 2016
Abstract
Monolingualism and Linguistic Exhibitionism in Fiction by Anjali Pandey is an interesting and engaging study, and marks an important contribution to the newly established corpus of books around multilingual textualities in world literature. It is also an audacious example of interdisciplinary scholarship: the author is firmly grounded in sociolinguistics, but explores and aptly uses the work produced in postcolonial and, to a certain extent, translation studies in order to build her argument on the forms of multilingualism in contemporary Anglophone fiction. The sub-field the author identifies for her own work is literary-sociolinguistics in order to "examine and analyze how multilingualism is in fact manifested in literature of the 21st century." (p. 2) Literary multilingualism is explained via a Bourdieusian examination of the Realpolitik of languages in today's publishing industry, dealt with in the first two chapters, through which the author identifies a generalized "cosmetic use of languages", or "multilingualism-lite" (p. 7) as a recurring feature in prize-winning Anglophone fiction. What Pandey laments in her – mostly sociolinguistic – survey of the literature on the topic is the lack of a theoretical framework with which to read a wide array of texts that deploy multiple languages as part of their style, and this is the lacuna the book aims at filling. As for the corpus of texts taken into account, this is formed by four novels by authors from the Indian subcontinent who either won or were shortlisted for prestigious literary prizes in the years between 2003 and 2014: The White Tiger by Aravind Adiga (winner of the Man Booker Prize in 2008); Brick Lane by Monica Ali (selected among the "Best Young British Novelists" by the magazine Granta and shortlisted for the Man Booker Prize in 2003); Unaccustomed Earth by Jhumpa Lahiri (winner of the Pulitzer Prize for the short story collection The Interpreter of Maladies in 1999 and of the Hemingway Foundation/PEN Award in 2000); and The Enchantress of Florence by Salman Rushdie (winner of the Booker Prize for the novel Midnight's Children in 1981, of the Booker of Bookers Prize in 1993, and of the Best of the Booker Prize in 2008). The analysis of these four writers and their novels provides the basis for the argument put forth in this book: "literary creations of the 21st century demonstrate a clear trending towards shallow multilingualism and re-Englishing" (p. 7) in the service of a predominant normative monolingualism in Anglophone fiction.
|Abstract = 215 veces | PDF = 124 veces| | HTML = 6 veces|
Downloads
Download data is not yet available.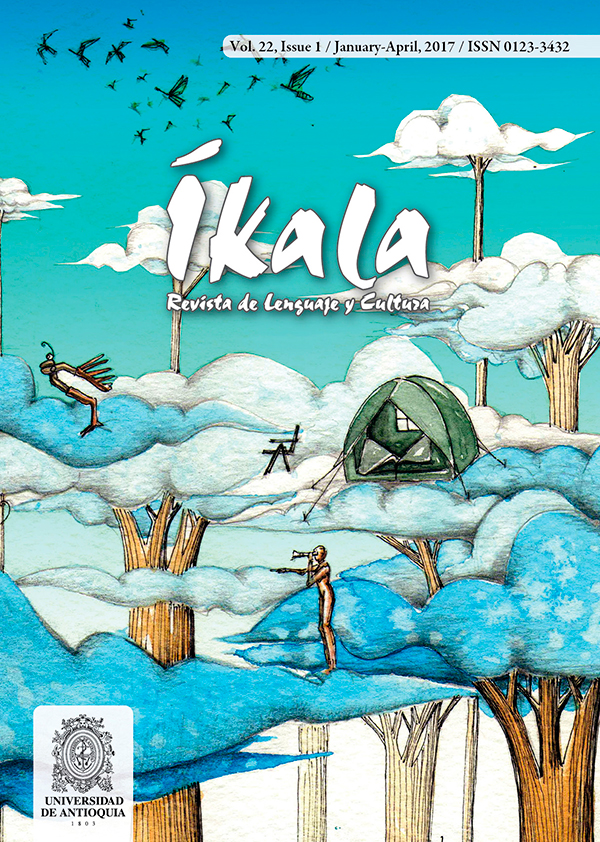 How to Cite
Bertacco, S. (2017). A Review of Monolingualism and Linguistic Exhibitionism in Fiction by Anjali Pandey Palgrave Macmillan, London and New York, 2016. Íkala, Revista De Lenguaje Y Cultura, 22(1), 143–147. https://doi.org/10.17533/udea.ikala.v22n01a09