The Effects of English Language Learning on the Perception and Value of Regional and National Identity in Colombia.
Keywords:
English as a foreign language, foreign language identity, language and identity, regional identity, national language identity
Abstract
There exist many popular ideas as to the supposed negative effects of English as a foreign language (EFL) education on local and national identities in Colombia, and this study examines whether there is any truth to such claims. While the relationship between target language and target language identity has been amply studied in the field of language and identity, the relationship between foreign language learning and original national and regional identities has yet to be explored in the nation-of-origin context. This study used a quantitative survey applied to 400 people with different levels of EFL instruction in Ibagué, Colombia, to seek to determine the nature of the relationship between EFL and variations in the worth and perception of regional and national identity over a period of exposure to EFL. The findings were that, in contrast to popular beliefs, EFL instruction over time not only increased the perceived worth of Colombian national identity significantly while slightly increasing the positive perception of regional (Tolimense) identity over the course of three years but also that national language identity, i.e., being a Hispanophone, increased as well. Additionally, in contrast to study abroad research conducted on language learning and identity, this study found that country-of-origin foreign language instruction does not entail the increased ethnocentricity found in study-abroad situations.
|Abstract = 481 veces | PDF = 296 veces|
Downloads
Download data is not yet available.
References
Anderson, B. (1983). Imagined Communities: reflections on the origin and spread of nationalism.
London and New York: Verso
Bilig, M. (1995). Banal Nationalism. London: Routledge.
Blackledge; A. & Pavlenko, A. (2001). Negotiation of identities in multilingual contexts.
International Journal of Bilingualism. 5:3.
Block, D. (2007). Second Language Identities. NY: Continuum.
Bourdieu, P. (1991). Language and Symbolic Power: the economy of linguistic exchanges.
Cambridge: Polity
Byram; M. (2006). Languages and Identities. Council of Europe: Strasbourg.
Departamento Administrativo Nacional de Estadística, (2005). Censo 2005 y Proyecciones.
Departamento Administrativo Nacional de Estadística: Bogotá.
Gumperz, J. (1992). Contextualization revisited. In P. Auer and A. DiLuzio (eds.). The
Contextualization of Language. Amsterdam: John Benjamins.
Hall, J. (2011). Teaching and researching language and culture. NY: Routledge.
Joseph, J. (2004). Language and Identity. National, Ethnic, Religious. NY: Palgrave MacMillan-
Ibagué Cómo Vamos, (2016). Informe de Calidad de Vida Ibagué 2015. Ibagué: Universidad de
Ibagué.
Law 1831 of 2010 (Law of Languages)
Law 1651 of 2013 (Ley de Bilingüismo)
Lo, A., & Reyes, A. (2004). Language. Identity and Relationality in Asian Pacific America: An
Introduction. Pragmatics, 14:2/3, 115-125
Ministerio de Educación Nacional de Colombia, (2006). Colombia Bilingüe. Bogotá: Ministerio
de Educación Nacional de Colombia.
Norton, B. (2011). Identity. In Jane Simpson (Ed.) The Routledge Handbook of Applied
Linguistics. NY: Routledge.
Norton; B. & McKinney, C. (2011). An Identity Approach to Second Language Acquisition. In
Dwight Atkinson (Ed.). Alternative Approaches to Second Language Acquisition. NY:
Routledge.
Ochs; E. (1993). Constructing Social Identity: A language socialization perspective. Research in
Language and Social Interaction. 26:3.
Ochs, E. (1996). Linguistic resources for socializing humanity. In J. Gumperz & S. Levinson
(eds.). Rethinking Linguistic Relativity. Cambridge: Cambridge University Press.
Polanyi, L. (1995). Language learning and living abroad: stories from the field. In B. Freed (ed.)
Second Language Acquisition in Study Abroad Context. Amsterdam: John Benjamins.
Rajogopalan, K. (2001). The Politics of Language and the Concept of Linguistic Identity. Cauce,
, 17-28.
Renan, E. (1982). 'What is a Nation?' in H.K. Bhabha (ed.), Nation and Narration. London:
Routledge.
Schmidt, U. (2008). Language Loss and the ethnic identity of minorities. Flensburg: European
Centre for Minority Issues.
Tajfel, H. (1978). Differentiation between social groups: Studies in the social psychology of
intergroup relations. London: AcademicPress.
Talburt, S. & Stewart, M. (1999). What's the subject of study abroad?: Race, gender and 'living
culture', Modern Languages Journal, 83 (2), 163-75.
Twombly, S. (1995). Piropos and friendships: gender ajd culture clash in study abroad, Frontiers:
The Interdisciplinary Journal of Study Abroad. 1. 1-27.
Weedon, C. (1987). Feministe Practice and Poststructural Theory. Oxford: Blackwell
Wodak, R. et al (2009). The Discursive construction of national identity. Edinburgh: Edinburgh
University Press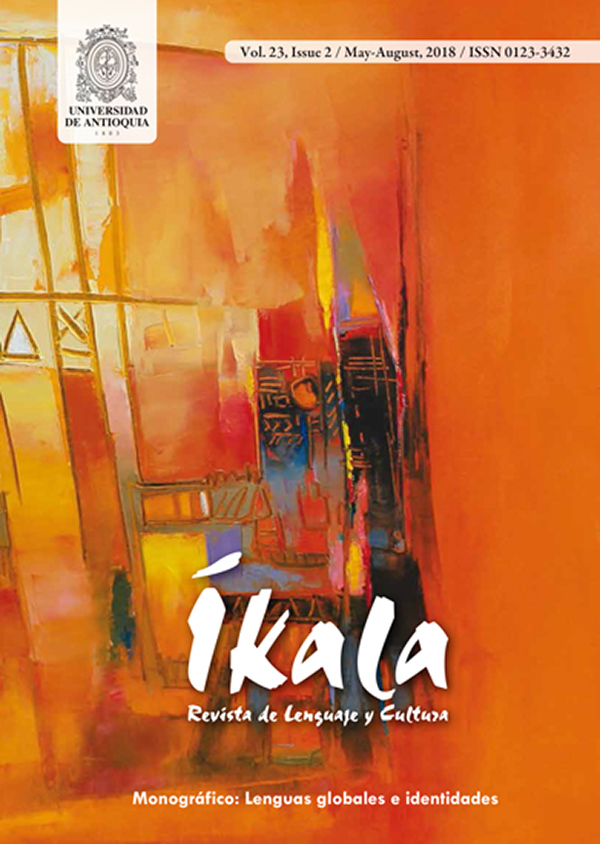 Downloads
How to Cite
Zwisler, J. J. (2018). The Effects of English Language Learning on the Perception and Value of Regional and National Identity in Colombia. Íkala, Revista De Lenguaje Y Cultura, 23(2), 255–268. https://doi.org/10.17533/udea.ikala.v23n02a04
Section
Empirical Studies
License
Copyright (c) 2018 Íkala
This work is licensed under a Creative Commons Attribution-NonCommercial-ShareAlike 4.0 International License.